Nov 21 2019, 9:00 AM
How to Start a Yoga Studio – Featuring Maura Vella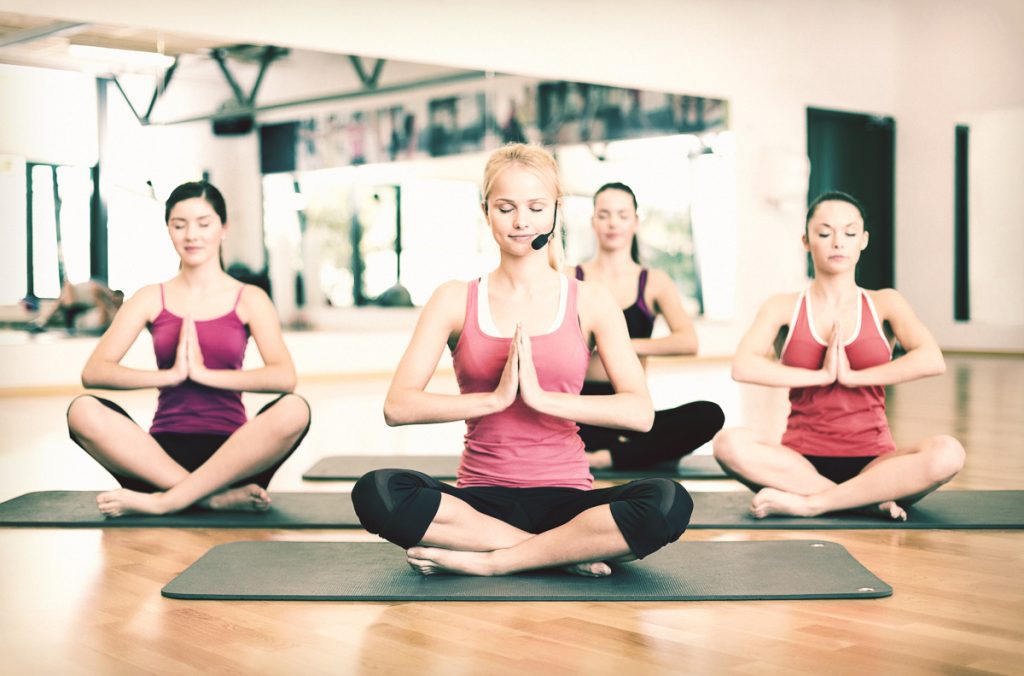 Starting a yoga studio can be a daunting process. That's why we turned to yoga studio expert Maura Vella for help. From strategies to attract clients to marketing tactics and software, grab a cup of tea or coffee and settle in!
Got it? Let's get into it.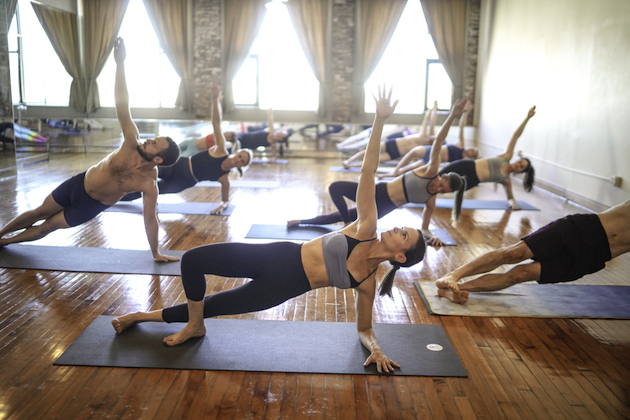 Maura originally began in the corporate sales world before she realized that her passion lies elsewhere. "The one thing that made me happy, day in and day out, was going to my yoga class. I found myself scheduling my entire day of calls and meetings around when I would practice yoga at my favorite studio," Maura tells us. She started off as a student at 105F Yoga, Pilates & Mindfulness, and found that going to yoga classes every day brought her a sense of peace and relief from her demanding job.
"105F was an oasis from my daily life as a corporate sales account manager, where I sat at a desk and made phone calls all day for a technology company. I'm really grateful that I had my sales job, even though I wasn't passionate about talking about computers and software because it prepared me for my next chapter in life" Maura says. After working there for six years, and practicing at 105F for one year, she quit her corporate job and studied to become a yoga teacher. Eventually, she became the director of 105F and spearheaded the opening of their third location!
Maura Vella's Expert Advice on Starting a Yoga Studio
With a growing community of yoga students and a thriving business, Maura knows what it takes to set up a successful yoga studio. Read on to discover the best way to approach this exciting venture and how to sustain it for years to come!
Expert tip #1: Have the proper knowledge
According to Maura, the first thing to consider when starting a yoga studio is having the proper knowledge and background. This is essential in helping you build a strong foundation, so you know exactly how to tackle any situation regarding your business moving forward.
One of the first things Maura points out is that if you decide to launch a business, you have to make sure that you have the right expectations. Oftentimes, many yoga teachers want to open up their own studio because they are passionate about sharing their practice with others. Maura was the same way yet warns, "Teaching yoga and starting a yoga studio are two wonderful ideas; however just because you teach a good yoga class doesn't necessarily mean you're a good business person, or that you're prepared to run a business."
To give you the tools necessary to run a successful studio, Maura says, "Seek out a mentor or coach, and perhaps even take a business course so you can be prepared. This will help you put yourself ahead of the rest, especially since this industry is becoming more and more saturated with others who have the same intentions as you do." It's vital to make sure that you have a strong foundation, so you can make the right business decisions.
Expert tip #2: Write a business plan
One of the building blocks of starting a yoga studio is to have a business plan in place. Not only will this help you devise all the strategies and methods needed to run a successful business, but it'll also allow you to look at your establishment from all angles.
Being aware of your finances is a primary factor to consider in your business plan. "Making sure that you know what your expenses are can help you not only break-even but thrive!" says Maura. Stay on top of costs such as rent, staff salaries, equipment, and so on, so you can keep track of your studio and how much is needed to keep it afloat.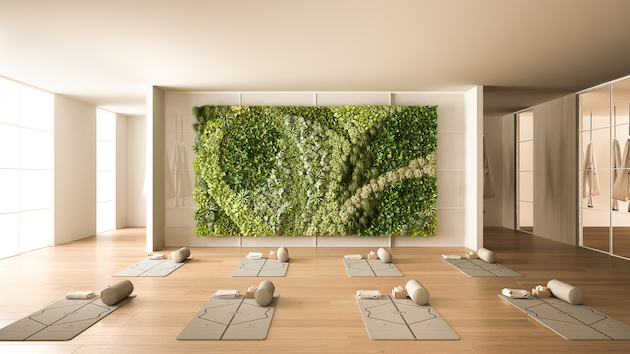 Another important element in your business plan is a description of your organization. When you define your brand, it allows you to pinpoint what makes you unique. "What makes you stand out from the rest? Why would someone want to come to your studio? What do you have to offer that will make people find you, love you, and stay with you as a devoted client? Knowing these reasons is very important," Maura emphasizes. Once you define what makes your studio different, you can begin to focus on your target audience and how you'll market your services to them (more on this later!).
Expert tip #3: Attract clients the right way
Connecting with clients is something that is of the utmost importance when starting a yoga studio. It's important to build relationships with your students to create a community of lifelong clients.
"I belong to a program where we coach existing and prospective studio owners," says Maura. "You will want to attract those types of clients that you think are your ideal clients. Draw these ideal clients to you with the proper introductory offer, so that they can get a chance to try out your studio experience and see if it is a good fit for their wellness goals."
Getting to know your students will allow you to cater to their needs and come up with services and marketing methods tailored to them! "It's about getting the right people in the door, connecting with them, and having them connect with one another. Having a studio is more than just building a great yoga class, it's about creating a yoga community of likeminded individuals."
When you focus on genuine connection, you'll gain loyal clients for years to come!
Expert tip #4: Use effective marketing strategies
Having the right marketing methods in place when starting your yoga studio will help you broadcast your business to the masses and increase your customer base.
There are many ways you can market your yoga studio, but these are some of Maura's favorites: referrals, social media, boots on the ground, and yes, even Groupon. "We have been really open and creative with marketing," says Maura. "You've got to evolve the way you market as the methods of marketing change and evolve as well."
Having the proper frame of mind is also extremely important when analyzing your competition. Many business owners see them as rivals, however, Maura approaches this very differently. "Instead of considering them as competition, I have reframed it as a place of abundance. All of these other studios and fitness facilities out there that keep emerging are only bringing awareness about the importance of taking care of yourself, your body, your mind, and your soul. So, it's ok if we don't capture the whole market. There's a big piece of pie for everybody."
Maura also points out that you don't have to wait until you open to market your yoga studio. "The last thing you want to do is open your doors and have nobody know about it. The best thing to do is to bring that awareness by conducting pre-sales, promotions, and demos prior to the opening. Show the public what you're offering and pound the pavement to get things rolling so you open your doors with dedicated members." This way you can start to see profit in your very first month!
Expert tip #5: Learn to delegate
Many business owners fall into the trap of trying to handle all areas of their business. This could quickly lead to burnout.
"What's not sustainable is for one person to do everything. I think it's difficult for a lot of studio owners to let go and start to delegate," says Maura. "You can't do everything and it's important that you realize this from the beginning by entrusting others to help you. Delegating is one of the keys to success."
Starting a yoga studio and setting up a successful business takes a team of people. Maura advises entrepreneurs to focus on "getting like-minded people who really care about what it is that you have to offer." If people share your passion, then they'll make a great fit for your community.
Expert tip #6: Have the right sales approach
With a background in sales, Maura has learned several things that have helped her run her studio. One of the most important is to have the right approach.
Many times, yoga studio owners offer huge deals such as a 50% off sale for a 50-pack of classes. But Maura advises that this method can be detrimental to attracting the right clients. "I think that there is a time and place for having sales, but it has to be very strategic and planned out far in advance. A sale should not just be so that you have to make ends meet and pay your rent on time. It must be carefully planned and executed with a process and goal in mind that serves you over the longer term."
"I love having a sale in January or February because this actually attracts all of our newer introductory clients that have come in throughout the first few weeks of the new year," Maura tells us. In fact, this is the most popular time to increase your clientele as several people have just made their new year's resolutions. In 2019, 59% of Americans made the resolution to exercise more, and this trend is only growing.
Take advantage of this knowledge and build your customer using the right sales approach during the right times!
Expert tip #7: Find the right software
Having the right software by your side is vital when starting a yoga studio. This'll allow you to streamline your services and run your business with ease! "Software is definitely essential", says Maura. "I would definitely recommend implementing the software for business owners to include prior to opening their business when getting those pre-opening members signed up."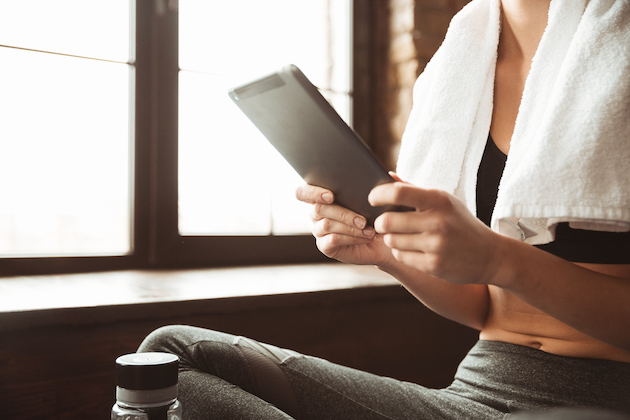 WellnessLiving has helped Maura keep her class schedules organized and has allowed her to keep track of her staff and clients. "I think WellnessLiving has built a sturdy platform that is truly developed for its users. There are some essential things that you need in a software program like storing clients, saving credit cards to help with recurring membership revenues, scheduling classes, and having those classes be able to appear on a website."
Maura also loves the fact that WellnessLiving continues to offer new features and customizations at one affordable price! When she decided to switch software providers, she discovered that she would save $10,000 per year, because she no longer had to pay for ad-ons whenever she wanted a new option! As an all-in-one solution, Maura has been able to run her business with ease using WellnessLiving's dynamic platform.
Expert tip #8: Know when to grow
Sometimes, business owners open their first location and are eager to open more. Maura has some insight into this topic, as she helped 105F successfully launch their third location!
"Make sure you have all of your systems in place at your existing location," says Maura. "You want a real smooth moving machine, so you want to make sure that you're profitable and have the right staff in place. It's also important to know how to get people into your classes. At your current location, your classes should be at least 70% full."
Many times, business owners will launch new locations too quickly without perfecting all strategies at their existing facility. "They haven't really figured out what the systems are for retention, and they haven't really figured out the sales process, or the operational process, or even something as simple as what happens when one of your teachers doesn't show up," says Maura. "These things are going to happen and when you have multiple locations, they multiply. Knowing how to handle these situations when that happens is extremely important before you expand."
Maura's Final Words of Wisdom…
"If you know that this is for you, then go for it!" says Maura. "When something feels true and authentic and you feel like this is your calling, make it happen. Believe that you can succeed and you will."
So, what are you waiting for? Get ready to embark on a transformational experience that'll change your life!