Apr 06 2021, 9:00 AM
Personal Trainer Trends: 7 Trends That Will Define 2021 for Trainers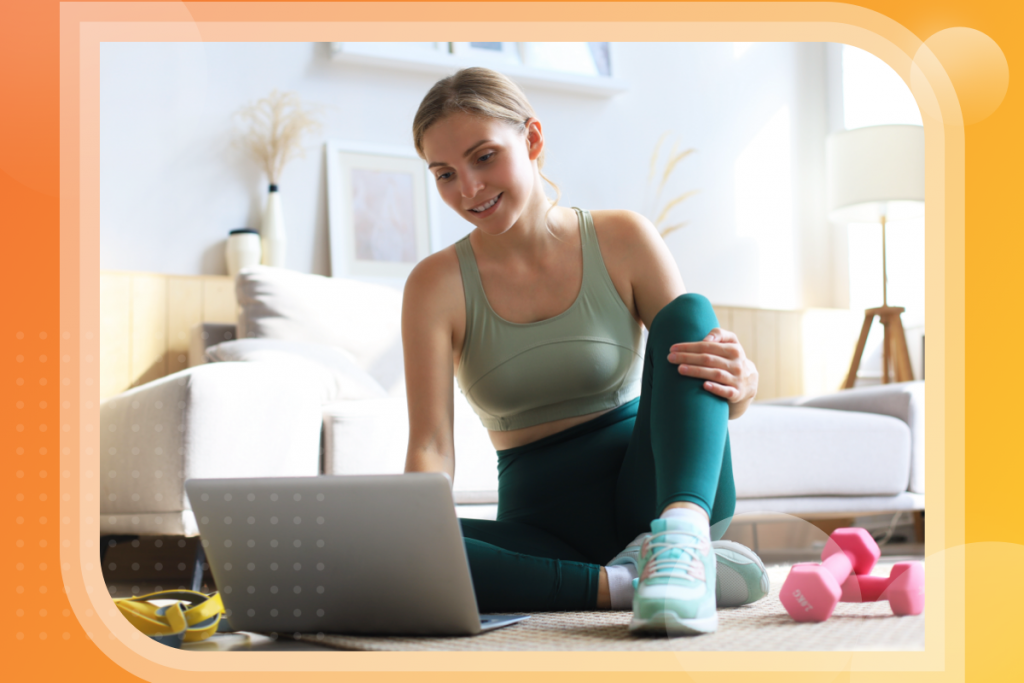 While the pandemic hit the fitness industry hard, did you know fitness trainers that pivoted to an online business model actually saw an increase in revenue? According to a survey from the Personal Trainer Development Center, 21% of personal trainers reported earning more money, while about the same amount said their income didn't change.
Perhaps, the most important result from the survey—going forward most personal trainers plan on using a combination of online and in-person coaching.
What's clear is that fitness trainers like you need an online component for your business to thrive. Here are 7 trends that support remote and in-person personal training in 2021 and beyond.
1. Remote personal training and health coaching
Stats show that 83% of personal trainers plan to continue training clients online after the pandemic. As a result, seeing clients online is a good business decision.
With so many people loving the convenience of working out from home, it's an opportunity to serve your clients and boost your revenues. In a recent survey of trainers reporting a pre-pandemic income of $100,000 or more, 60% had trained some or all of their clients online before the pandemic.
Coaching online is great for your income. What are some other benefits of remote personal training?
Offer a personal, one-to-one experience without leaving your home.
Expand your client base and connect with clients outside of your region without worrying about proximity.
Integrate a custom holistic approach to training and health, motivate clients, and add accountability in the way that works best for both of you.
Add an on-demand option for more variety and another revenue stream. Help clients with stretching, workouts, and nutrition tips so clients can work out on their own.
2. Virtual gyms are hiring
With the fitness industry going hybrid or full-on virtual, the future looks bright for fitness trainers. Even if you're working for yourself, getting on a gym's roster will broaden your experience, keep you busy and add to your income. Here are some tips for building a partnership with a virtual gym:
Choose studios you know and love to help coach their clients to a healthier life through the pandemic.
Show off your expertise. If you're a social media whiz and you know about livestreaming or can edit videos, you're an asset to the many gyms still finding their way online.
Focus on your ability to make connections virtually. Many studios are struggling to find ways to stay connected to their communities, so it's important to focus on building relationships with your clients.
3. Outdoor bootcamps
While getting outside is not new in personal trainer trends, it certainly has picked up steam since the pandemic. A RunRepeat study found that 72% of participants said outdoor activities will be one of the ways they stay fit in 2021. Why add outdoor bootcamps to your schedule?
Boost your exposure when people passing by see your classes.
Make social distancing and following guidelines easier in a wide open outdoor space.
Get your community working up a sweat in a new and exciting way.
Fill those classes with little or no equipment needed.
If you've never held outdoor bootcamp classes before, here are some things to consider.
Location: Choose an easily accessible area that's big enough for your class.
Frequency: Whether it's weekly classes or more often, set a program so you can offer a membership plan or a drop in option.
Mix it up: Include variety to keep participants interested and engaged. That could mean circuit training (with lunges, burpees, and push ups), cardio, or combination classes.
Advertising: Feature signage with your logo to attract attention.
Permits and insurance: Protect yourself by being prepared. Make sure you have the permits required to use that space and that your insurance covers you outside away from your regular location.
4. Hiking is the new in-person training session
People were forced to take their training outside the box in 2020 and hiking became a favorite. So when you start taking clients in-person, it's one of the personal trainer trends that'll take off.
A RunRepeat study partnered with AllTrials (a trial-specific navigation app) explored the effect COVID-19 had on hiking since the pandemic began. It found that hikes logged in 2020 were up 171.36% compared to 2019. The number of hikers in 2020 also increased 134.7% compared to 2019.
Think of hiking as a great way to connect with your clients one-to-one or in small groups. It's a simple way to stay socially distanced, enjoy the fresh air, and build relationships while your clients keep fit. Integrate hiking as part of your personal training to stay on-trend in 2021.
5. Personal training combines group training
The pandemic made group training a challenge, but it's still doable. While one-to-one is important, group training can really impact your numbers. Keep it small, though. People still want that in-class feel, with the perk of personal attention. Think of it as semi-private lessons, where your clients can bring a friend or two at a reduced price. Help get your name out there while adding revenue to your sessions.
Classes like yoga, kickboxing, dance, weight training and HIIT training are popular, but the sky's the limit. Get creative by adding events like a workout party where your clients can invite others to join them for a workout. As a bonus it also adds social interaction and a feeling of community.
With 65% of people feeling lonelier since the pandemic began, group fitness boosts mental health, increases motivation, and provides human interaction. It also helps your business grow—when clients love your classes, they keep coming back for more (and they tell their friends).
6. Online group accountability challenges
Studies show that 53% of people have fitness friends who motivate each other and 31% of people have participated in fitness challenges during the pandemic. Here's one of the top fitness trainer trends you can easily integrate into your fitness business. How does it work?
Create an email group to motivate your clients to reach their goals. Focus on the busiest times like January or summertime.
To boost referrals, encourage clients to add their friends to the challenge.
Challenges come in all shapes and sizes. Think sit ups, pushups, steps, miles, minutes of meditation, hydration, and more.
Use tools like a leaderboard to heat up the competition as clients strive to earn the top prize. Extra points can be earned by referring a friend or sharing on social media as they work towards earning prizes like free classes, discounts, or merch.
7. Upgrade your certifications
Whether you have some downtime or you just want to get the jump on your competition, now's a great time to get even more qualified. This is one of the job trends in personal training that'll make you more versatile and increase your earnings.
There are many ways to boost your training based on your area of expertise. Surveys show that 40% of participants have a Precision Nutrition certification, while 25% had credentials from the Online Trainer Academy or NASM. ACTION certification is among the most affordable but there is a wide range of options, depending on what you're looking for.
Certifications need to be updated every 1-4 years, so stay on top of your credentials. Whether you're upgrading your area of expertise, broadening your skillset, or re-certing, it's worth it. Build your reputation, get ahead of your competition, and put yourself on the most-wanted list.
Personal training in the digital age
Virtual training is here to stay and personal trainers need to do everything it takes to turn this trend into an opportunity. It's a great way to get more clients, expand your horizons, and find ways to reconnect with your community. Take the time to get online, coach as part of a gym, head outside, and get your community together—virtually or in-person.
Want to simplify the rest of your business? WellnessLiving's fitness studio software can help save you time, manage your clients, automate your marketing, and more. How else can WellnessLiving help manage your business? Book a no-commitment demo today to learn more.