Dec 09 2021, 11:30 AM
Yoga Studio Owner Gets Out of Comfort Zone with Virtual Services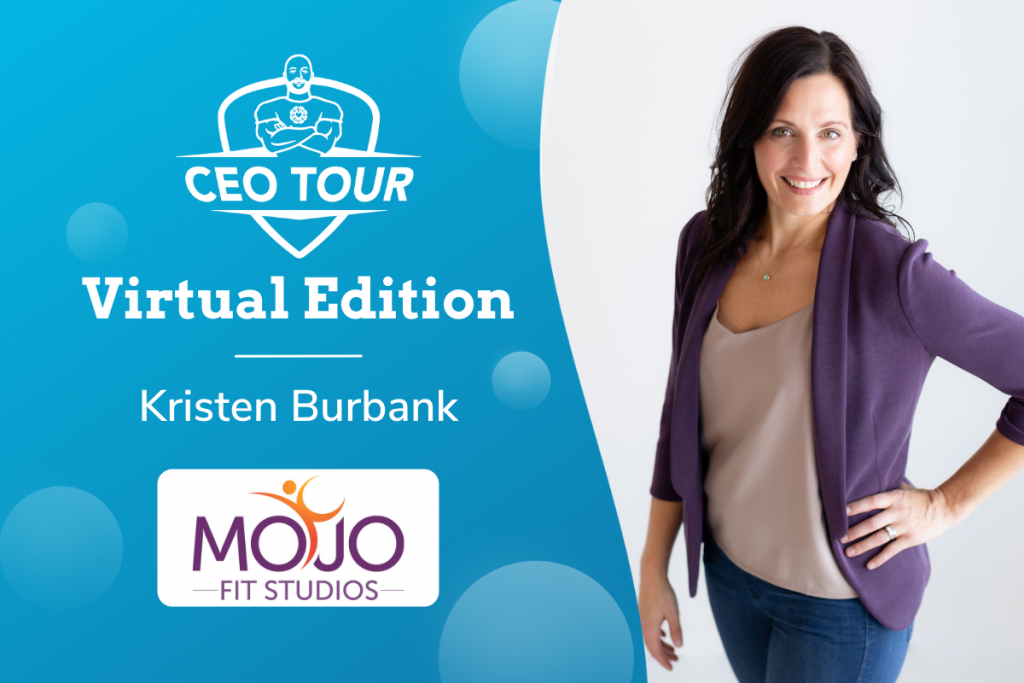 Discover our customer's 'pandemic pivot' on our latest CEO TOUR!
For WellnessLiving's CEO and Co-Founder Len Fridman, connecting with our international customers on his famed CEO Tour is truly a passion project.
Part conversational and always educational, Len thrives as host of these deep-dive, thoughtful interviews that always include an on-site studio tour and his full participation in a customer's signature class or workout.
The pandemic forced WellnessLiving to pivot from in-person CEO Tours to connecting online with our customers. Len is still doing what he loves, helping our global customers leverage our software to grow their business, only now he's doing it virtually.
It's been a great 'exercise' (pun intended!) in how our virtual services and communications tools can solve any roadblocks for us and for our customers. On this leg of the tour, Len visits Kristen Burbank of Mojo Fit Studios in Fargo, North Dakota, to learn how we helped her thrive with an automated marketing suite, virtual services, customer support team, and more.
Mojo Fit Studios at a Glance
📍CEO Virtual Tour Destination: Fargo, North Dakota
📍Customer Business: Mojo Fit Studios www.mojofitstudios.com
📍Special Guest: Yoga Studio Owner and Yoga Instructor Kristen Burbank
📍Number of Locations: 2
With two locations, Mojo North and Mojo West, Mojo Fit Studios focuses on a variety of hybrid virtual and in-studio yoga classes, with additional offerings of barre and interval training.
Mojo Fit Yoga classes include:
Yoga
Yin Yoga
Yinyasa Yoga
Vinyasa Yoga
Yoga Sculpt
Hot Yoga
Hot Yoga Express
Candlelight Yin Yoga
Prenatal Yoga
As part of every CEO Tour, Len Fridman tries out each studio's signature class.
Mojo Fit Studios Hot Yoga class is an energetic form of yoga. A series of flowing postures, synchronized to breath, designed to tone the body, build strength, increase flexibility, improve balance, and create an awareness of the connection of mind and body.
*While there was no added heat in Len's spacious basement, he certainly brought the 🔥🔥!
Meet Kristen Burbank, owner of Mojo Fit Studios, circa 2013
Yoga business owner, instructor, wife, and mother, Kristen Burbank made the leap over to our easy-to-use software three years ago—adding 'WellnessLiving family member' to the many proud titles she holds.
Learn how she remained resilient during the pandemic, her advice for other fitness owners, and how WellnessLiving's software has helped grow her business over the last three years.
From full-time employee to fitness entrepreneur
Kristen Burbank's passion for fitness became clear eight years ago, when she was moonlighting as a yoga instructor, on top of her full-time day job in Minneapolis, Minnesota. Upon leaving her job that she held for a decade, she became laser-focused on moving back to her hometown of Fargo, North Dakota, and realizing her dream of opening her first yoga studio—Mojo Fit Studios.
What started out as a one-room facility in 2013, has grown into two full-scale yoga studio locations with a staff of 32 instructors and an ever-growing clientele. "What drives me still today is watching that transformation that happens in just a one-hour yoga class for clients and teachers," says Kristen. "I love that we get to be a happy place. I've always enjoyed that piece of being the best part of someone's day."
Pandemic pivot with virtual integration
Mojo Fit Studio shut down on March 16 of 2020. "It was before the mandatory shutdown [laws came into place] but we knew it was coming." After shutting down, Kristen admits to "wallowing at home for a bit" until WellnessLiving suggested that she attempt a one-off virtual class in April of 2020. "I put it out there for my private Facebook group," where Kristen was shocked by how many people showed up. "I did not expect that," she says with a smile on her face, "and it grew from there."
With the help of WellnessLiving's onboarding specialists and an informative training staff member, Kristen's learning curve was a slow and steady progression.
"I never envisioned myself getting into the virtual space, it was never a comfort zone of mine. I've learned a lot about Zoom in the past year," she says with an all-knowing smile. Encouraging her staff to learn how to teach virtual classes was an adjustment they surprisingly ran with.
How did your community transition online?
"We threw a lot of new things at our staff this year. From 'going virtual' to offering hybrid classes, modern technology is something that yoga instructors in particular try to stay away from, but they learned it—and they definitely helped to save the day!"
Kristen is even more grateful for how open her clients were to virtual fitness and how accessible her clients made themselves at 6 a.m., Monday through Friday, without fail.
"It was the same hard-core group who consistently showed up for those 6 a.m. classes," says Kristen gratefully. A bond born from a worldwide pandemic crisis was solidified, and it remains a great memory for Kristen to reflect on. "I feel like that 6 a.m. virtual pandemic crew that we had, we will always be connected. It certainly was a human touchpoint that we didn't have before."
Echoing this sentiment, Len Fridman encouraged all of his customers to "keep going" and offered ways to pivot during the pandemic, noting that clients needed services like Kristen's more than ever. "You guys provide such a vital service not only for your clients' physical wellbeing, but also their mental health. For you to go virtual, it ended up making such a positive impact on so many people who relied [on you] to keep healthy."
How did livestreaming positively affect your business?
Virtual services allowed Kristen to:
Stay in business during lockdowns.
Allow for an eventual hybrid class model.
Grow her client base and revenue.
Connect with her clients and foster community like never before.
Support her clients' mental health by giving them a safe space to practice during lockdown.
What other WellnessLiving services helped you through the pandemic?
Marketing Automation Suite: "I've always said that what sold me about the software was the marketing automation. Being able to set up communications with clients, is such a game changer. "
Two-way Conversational SMS Message Center: "Now being able to text back and forth with clients is such a game changer, and for the client to always be in the know, if the class is changing, I can just set that up and send an automated text—that's my favorite. It's so great that you can go back in Message Center and see what communications have been had, so if I'm out of the office that day another studio manager can come in and pick up right where I left off."
What advice would you give to other yoga businesses struggling through the pandemic?
"There were definitely moments of struggle," says Kristen transparently. "Taking a step back and relying on my team was really big. My team really shined over the past year, and all stepped up. They were definitely a lifesaver. Be vulnerable enough to let your team help you as an owner and recognize that what you are doing for your clients is really important work."
"Wake up, put one foot in front of the other, and take it one day at a time."
The future looks bright with Mojo Fit Studios x WellnessLiving
As a loyal customer of WellnessLiving for the past three years, Mojo Fit Studios will continue to benefit from our business management software, and Kristen plans on eventually opening up a third location/studio.
One of the goals of the CEO Tour is to connect with our customers to see what's working and what can be improved upon. The virtual tour is essentially a way to foster community and make that human connection which is part of WellnessLiving's 'software with a heart' calling card.
"From the beginning of this company, I made it a rule with my business partner that I always wanted to visit our customers, and get to know them, because without you, WellnessLiving doesn't exist," says Len matter-of-factly. "Your feedback is so important so that we can help you leverage our software to scale your business and help you grow."
"I really appreciate you reaching out," Kristen replies. "It's nice to feel like [we] have a partner on this journey, especially because we rely so heavily on the software—we really appreciate you taking the time."
Ready to book a free demo to learn more about how WellnessLiving can innovate your yoga business? We'll hang out here in Shavasana while you decide. "Ommmmm"