Mar 16 2021, 9:00 AM
5 Key Benefits of Online Fitness Challenges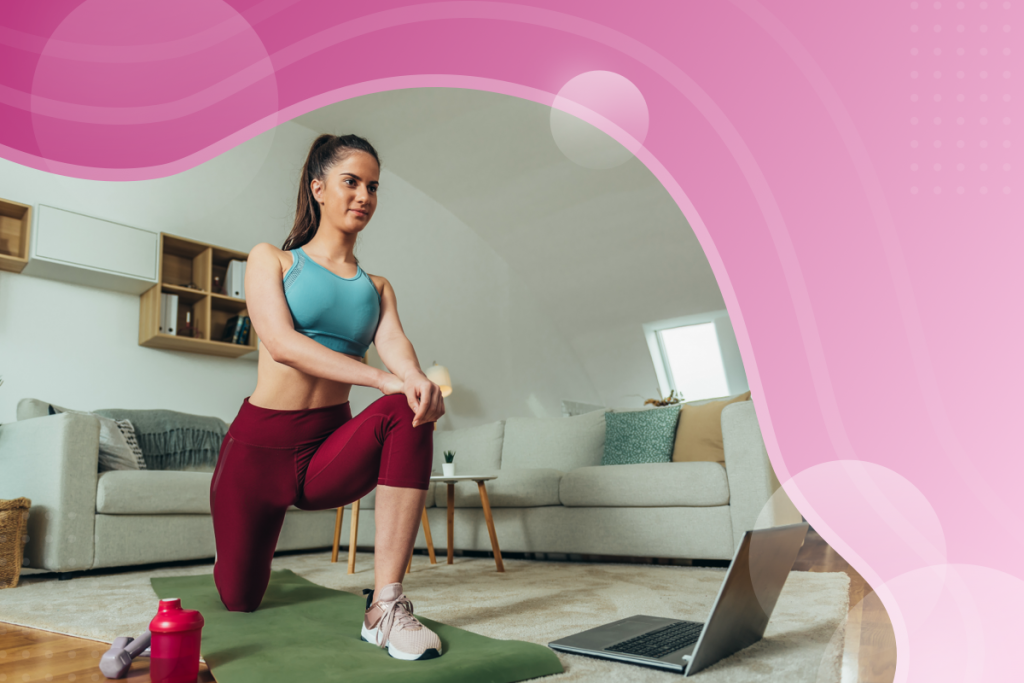 According to a recent survey, 32% of Americans are exercising less than they did before the COVID-19 pandemic began. Physical activity is more important than ever during these times since it helps relieve stress and boost our immune system. It's time to encourage and motivate your clients to work out at home with online fitness challenges.
What is an online fitness challenge? It's a fun way to create a sense of community and competition your clients crave. You set the parameters with a realistic and specific fitness goal that clients complete in a restricted time frame. For instance, host a 21- or 30-day online fitness challenge, getting clients to take a class (yoga, spin, or weightlifting), perform a set of exercises (squats, push-ups, or crunches), or reach a certain number of steps or miles every day.
Research shows that 31% of gym-goers have participated in an online fitness challenge at some point during the pandemic. Is it time to challenge your community? Here are five benefits of online challenges for your business:
1. Helps you obtain more clients
Challenges are a great marketing tool. While they help motivate your existing members, they also introduce new members to your business and encourage them to purchase sign-up deals or invest in personal training to complete a challenge. Here are a few more ways a fitness challenge can increase your revenue with new members:
Clients reaching their goals are more likely to become full-time members.
If they loved your challenge, they'll tell their friends and encourage them to join.
Successfully completing a challenge increases the odds they'll join your next challenge, too.
Clients are more likely to invest in your business long-term once they feel part of your community.
2. Encourages movement and motivates clients
Movement and health are more important than ever these days. New research shows that obesity increases the chance of suffering from COVID-19 by 40%. Now's the time to focus on being as healthy as we can, and online challenges encourage members to:
Move and exercise more throughout their day.
Maintain a healthy weight by paying attention to their habits.
Feel part of a community, despite social distancing being the new normal.
Set goals and work towards those milestones.
3. Lets you hold clients accountable
Accountability is crucial to getting results and online fitness challenges provide the checks and balances your clients need. Research shows people are 65% more likely to reach their goal when they tell someone about it and 95% more likely if they work together.
WellnessLiving is an expert accountability partner with tools your community will love.
Transformation log: Clients stay in the know with our Achieve Client App. In the transformation log, they'll monitor and record their progress and can upload photos along the way. They can even record stats like measurements and body fat percentage, so they're always on top of their progress.
Coming soon, FitZONE: Clients get real-time feedback as the challenge progresses, analyzing data like calorie burn and heart rate to stay focused on reaching their goals by the end of the challenge.
4. Gives you the opportunity to reward clients
Fitness is often about reaching new heights and challenging your own limitations, but don't underestimate how a little friendly competition can produce results. With WellnessLiving's loyalty rewards program, clients can keep track of their rewards and view where they rank on the leaderboard.
What prizes should you offer? It doesn't have to be complicated or expensive. Think discounted memberships, free intro offers, at-home equipment, merchandise, or branded apparel.
How can they earn prizes?
Recommending the challenge to a friend.
Successfully completing a challenge.
Achieving a personal goal during the challenge.
Finishing the challenge at the top of the leaderboard.
Making a purchase after a challenge.
5. Promotes client retention
Clients will stick with your fitness business when they have fun, feel part of a community, and see real results. Research suggests that 45% of people participating in group fitness visit their gym five times or more per week. Whether it's in-person or virtual, more visits means higher retention. Get creative to keep members engaged, using your online fitness challenge to build a lasting community. That way, after the challenge is complete, you'll keep them as long-term clients.
Take the time to nurture your existing customers. This strategy boosts ROI, costing anywhere from 5-25x less than starting over with a new prospect. Here are some tips to retain more clients.
Turn it into a game: Smart phones and step counters have shown that competition is great for motivation—and for business. A UC Berkeley study also suggests that the gamification of fitness will only continue to grow, so get in on the trend and start reaping the benefits.
Use automated marketing: With the tools in Wellnessliving, you can target specific clients using customized email templates, stand out using postcards, or send a message instantly with push or SMS notifications, so clients can easily book your services. Remember, email marketing boasts the highest return on investment for small businesses.
Leverage social media: Get on social media to build relationships with clients. With the right social media strategy, you can also boost motivation and stay top of mind with your clients. Share your client's accomplishments and leaderboard rankings. You can also tag your clients and encourage them to share to spread the word about your business.
Are you up for the challenge?
Challenge yourself to get your community together and keep them motivated, and you'll see the many benefits of online fitness challenges. Get results like better retention, a larger network, more accountability, and a way to reward your best clients. With the tools in WellnessLiving, you can make connecting and getting the word out just another part of your marketing strategy.
Use the tools from WellnessLiving to help manage your business. Want to learn more? Book a free, no-commitment demo today.