Nov 05 2021, 9:00 AM
How to Thrive with the AIDA Customer Journey Model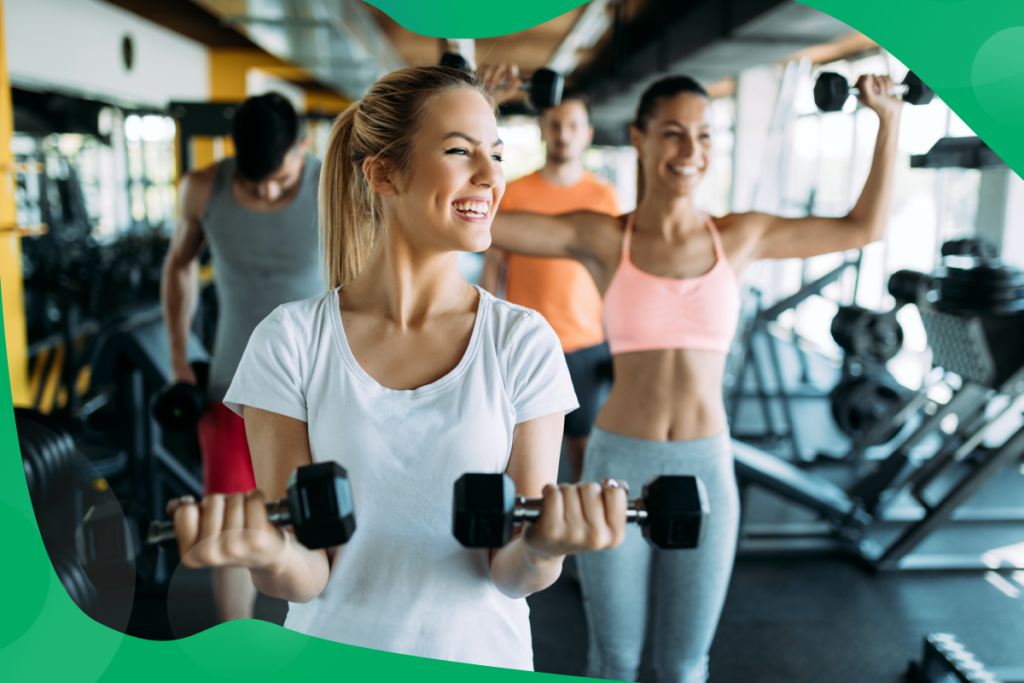 Are you struggling to attract high-quality leads and turn them into paying customers? According to HubSpot, brands need to implement around 10 lead-nurturing steps to convert a lead into a paying customer.
The customer journey isn't linear. It takes multiple touchpoints to gain a client's trust and convince them to make a purchase. So, how do you go about this process? By following the AIDA model.
Short for awareness, interest, decision, and action, the AIDA model has been around for centuries. Because of this, some think it's outdated. Yet, others believe businesses can still apply the model today.
Here, we'll discuss what the AIDA model is and how to apply it to your marketing strategy so you can attract leads and convert them into long-term clients for your fitness business.
What is the AIDA model?
Let's take a deeper dive into what the AIDA model is.
Elias St. Elmo Lewis, advertising and sales pioneer, developed the AIDA model. He wanted to explain how personal selling works. Since then, marketers and advertisers have adopted the model to drive more sales for companies.
The AIDA model is a process that tracks the customer journey from awareness to interest to desire, and then, finally, to action.
Here's what the AIDA model looks like from a customer's perspective: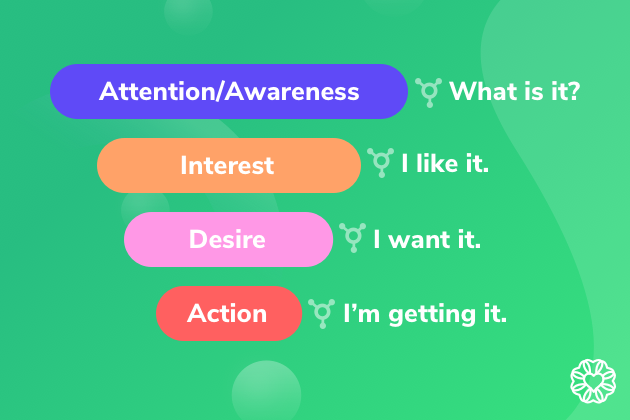 To sum up, the awareness stage represents when a lead discovers a brand or product. Then, as they learn more about a business, they begin to show interest. At this point, they want the product or service, but aren't ready to buy them. Eventually, they take an action, whether it's a download, a lead form completion, or best of all: a purchase.
Why is AIDA important?
Before you apply the AIDA formula, you must understand your potential clients first. Figure out who they are (i.e. their demographics like age, occupation, etc.), where they spend their time online, their goals, and pain points.
Knowing what your audience needs and wants can help you deliver the right solution at the right time.
Let's take a health and fitness business, for example. You know your ideal client is health-minded and is looking for ways to improve their health through workouts and healthy eating.
You attract a lead's attention with a solution they're likely to need. For example, you might write a blog post about "10 Basic Workouts to Improve Heart Health."
From there, you generate interest in your brand by showing your authority in the fitness industry. You build trust with the leads by offering valuable content, and now they're interested in your solution (i.e., gym membership). As a result, they want to learn more about your business.
But there's one problem:
The customer journey is rarely that simple. Often, prospects visit a company's website, view their content, look at their products or services, and then, click away. This is what we call cold leads.
That's why the AIDA model is so important. You need it to nurture cold leads and tailor the customer experience through each stage of the buyer's journey.
How to apply the AIDA model to your marketing strategy
By creating marketing campaigns and structures with the AIDA model in mind, you can control a lead's path to a purchasing decision. In theory, as your leads progress through each stage of the model, they learn more about your services or products and are likely to take action. That's how you get them from point A to B. Need help implementing AIDA? Here's how:
Attract leads
The first stage is awareness. This is all about creating content that grabs attention and engages leads. Did you know 37% of marketers say that generating high-quality leads was one of their biggest challenges? Needless to say, generating leads should be a top priority. Here are a few ways to attract new leads:
Build interest in your business
The next step is to increase interest. This stage is where leads like what you do, which often means that they're interested in learning more. In fact, 96% of visitors who come to your website aren't ready to buy. Your content needs to be persuasive and engaging. So, while the first stage captures attention, the second stage will hold it, generate excitement, and hook leads.
Content marketing is a great way to build interest and excitement. Here are a few content marketing strategies to nurture leads down the funnel:
E-mail campaigns: Email will be conversational and take on a storytelling format. Emails are similar to blogs, but they're shorter and more purposeful, rather than salesy at the interest stage.
Landing pages: Awareness brings prospects to your landing pages. So, make your landing pages attractive and engaging to drive interest. Pack your landing pages with tons of benefits to convince prospects they need your gym membership or yoga class ASAP.
Web content/blogs: Web content can include FAQ pages, downloadable workout templates, or nutrition guides. Blogs will help explain more about your services and how prospects will benefit from them.
Social media posts: At this point, a lead has likely subscribed to your blog and liked you on social media. So, keep feeding them content to continue to build that interest. Transformation client stories and journeys, inspiring quotes or posts, and helpful health and fitness tips will provide value to your readers.
Encourage and stimulate desire
People do business with people they know, like, and trust. Think about this. Would you continue to go somewhere after a bad experience? Probably not.
So, the "desire" stage is all about taking prospects from "I like it" to "I want it". This is where you want to start establishing trust. Continue to feed them content, but go further in depth. Answer questions, offer helpful tips, and alleviate doubts. Here's how to do that:
eBooks: Provide more in-depth information than you would in blog posts. Create helpful eBooks that offer exercise tips, explain certain yoga poses, or discuss healthy food choices.
Videos: Create engaging videos that make prospects want to work with your brand. For example, fitness video previews, yoga videos, or other fitness-related videos can make your services more desirable.
Social proof: Showcase testimonials, case studies, and reviews, whether they're in the form of social media posts, emails, or blogs.
Push prospects to take action
The final stage is where prospects make a decision. This is where they say, "I'm in." But you have to guide them to take the final plunge. Put the action you want them to take front and center. Here's what that looks like:
Text marketing: Send exclusive offers that are short but memorable. Create a sense of FOMO (fear of missing out) to drive your point home.
Email offers/eblasts: Send exclusive offers, coupons, and promotions that incentivize leads to take an action.
A final landing page: Include a low-friction, high-incentive CTA (call to action). For example, your CTA could say "Get your 30-day introductory offer now".
Amplify your marketing strategy with AIDA
Implementing the AIDA model is crucial if you want to attract high-quality leads who have the best chance of converting. This will help you personalize content and offerings at every stage of the purchase funnel.
But AIDA is just a small piece of the puzzle. You still need to focus on each stage and ensure it's a continuous cycle of bringing in leads and driving them to purchase. AIDA isn't a set-it-and-forget-it strategy. It requires time and attention to make sure it's actually driving results.
Need help nurturing leads down the funnel? WellnessLiving can help. From automated marketing to rewards programs, our all-in-one software is all you need to develop a long-term client retention strategy. Ready to get started? Book your free, no-commitment demo today!