WellnessLiving Announces Four New #StandwithStudios Grant Recipients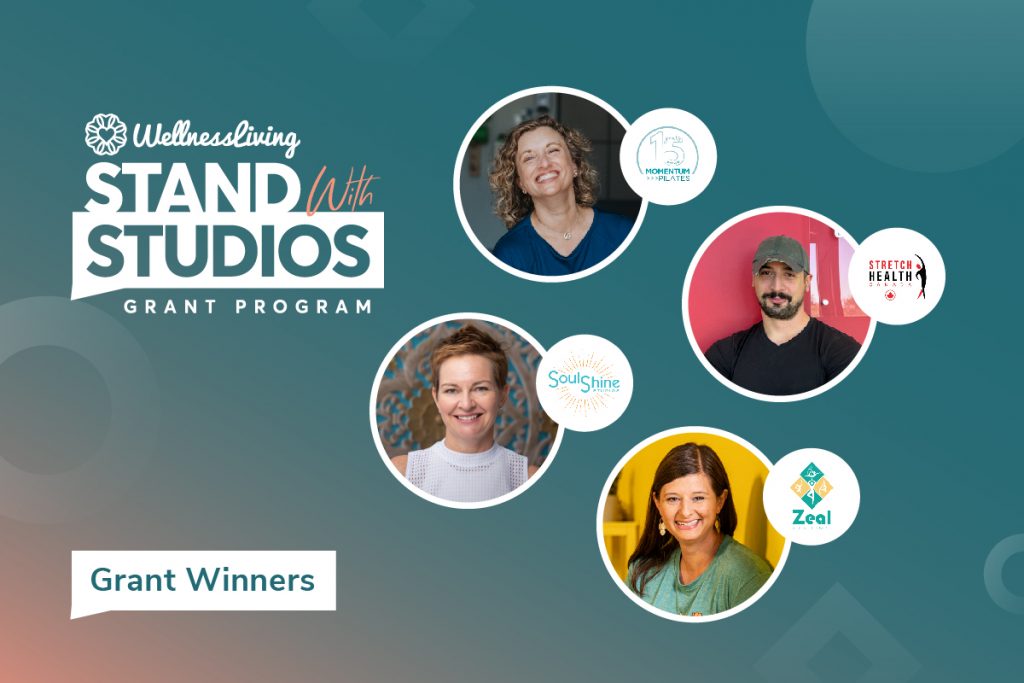 Congratulations to SoulShine Studios, Momentum Pilates, Stretch Health Canada, and Zeal Aerial Fitness for receiving #StandwithStudios Grants.
TORONTO, CA – March 27th, 2023 – WellnessLiving, the leading all-in-one software solution for fitness and wellness businesses, is thrilled to announce four new #StandwithStudios Grant Program recipients:
Marybeth Grinnan of SoulShine Studios in Richmond, Virginia.
Peggy Cuthbert of Momentum Pilates in Kingston, Ontario, Canada.
Rui Saraiva of Stretch Health Canada in London, Ontario, Canada.
Christina VanDam of Zeal Aerial Fitness in Grand Rapids, Michigan.
"In 2022, we launched the #StandwithStudios Grant Program, seeking 16 studio owners to help support in their entrepreneurial journey and we're almost at our goal of giving away $150,000 in grants, software, marketing support, and business education," says WellnessLiving CEO and Co-Founder, Len Fridman. "I feel honored that we can support so many business owners, like our latest winners, Marybeth, Peggy, Rui, and Christina, live their dreams as they enter into a new era of fitness and wellness. Hearing your amazing stories of strength and resilience means the world to us. Congrats to you all!"
Marybeth Grinnan of SoulShine Studios
Marybeth co-founded SoulShine Studios, a Nia (dance fitness) and yoga studio, with the mission to empower individuals to live with more joy, connection, and belonging. In addition to yoga and Nia classes, they also offer knitting groups, book clubs, retreats, traveling, and volunteering opportunities.
"We encourage our community to do what makes their soul shine, providing a space where everyone can be their authentic selves," says Marybeth. "Winning this grant helps me to live my dream. I opened SoulShine Studios nine months before the pandemic hit. It was a rough start, but flexibility, resilience, and creativity helped us make it difference for our community. Now, receiving a #StandwithStudios grant will allow us to thrive. Thank you so much!"
Peggy Cuthbert of Momentum Pilates
What started as a Pilates class in Peggy's basement has grown into something much more. Now its 16th year, Momentum Pilates offers in-person and virtual Pilates classes, along with therapies, workshops, and events to its members.
"From our loyal clientele to incredible staff, I wouldn't have made it through the pandemic without everyone in the Momentum Pilates community," says Peggy. "Through many highs and lows, we've survived and with this grant we're poised to thrive and have our best year ever!"
Rui Saraiva of Stretch Health Canada
Stretch Health Canada is a one-on-one stretch therapy center with the mission to help thousands of Canadians eliminate chronic pain, restore flexibility, and improve their health. Rui says building a community and delivering a world-class experience has always been their top priority.
"We've created a place where people feel connected, accepted, and cared for," says Rui. "The #StandwithStudios Grant Program is a true testament to how much WellnessLiving cares about their community, especially after all the adversity due to the pandemic. I'm absolutely thrilled to be chosen as a grant winner!"
Christina VanDam of Zeal Aerial Fitness
Christina turned her passion for aerial fitness into a full-time business. Zeal Aerial Fitness is now committed to helping change the stigma and stereotypes around pole dancing and aerial fitness in an inclusive environment, while supporting greater causes in the community.
"I'm overwhelmed with gratitude to receive this #StandwithStudios Grant," says Christina. "No matter who you are, at Zeal, our goal is to make aerial fitness accessible to all individuals and this grant will play a big part in making that happen."
The 2022 WellnessLiving #StandwithStudios Grant Program has officially ended, but it's only the beginning. Stay tuned for the relaunch of the 2023 #StandwithStudios Grant Program. Join their mailing list and follow on social to be the first to know when the 2023 application portal opens.
Visit www.standwithstudios.com for more information.
About WellnessLiving
WellnessLiving is the fastest-growing, all-in-one business management software for the fitness and wellness industry. Trusted by over 5,000 business owners and more than 15 million users worldwide, WellnessLiving is the only software solution you need to manage and grow your business. They offer an affordable, reliable, and easy-to-use platform that equips fitness and wellness business owners with all the features and tools they need to attract, convert, and retain more clients. For more information, visit www.wellnessliving.com
Contact Details
Media Relations: Noelle Beauregard
Phone: 1-888-668-7728
Email: PR@wellnessliving.com
Website: www.wellnessliving.com