May 18 2021, 9:00 AM
What is Player-Coach Syndrome?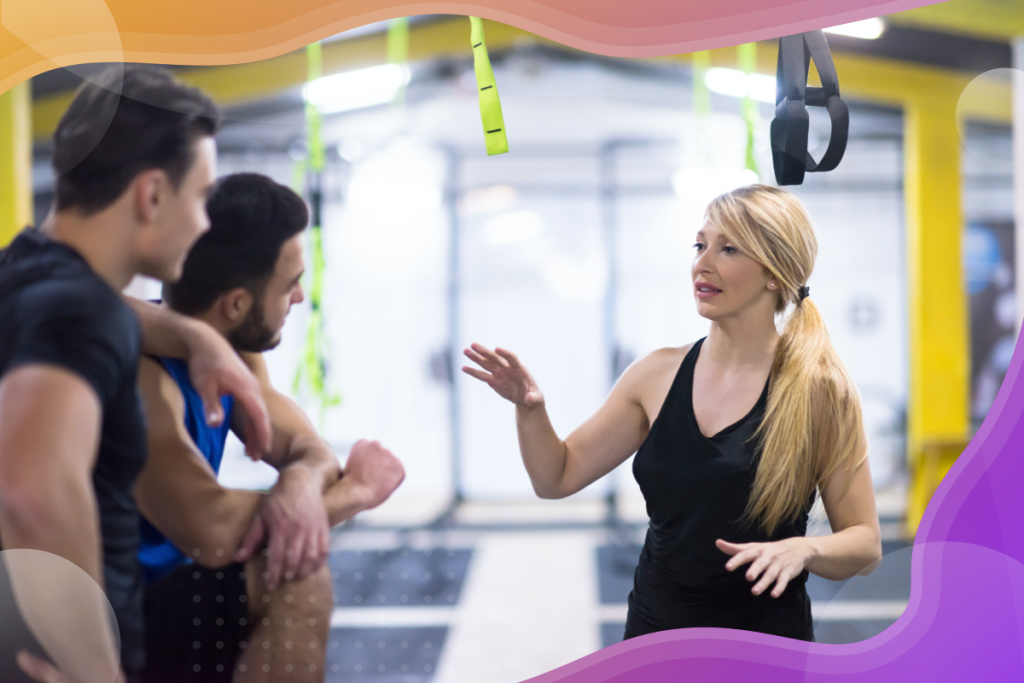 By Emile Studham, guest blogger and co-founder/director of Performance by Design
Helping professional sports teams improve their performance by integrating is a wonderful privilege we do not take lightly. There are many things we can learn from professional sports that translate into small businesses.
One of the things pro sports does well is focus on their people and leadership development as the driver of success. Pro sports coaches cannot buy a software like Salesforce to help their players run faster. They must grow and develop their people to achieve on-field success.
What professional sports does not allow their coaches to do, is run out on the field and take a pass, kick, or a snap for their players. Yet in the corporate space, we see leaders often doing the work of their players, sometimes even taking their work off them because they want it done right or they want it done now and they haven't got time to teach and/or coach them through the job and the task at hand.
Are you robbing your player's ability to build trust with you?
Consequently, when that happens, they're robbing their player, of their ability to prove that they have the 'Talent' required to complete that task.
Furthermore, in doing so, the leader inhibits their player's ability to display 'Team' behavioural traits (persistence, determination, commitment to the task, etc.).
When we look at how we build trust between two or more people, we look at the below Trust Model for guidance. You can see through the definitions below that we want a good mix of both sides of the model. Talent can also be referred to as 'results and/or competency.' Team can be referred to as 'behaviours and/or character.'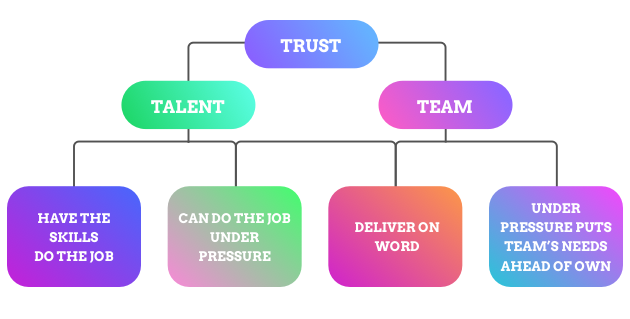 If the leader continues to behave this way over an extended period of time, it becomes very easy for the leader to assume that that particular person cannot be trusted (to do their job) and what is often worse, the player learns to step aside and at worst, plainly give up.
This can compound pretty quickly, particularly for those leaders who deem themselves 'too busy' more often than not.
The leader's inner dialogue might sound like:
"I had no time to teach them, and I just wanted the job to be done right, so I did it myself."
WHAMMO! Stuck in the Player-Coach Syndrome.
Don't worry, it's very common
I found myself in this situation back in 2010-2011 when I was the CEO of my first company.
The thing is, this attitude of "I'll just do it myself" is not malicious (although from an onlooker's perspective, it could be perceived that way), but I do think it is an unaware attitude.
The leader's management of this Player-Coach Syndrome is an important one for performance because it breeds mistrust from both ends of the rope.
The leader feels they cannot trust their player and the player feels this. Being a player on a team and feeling that your leader does not trust you, is NOT a high-performance state to be working in (especially when conducting a fitness class or performing admin tasks for example). In fact, it is quite the opposite of a high-performance state.
Creating an environment for 'others' to perform
The stress hormone, cortisol, is released time and time again, so even when given the opportunity to prove oneself, that player is not feeling great and will most likely perform poorly (reaffirming the leader's perception that they need to do it themselves).
What can make matters worse is that the player might be performing well when the leader is not around. In my experience, leaders who don't develop a coaching habit will often have the excuse they don't have the time (as mentioned above). Even if that player is performing well when the leader is not around, if that leader is time stretched and 'always busy,' they won't be capturing data from the team to appreciate that player is in fact, performing well and can be trusted.
This quickly leads to disengagement due to the feeling of being not appreciated and/or plain disgruntlement. This is a slippery slope that leads to sustained poor performance.
One of the reasons leaders might 'just do it themselves' is the rational that the player cannot do as good a job as they can. This is often true, especially if the leader is the owner of the business and a quality 'technician.'
In Michael E. Gerber's classic, The E-Myth, he states:
"The E-Myth ("Entrepreneurial Myth") is the mistaken belief that most businesses are started by people with tangible business skills, when in fact most are started by "technicians" who know nothing about running a business. Hence most fail."
(BTW: if you are a new business owner, PLEASE – PLEASE read the E-Myth)
Develop your people to be better than you!
If you're a technician first, then a business owner, you should EXPECT that your players cannot do the job as good as you (especially early on). Your job is to get them to your standard, and if you're really good, they'll become better than you! That should be your goal.
The truly great leaders we work with have integrated a coaching habit into their leadership, combined with disciplined structures to enable their players to connect in a way that they take ownership of their team/s, and ultimately, turn their vision into reality.
With this comes the beautiful team harmony of 'Shared Power.' 
This should not be confused as the relinquishing of power from the leader to their staff (of which too many leaders are fearful of), but rather the 'sharing' of power.
For me, leading IS coaching.
Leaders are Coaches…especially in the fitness industry
One of the primary jobs of a leader is to help, support, and enable their players to improve and grow as individuals.
In other words, "Make your players better so they do the work!" A great way to start is to read The Coaching Habit by Michael Bungay Stanier.  It's a great insight into the power of asking questions and approaching your leadership much like a sports coach. Knowing that Bruce Arians cannot take a snap for Tom Brady or Sheldon Keefe can't take a penalty shot for Austin Matthews, how about you try this approach for a week or so inside your team?
Lead as if you were a sports coach and you can only ask questions back to your players when they come to you with a question.
Yes, answer a question with a question.
'What do you think you should do?'
'If you were me, what do you think I would say/do?'
If your players answer your questions with 'I don't know' then ask them, 'Well, if you DID know, what would you say?'
If you are a leader finding yourself doing too much of the actual work (often referred to as 'stuck in the weeds'), then I would challenge you to consider you are not coaching enough inside your team.
Coaching is not telling, it's about asking questions
Coaching is NOT barking orders and solving problems for your team members. Coaching is asking GREAT questions, so THEY come up with the solutions. This is one way that you can manage the Player-Coach Syndrome inside your team.
Would love to hear your thoughts! Until next time, Don't leave your Culture and Performance to chance.
Want to learn more? Contact Emile for a 30-minute Zoom call to audit your culture and performance.
Reach Emile at emile@performancebydesign.co to learn more.
Visit Performance by Design here.
We got some great tips from Emile today on leadership and running a successful team (staff). Every team needs a manager. Manage your team with WellnessLiving's all-in-one software. Keep track of payroll, schedule staff, and control their responsibilities, all in one convenient platform. To learn more, book a free, no-commitment demo today.