Jun 29 2021, 9:00 AM
Your 5-Point Checklist When Looking for New Business Management Software
Good business management software is hard to find. With many customer relationship management (CRM) and scheduling platforms available, it can be easy to get lost when doing a deep dive Google search. After all, there are hundreds of options out there.
How do you choose? As you search through the different options, you will find that one stands out among the rest available. WellnessLiving offers an easy-to-use, reliable, and affordable all-in-one solution that your clients will love. Here we've created a 5-point checklist to help you select the right software for your business.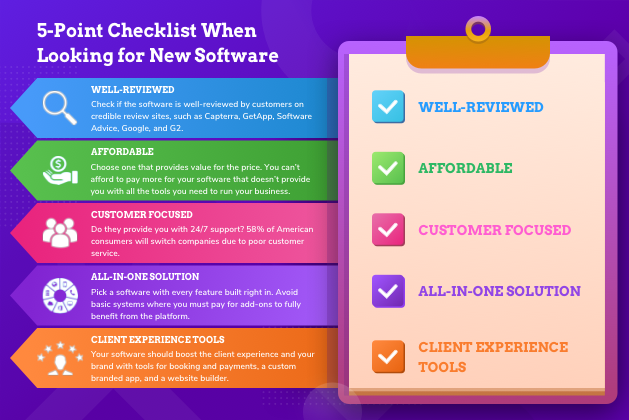 1. Well-reviewed
It may seem like common sense, but you need to research customer reviews before committing to new software. According to a report from Podium, 93% of consumers say online reviews have impacted their purchasing decisions. On top of that, 79% of consumers say they trust online reviews as much as a personal recommendation from a friend or family member.
It's important your business management software provider is well-reviewed by customers on credible review sites, such as Capterra, GetApp, Software Advice, Google, and G2.
Has the software received any favorable, third-party recognition? As a top performer in the industry, here are some recent highlights WellnessLiving has received:
2. Affordable
As a fitness business owner, the expenses add up fast—from facility costs, equipment, legal fees, business insurance, staff salaries, and advertising and marketing. You can't afford to pay more for your business management software. With other platforms, you need to pay for add-ons like email or rewards services that should have already been included in the software. It can get quite expensive over the years, and you could be paying double or triple your original price point.
With WellnessLiving, it's all about providing value for the price. For instance, say you want add-ons. In that case, we'll review your pricing and ensure we find a solution that works for your unique business needs. Many customers report savings up to $600 per month, which means thousands of dollars of savings per year. We also offer flexible pricing plans to work with our customers' budgets. Here's what our happy customers are saying about the affordability of the software:
"There's more value for the cost, and it honestly has everything we need in a software!" — Marieyama King, owner of Wellbeing95
"Not only do I save hundreds of dollars per month, but I receive all the features I need," — Leon Love, owner of Lionheart Health LLC
"I switched to WellnessLiving because it's the best software available for the price!" — Gerardo Galindo, owner of Galindo Tennis International Academy
3. Customer focused
You'd think customer service would be a no-brainer for every business management software company. According to research from Microsoft, 58% of American consumers will switch companies due to poor customer service. At the same time, if customer support is excellent, 78% of consumers will stay loyal, despite any concerns.
At WellnessLiving, we're there for our customers 24/7 with our first-class Support Teams.
We partner every business owner with a dedicated onboarding specialist who will seamlessly migrate your entire business and train you and your staff on the software.
We also provide additional training to ensure that you're comfortable with everything the platform has to offer.
Our Community Forum provides a space for our customers to ask questions, report bugs/issues, and request features they'd like us to add.
But, don't take our word for it. How do our customers feel about the support they receive?
"They provide an ongoing level of customer support that's game changing. I feel like they really care about my success, and that's so refreshing in today's world," — Richard Pike, owner of Sweat Central
"I love that I can reach customer support immediately and I receive a solution by the end of the call!" — Alissa Harakal, Body Design by Alissa
"Whenever I need WellnessLiving to walk me through something, their customer support team is always there to find the right solution," — Laura Buckley, Adamson's Karate Studios
4. An all-in-one, user-friendly solution
The state of digital has grown over the last decade, and more platforms and companies now provide everything a customer needs all in one place. For example, a food processor that chops, spiralizes, and shreds. Or, an all-in-one workout machine that provides everything you would get at the gym.
Your business management software needs to provide the business owner with an all-in-one solution, too. Some platforms are too basic, and customers need to pay for add-ons to fully benefit from the system. As a result, the user feels disconnected and must bounce from platform to platform to perform their daily tasks.
In WellnessLiving, every feature is built right into the software, which means customers can focus their energy on managing their business. Here are some of our tools built right into the software.
Automated marketing suite: Some platforms charge for add-ons like Constant Contact, Emma, or MailChimp. Our system lets you create and send customized email, SMS, push notification, and postcard campaigns to clients. Our latest addition of Message Center now allows you to respond to and track your SMS messages, while engaging in conversations through a dedicated channel built into the software.
Loyalty rewards program: Rewards programs are essential these days to keep clients engaged and interested in your business. It allows them to earn points and redeem them for prizes. However, this type of feature is extra with many of our competitors.
Virtual tools: Rather than go back and forth from WellnessLiving to your video conferencing platform, we integrate with Zoom. This lets you set up your livestream classes and appointments and invite clients to join right in the software. FitVID on Demand then allows you to grow your on-demand platform while avoiding third-party video system like YouTube.
5. Tools to boost the client experience
Clients are at the heart of every business, and you want to do everything you can to ensure their experience is a good one. A Salesforce survey found that 76% of consumers expect businesses to understand their needs. That means your business management software must provide the tools to streamline and automate the client experience.
After all, convenience is the name of the game, so each software tool needs to keep that in mind. With WellnessLiving, your clients can instantly book, check in, or register for a class, and they can do it all within an easy-to-use app. We also help create an elegant website that your clients will love. Let's take a closer look at some of these features…
Booking and payment tools: There are multiple tools that help clients book and pay for your services online. For instance, clients can search your schedule and book within the Achieve Client App or client portal in their profile. They can also book services through direct booking links, Reserve with Google, website widgets, and BOOK-A-SPOT™—a feature that lets clients book a room or their favorite equipment.
Custom branded app: WellnessLiving's Achieve Client App lets you stay connected with your clients as you keep your brand top of mind. Your custom branded app needs to represent your business, and should include your logos, colors, fonts, and images.
Presence™ website builder: You need a website that showcases your brand, attracts new clients, and creates a stronger online presence. The team at WellnessLiving works with you to build a website that's branded for your business, optimized for built-in Search Engine Optimization (SEO), and fully integrated with your business management software.
Book a demo: Time to upgrade your software!
Not every software is the same, and you're going to want to do your research before choosing the right option for your business.
Let's recap. When looking for the right business management software, here is your checklist:
It comes highly recommended.
It's very affordable.
It puts the customer first.
Everything you need is all in one place.
The client experience is taken to the next level.
Does your business management software check all the boxes? Maybe you're a new business and have never used an all-in-one platform. Or, you're tired of your current system. Use this handy, easy-to-use guide to help choose the right booking and payment software for your business.
We almost forgot. The bonus point. Perhaps the most important point is the demo. You need to make sure the software offers a demo or free trial version before you commit long term to them. A demo specialist will walk you through how you might use the software and answer all your questions. This way you understand whether the software is the right fit for your unique business needs.
Luckily for your business, WellnessLiving will pass this test. We will tell you all about it when you book a free, no-commitment demo. We're excited to teach you everything about our system!