Mar 09 2021, 9:00 AM
5 Ways to Motivate Your Fitness Clients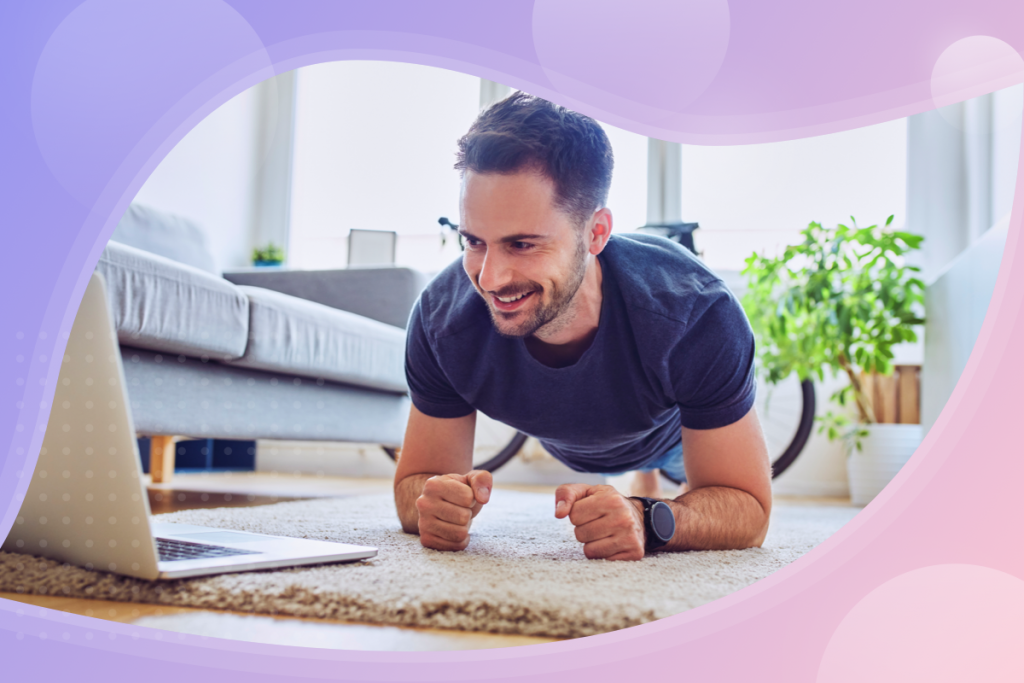 Under normal circumstances, without the pandemic, motivating a client to work out regularly at your fitness studio can be challenging. Now, according to an IHRSA report, 48% of people are having a harder time finding the motivation to exercise at home, some have even stopped exercising altogether.
Motivation is all about initiating, guiding, and helping clients maintain a goal-oriented mindset. Without face-to-face interaction, you need to find new ways to motivate your clients and get them excited about virtual workouts so they can achieve their long-term goals. How will you motivate your members in the digital space? Here are five ways to get your clients back on track:
1. Help them create a workout space they'll love
Studies show that 64% of people surveyed are more interested in home workouts than they were before the pandemic. They may be short on room or lack privacy but creating their own workout space is a great way to keep fitness clients motivated. Teach them how to make working out from home stress-free and fun with a few simple steps:
Choose an open, well-lit space to spread out for cardio, weight lifting, and yoga.
In a multi-purpose space, reallocate, or invest in small storage to keep bands and balls neat and tidy.
Include a foam mat in your set up. Home flooring can be hard on joints, so your body will thank you for the added support.
Have everything close at hand: prevent workout interruptions with easy access to towels and water.
Motivation comes from consistency, too, so wearing workout clothes and keeping a regular schedule will help clients build a new routine they'll love.
2. Get clients committed with at-home workout equipment
Worried about how to keep clients motivated to work out at home without all the equipment your gym offers? The data actually shows they're ready to invest in their health. In fact, in the last three months, Americans spent an average of $95.79 in at-home fitness. Resistance bands, dumbbells and yoga mats were the top sellers, with 25% of Americans buying exercise bikes and 21% buying treadmills or elliptical machines. Now's your chance to help them get set up by renting or selling your equipment:
WellnessLiving's BOOK-A-SPOT™ feature makes it easy to list, sell, and rent your equipment. Simply manage inventory, schedule start and end dates, and set up single use or recurring rentals so your clients have everything they need to work out with you.
Flexible options means there's something for everyone. Offer memberships for on-demand classes, add on with virtual options, and create hybrid memberships to appeal to a variety of clients.
Keep clients committed with a monthly payment plan, so they'll stay on track and you'll have a steady income stream.
3. Make it easy for clients to join online services
Your clients have enough to worry about, so make their lives as easy as you can. If you've been struggling with how to keep fitness clients motivated, simplify your process to get them inspired. With WellnessLiving, clients can register, book and check-in all in one place, with just a few clicks. Your clients will love the amount of time they save.
We're all busy and with today's average at-home workout being 30 minutes or less, flexibility and simplicity are key. Offer options through WellnessLiving to make workouts quick and easy:
Livestream: Livestreaming lets you connect with clients in real time with an in-person class feel. With just a few clicks, Zoom integration lets you manage members-only access, allow clients to join live sessions, and automatically send out confirmations once clients book classes. It's a one-stop shop for livestreaming.
On-demand videos: On-demand lets clients workout on their own time, so get your library in order with FitVID on Demand. Upload your videos right through your WellnessLiving software, grant exclusive client access, and organize your content in the way that works best for you. On-demand videos add an extra revenue stream for your business, while offering your customers more value.
4. Prioritize goal-setting and progress
How do you keep fitness clients motivated like a pro? Work on helping them set goals. The key to client motivation is making milestones, so suggest SMART goals (specific, measurable, achievable, relevant, and timely) to keep clients focused.
Hint: workout buddies help push people to that next level. In fact, 53% of consumers say their friends have motivated them to stay active during the pandemic. Connect with your clients—be their coach, their friend, and their mentor. Take client motivation to a whole new level.
What can you do to help clients set and track these goals? Coach them on goal-setting and stay with them every step of the way with WellnessLiving's expert tools. Through their Achieve Client App, clients can access their transformation log to stay up to date on their progress. Here's how:
Each visit is recorded and notes can be updated to keep client info accurate.
You can set short and long-term goals to inspire your clients.
Clients can upload photos to track visible progress.
Clients can compare heart rate, blood pressure, and body fat percentage to see the changes between day 1 and day 101.
Coming soon to WellnessLiving: FitZONE, a one-of-a-kind personalized programming system to instantly track your clients' metrics, monitor progress, and tweak each program in real time so your clients get the very best results.
5. Challenge your clients with a rewards program
People are motivated by competition and with 31% of consumers reporting that they've participated in an online fitness challenge, this is how to keep fitness clients motivated.
Get their competitive juices flowing with a friendly challenge that'll inspire them and get them moving forward. From a loyalty rewards program to a monthly challenge, get your community earning points, working towards a goal, and earning their way to exciting prizes.
Choose your challenge and motivate clients to take more classes or maximize their results as they compete to win prizes like free merch, class discounts, and more. It's fun to compete against themselves, but with WellnessLiving's leaderboard, clients can compete against each other too. They'll love the excitement of checking their ranking as they work towards winning.
Motivate clients in the digital age
Times have changed and client motivation can be a challenge. Make exercise fun and inspire your clients to work out with you, even while at home. Once they have a workout space they love, are set up with the equipment they need, and can easily join a session, they have to have the right mindset. Create goals to set them up for success and add a little friendly competition to keep them engaged.
With tools like Zoom integration, FitVID on Demand, the Achieve Client App and more, WellnessLiving can help you take client motivation to the next level. Want to learn more about how can WellnessLiving's all-in-one software help? Book a free, no-commitment demo today to learn more.