Jan 21 2022, 12:08 PM
Yoga Seven Switch to WellnessLiving for Cost-Effective Live and On-Demand Virtual Services
For WellnessLiving's Co-Founder and CEO Len Fridman, connecting with our international customers on his CEO Tour has always been a passion project. Len has always felt it was paramount to visit our customers in person to solidify relationships and showcase each business in detail.
The pandemic forced WellnessLiving to pivot from in-person CEO Tours to connecting online with our customers. Len is still doing what he loves, helping our customers leverage our software to grow their business, only now he's doing it virtually.
On this leg of the tour, Len stays close to home as he 'virtually ventures' to the charming neighborhood of Port Credit, Mississauga, Ontario to meet Yoga Seven co-owners, Ginty Burns and Joanne Heaney. Discover their pandemic switch to WellnessLiving for our livestreaming services and FitVID on Demand library, and how going virtual has benefitted their clientele during lockdowns.
"We had so many people emailing us saying 'thank-you for continuing [classes virtually].' They needed that human connection, to move their body, and have that sense of peace." ~ Joanne Heaney
Yoga Seven at a Glance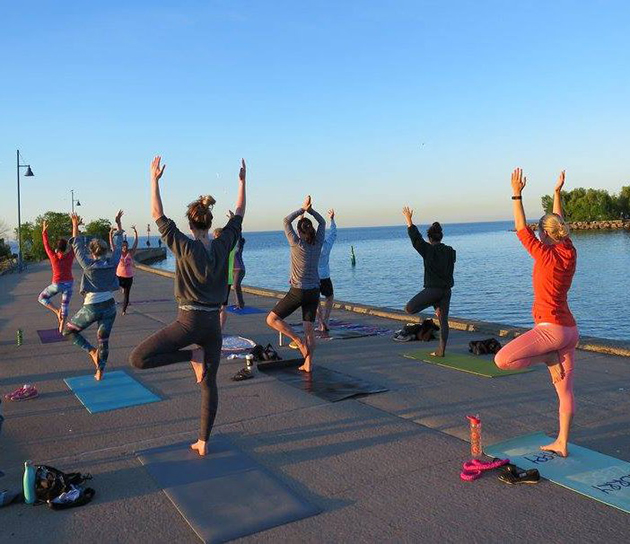 📍CEO Virtual Tour Destination: Port Credit, Mississauga, Ontario
📍Customer Business: Yoga Seven
📍Website: https://yogaseven.ca/
📍Special Guests: Co-Owners and Instructors Ginty Burns and Joanne Heaney
📍Number of Locations: 1
Nestled in the quaint riverside neighborhood of Port Credit, Mississauga, Ontario is Yoga Seven, offering a blend of in-person, virtual, and on-demand classes for Yoga, Barre, Mat Pilates, and more!
Yoga Seven classes include:
Hatha Yoga
Slow Flow Yoga
Breathe, Stretch & Strengthen Yoga
Flow & Stretch Yoga
Gentle Yoga
Yin Yoga
Restorative Yoga
Meditation
Mat Pilates
Yoga with Weights
HIIT Training
Nordic Pole Walking
Barre
There's something for every fitness taste and level at this inclusive and welcoming yoga studio, including yoga in the park classes in the spring/summer, as well special events and workshops like meditation, Thai massage, and couples' yoga—just to name a few!
With over 15 talented instructors that teach in-person and virtually across Canada, Yoga Seven's namesake is based on seven governing principles: Foundation, Flexibility, Fitness, Focus, Fearlessness, Friendship, and Fun.
Meet Ginty Burns Co-Owner of Yoga Seven
Ginty Burns, pronounced like Gin, started taking yoga classes at the insistence of her doctors to stay healthy and instantly fell in love with the practice and endless benefits. At 63 years young, she took her Registered Yoga Teacher Training (RYT-200) at the Jesse Barlow School of Yoga in Sri Lanka and continues to learn about both the practice and business of yoga.
This vivacious entrepreneur loves John Fluevog shoes, alternative medicine, gardening, and cooking. After meeting Joanne Heaney at her former yoga studio, she leaped at the chance to open Yoga Seven in 2014 as co-owner.
Meet Joanne Heaney Co-Owner of Yoga Seven
Joanne Heaney found yoga after a trifecta of losses in her life—her father's death, her mother's cancer diagnosis, and job loss hit her "like a Mack truck" all at the same time. She started taking yoga classes at a studio that she had passed by several times before but was too intimidated to sign up.
These classes, and her new community of friendships, literally brought her "back to life." One of her new friendships was with Ginty Burns, another student who she would see at yoga classes as they both "rolled out their mats," and an unspoken bond was formed. With the encouragement of her teachers, she completed her RYT-200 certification in 2013, and applied her degrees in Kinesiology and her MBA from Kellogg-Schulich to her new endeavor as a founder of Yoga Seven, which she co-partnered with Ginty Burns in 2014.
Canadians Supporting Canadians
After the pandemic first hit in March of 2020, Yoga Seven was forced into lockdown, and Ginty and Joanne decided to go completely virtual by offering Zoom classes. They were with a different software provider at the time and were concerned about their mounting technology costs due to having to pay extra for their Zoom integration.
When Joanne heard about a cost-effective all-in-one fitness business software solution called WellnessLiving she was intrigued. When she found out it was a Canadian company, she was SOLD! "We're proud Canadians and we love to support Canadian companies," says Joanne with a smile.
All-in-one virtual services software solution
"WellnessLiving had everything we needed, including livestreaming services already integrated in the software," says Ginty, who switched providers six months into the pandemic and has never looked back.
"Those savings were very important to us," she adds. "What was also great was that we could host our online library [with WellnessLiving's FitVID on Demand], which was an added bonus that we didn't have to get another software to do that."
How did your community and staff adjust to transitioning online?
"The [Zoom] integration (now FitLIVE) was seamless," says Joanne. "Our teachers found the interface so easy to use. Our clients are delighted—it's so easy for them as well!"
In addition to putting their live virtual streams into their FitVID on Demand library for their clients to take classes they missed, they are also experimenting with some extra curated content.
"One of our instructors has been making videos of her favorite recipes that she records in her kitchen," says Ginty. "I do a quick edit of the videos and they are up in our library and so easy for our clients to access."
Why was going virtual so important for your clients during the pandemic?
"It was that sense of community that people were missing. People were so isolated—especially those that lived on their own," says Joanne. "We had so many people emailing us saying 'thank-you for continuing [classes virtually].' A lot of our clients work from home and were homeschooling their kids. They needed that break to disconnect. They needed that human connection, to move their body, and have that sense of peace."
In addition, it gave a whole new dimension to the unique personalities of their virtual instructors who are spread out across Canada.
"We got to meet their pets and see parts of their homes and spaces. One of our teachers likes to sing during Shavasana," says Ginty.
Yoga Seven X WellnessLiving's Highlight Reel
The following standout features and services have helped Yoga Seven and their clients stay connected and healthy during the pandemic.
Data Migration, Quick Setup, 24/7 Customer Support
Concerned about changing software providers? We can completely convert all your existing software data and import it into WellnessLiving seamlessly. We partner every business with onboarding specialists who will set you up for ultimate success.
WellnessLiving migrated seven years of customer data with Yoga Seven without disrupting their day-to-day class schedules.
"Your team was definitely there for us when we needed them, even late into the night," adds Joanne. "It was a seamless transition, and our clients are delighted."
FitLIVE
No third-party platforms or extra costs here! Easily integrate your virtual classes with FitLIVE and events into your daily schedule, with our all-in-one staff and client booking and marketing reminders, already baked into WellnessLiving's software.
FitVID on Demand Library
With FitVID on Demand built right into your software, you can provide your clients with an endless variety of workout videos and extra curated content that they can access from your library, anywhere at any time. You can even give new leads some promotional content as a teaser without giving them access to your members-only content. The options are truly endless!
Two-way SMS Message Center
Enjoy two-way live conversational text messaging with your clients in Message Center, part of WellnessLiving's automated marketing suite.
"We're just starting to dip our toes into text messaging," says Joanne. "They've worked well," adds Ginty, "I've done a couple!"
"Email is wonderful," chimes in Len, "but when your clients get a personalized text message, the likelihood of them opening it and responding to it is very high!" In fact, the data shows that SMS open rates are as high as 98%.
Yoga Seven serves up online fitness 24/7 thanks to WellnessLiving
At any time of day or night, clients of Yoga Seven can access pre-recorded live classes and take them at their convenience. Most importantly, their clients are staying active and are enjoying their virtual experience, whether live or on demand.
Yoga Seven is looking forward to a bright future while remaining grounded in the present, stepping out of comfort zones, and inviting growth "with WellnessLiving joining us along the way," adds Ginty.
On a side note, the ongoing pandemic and subsequent fitness business lockdowns have tested all of our collective patience and resilience. We hope this particular case study has given you a clear understanding of how impactful offering virtual services to your fitness clients can be. Stay healthy and safe!
Ready to learn how WellnessLiving can get your yoga business set up for virtual services? Book a free, no-commitment demo today!