Nov 26 2019, 9:00 AM
5 New Year Marketing Strategies for Your Yoga Studio
The holidays are almost here! Have you nailed down your new year marketing strategy? Get your yoga studio started on a winning streak by planning ahead for 2020's successes!
Why is it so important to ramp up sales in the next few months? This is the time of year when most people re-commit to their fitness goals, make their New Year's resolutions, and take a look at their budgets.
In fact, a recent study showed that 44% of people polled planned to make New Year's resolutions and 13% of those people were focusing on more exercise as part of their goals for next year. In other words, now's the perfect time to capture their attention and get them into your yoga center!
Are you ready to get started? We've compiled a list of ways to attract the attention of the New Year's resolution crowd and put together a successful new year marketing strategy:
1. Stay Top of Mind
Start off right by making your presence known! Don't let clients get too distracted or too bogged down to visit your yoga studio at their busiest time of year. Here are just a few of the ways you can make sure your clients don't forget about you with the arrival of colder weather and the holiday hustle and bustle:
Make contact
Staying connected with your clients means that your communication is consistent. You don't want to spam them, of course, but you do want to reach out to let them know about offers, interesting content, and events. From emails to newsletters, reach out as often as you can, while still adding value to each communication.
You might even consider sending out greeting cards to thank them for their support, let them know your holiday hours, and make sure they don't forget about making time for your studio.
Stay social
You definitely want to engage your community on social media as part of your new year marketing strategy. Social media offers the opportunity to reach a large audience all at once, so it's often the best bang for your buck when it comes to marketing.
Keep your followers interested in your yoga center at this time of year by posting seasonally themed content! Think about blog posts with tips on subjects like: how yoga can help fight holiday stress, great gift ideas for your favorite yogi, or how to practice yoga while travelling.
If you're offering information that could address a need your clients have, you're more likely to hold their interest and stay top of mind.
Don't forget to engage with your community on social media, too! Respond to comments and questions, share content, and actively seek to grow your online community. Try hosting a social media contest to create excitement and gain attention.
Stay topical and current to keep your community interested and engaged throughout the season and into 2020, as part of your new year marketing strategy!
2. Focus on Memberships
Increasing your memberships will give your bottom line a boost! Focus on getting people to commit to a year at a time so you have some predictable income throughout 2020. But how do you get clients to commit?
Create an incentive
Why not offer an unlimited January membership for a great price so people can try all your classes before they commit to a full year? Or you could add value by offering a 15-month membership for the price of a year. Or how about offering a limited time perk for the first 25 people to sign up, just to create a buzz and get the ball rolling? Get creative with this one!
Search out a new market
While the bulk of your attention should be focused on re-enrolling your existing members, don't forget to include new memberships. We've stressed that New Year's is a crucial time to capitalize on resolutions and fresh starts, so use that part of your new year marketing strategy to attract new members!
Can you approach a local running group to talk to them about stretching? Or could a community sports team use a demo on using yoga to prevent injuries? The new year is a time when these businesses see growth too, as people create new goals and re-commit.
Once you make contact, establish yourself as the expert, and maybe even offer a special membership rate, so you'll see your enrollment grow. Memberships are a way to make sure that your clients keep visiting and investing in your yoga studio, so focus on this element as a key part of your new year marketing strategy!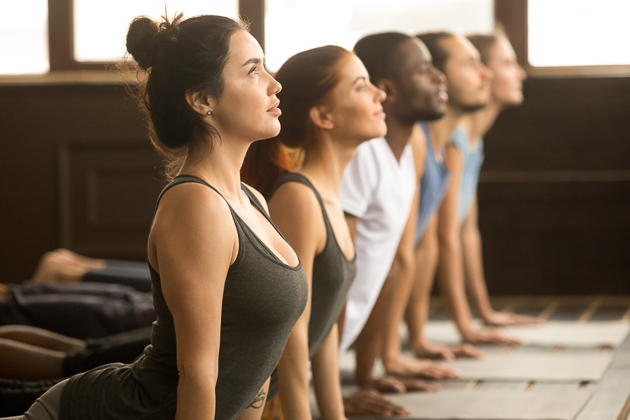 3. Customize Your Approach
This is the time of year when most of us are getting re-focused, setting our goals for the year, and planning out 2020. Taking a one-on-one approach to really address your clients' needs will set you apart from your competition and build a greater connection with your clients. So get personal this season!
Help your clients reach their goals and stay on track by creating an online accountability group. This could be a Facebook group monitored by your team, designed to have your members share their stories, cheer each other on, and provide on-going support. Or how about offering one free personal session with all new memberships? You could consult on anything from health to nutrition to everything else that falls within your expertise.
This type of personal attention might just entice a few new members to join, while showing you care about your clients' goals!
4. Reward Loyalty
Now's the time to remind your clients how much you appreciate their loyalty. Up your loyalty rewards game by making your program the best in the biz! Can you double the rewards points during this season to encourage clients to continue or even increase their buying? Or even better, for a limited time (like the month of January) can you triple the points? Or how about offer bonus points to new January members?
Getting your clients interested in earning more points will keep them loyal and interested, while steadily increasing your revenue.
Don't have a loyalty rewards program? Here's where we can help! At WellnessLiving, we offer the tools you need to set up, track, and maintain your loyalty rewards program. Need help spreading the word about how your studio rewards loyalty? We can help there too!
From our client app and our staff app, to automated marketing, you can count on us for the tools you need to grow your community and your business. We'll get your rewards program up and running with just a few clicks so you can maximize loyalty and use it to help make your new year marketing strategy a success.
5. Go Corporate
Many companies are finding that their employees perform better and that productivity is increased when they're focused on fitness. It's in a company's best interest to do whatever it takes to retain their employees, motivate new recruits, and maximize performance wherever they can.
Here's where your new year marketing strategy comes in! Today's businesses often have onsite gyms, flex hours, and an allowance to invest in their employees' health and wellness. January is a great time for companies to start making employee wellness a priority. How can you make this work for your yoga studio?
Pay them a visit
Approach local businesses to do a mat class on site or give a talk on using yoga to combat workplace stress. Having them try out a class in a setting of their peers might make them feel comfortable enough to give it a try at your studio. This could spark some interest and attract new members!
Offer corporate memberships
You might also consider offering companies a discount for a bulk number of memberships to take advantage of the fact that companies have a vested interest in fitness as a priority. The lower price will entice people to join, while significantly upping your income.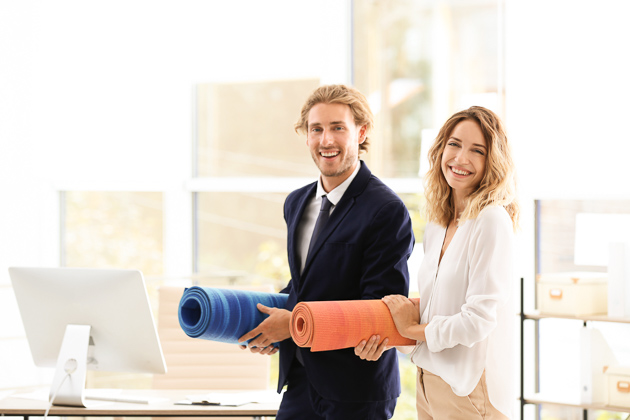 With a lot of us sitting at our desks all day, companies could really foster loyalty from their employees by prioritizing their health and wellness – and it's a perspective that could be beneficial to your new year marketing strategy!
Try team-building
The start of the year is a time where many companies re-focus their teams and their energy on success for a new year. Fitness is a large part of that! Take advantage of the fact that companies are focused on planning, goal-setting, and building a team that will work successfully towards a common goal. Is there a team-building event you could offer to get companies started? This could mean anything from vision boards to a yoga class to sessions on sleep techniques or stress-busting.
This is the perfect time of year to up your sales, increase memberships, and grow your studio by focusing on the corporate market as part of your strategy.
The Time Has Come…
It's the time of year when most of us take a look at our goals, plan our budget, and set ourselves up for success for the coming year. Make 2020 a winning year for your yoga center with a new year marketing strategy that can't lose!
Set your yoga studio up for success and attract the New Year's resolution crowd with an approach that keeps you top of mind and recognizes your clients' needs. Get a little help from WellnessLiving's all-in-one software, and you'll manage your loyalty program and automate your marketing for that boost in your bottom line!