8 Fitness Challenge Ideas for Your Members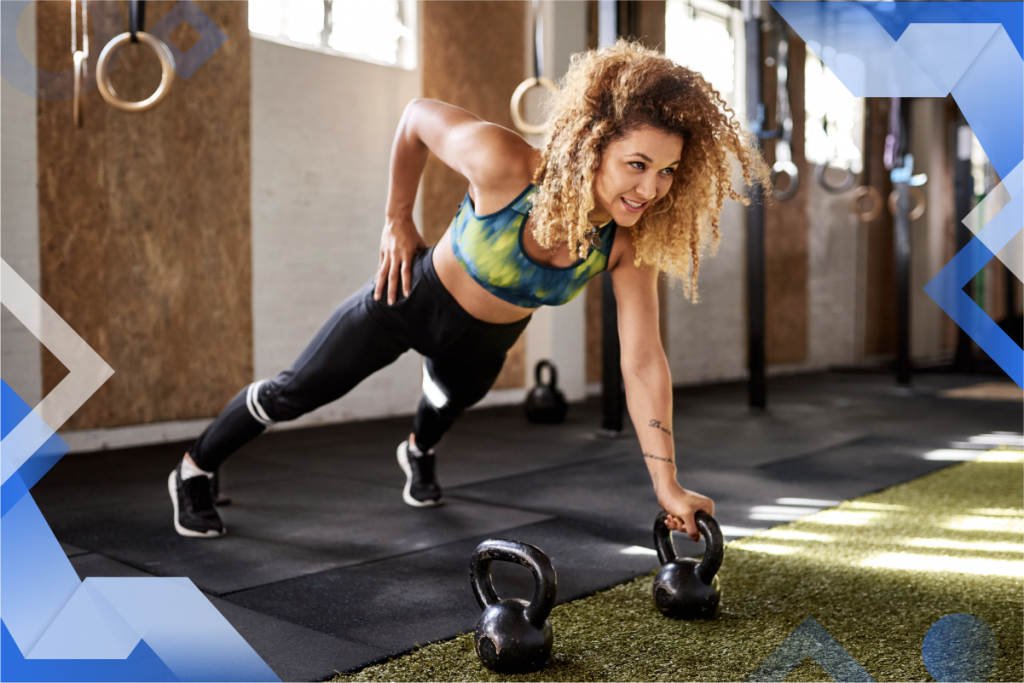 Are you looking to improve client acquisition and member retention at your gym or fitness studio? A fitness challenge is the perfect solution.
As a gym or studio owner, it's your job to motivate your club members and encourage them to reach their goals. According to Forbes, social experience is the highest motivating factor for joining and attending the gym.
Whether it's online or in-person, hosting various fitness challenges or contests throughout the year is a win-win. Not only do they help promote your services and attract new clients, but they also increase client accountability and your fitness club's retention rates. Members who attend group fitness classes, especially with a challenge, visit their club four times per week, compared to the industry average of twice a week for members who only go to the gym to work out alone.
Most importantly, fitness challenges can help boost client satisfaction and brand loyalty. A recent CEA study found that if club members have more than one reason to work out, they're more likely to be satisfied and recommend your business.
But if you've never hosted a workout challenge before, the process can feel overwhelming. So, where do you start? And what gym contests should you host? In this guide, we'll help set you up for success by providing fitness challenge ideas to supercharge your client acquisition and retention efforts.
How do you set up a successful fitness challenge?
Research indicates that 50% of people who sign up for gym membership drop out in the first six months. Why? Most of the time, people aren't set up for success and their goals are unrealistic. When they don't hit their goal after a few months, they blame it on your business not being able to deliver results.
On average, it takes 66 days for a new habit to become automatic. Monthly challenges help set the stage for successful habit change. And yes, things do get harder as time goes on, which is why you need to support your members.
A fitness challenge can help clients take their fitness goal to the next level. In addition to a goal, a fitness challenge will have a deadline and provide tools so clients can succeed by staying consistent with their workout routine.
Your fitness challenge must have a strong foundation. How can you ensure that the fitness challenge will be a success for both you and your client? Here is how you should set it up:
SMART goals
The goal should be SMART (specific, measurable, achievable, relevant, and timely). Remember, if it's unrealistic, you're setting your clients up for failure.
Always have an end date
The challenge must always have a deadline, like 21 days, 30 days, eight weeks, etc. The idea with challenges is you want to hook clients and get them committed to your business long-term.
Tools
Giving clients the tools to reach their goals is important for any challenge. Think about sending them nutrition guides based on their goals, eBooks with illustrations that show them how to perform each challenge, or videos and podcasts for motivation.
Track progress
A workout template can help them track their progress daily. If they record their progress on your app, you can monitor their progress and motivate them along the way.
Reward them
Reward clients whenever they hit a milestone with your challenge, finish on top, or complete the challenge in general. You can reward clients with apparel or merchandise from your business, including water bottles, t-shirts, sweaters, towels, or yoga mats.
8 of the best fitness challenge ideas for your members
When it comes to fitness challenge ideas, there are plenty of options with all of them having similar elements. Here we explore eight fitness challenge ideas to help get you started.
1. 30-day yoga challenge
This type of 30-day fitness challenge is one of the most popular. Yoga is loaded with physical and mental health benefits, and a yoga challenge helps clients stick with their goals and your business long term. They'll also be able to see their progression and get into the habit of daily yoga.
Even if they don't come to your studio every day, they can still do yoga online or a shorter, 30-minute practice session to remain on track for the month. Better yet, a 30-day yoga challenge is perfect if clients need to take class with on-demand video. That way they can take class every day in their own time.
2. 30-day movement challenge
Looking to encourage members to participate in daily exercise? The good part is that they can complete the challenge from anywhere. Plus, you can adapt this challenge with various movements. For example, squats, abs, planks, push-ups, crunches, or simply a walk, all work in this format. The idea is that clients perform the same movement every day for 30 days like:
100 push-ups, crunches, or squats for 30 days.
Walking or running for 30 minutes a day for 30 days.
These types of challenges start off easier and get harder as you go along. By the time the challenge is over, members are in better shape because they did the movement consistently for a full month.
3. Most visits challenge
What's the best way to create friendly competition? Motivate your members to visit your gym or attend your classes by encouraging them to visit your studio or livestreams more often.
Many of the challenges on this list are personal challenges where a client aims to reach an individual goal. However, the "most visits challenge" encourages your client to beat out others and become first. An added level of gamification with a leaderboard and a scoring system is another way to keep your members engaged. Research from UC Berkley suggests that gamification of fitness will only continue to grow, creating more spending and friendly competition.
4. Personal best challenge
This fitness challenge taps into your members' competitive nature to reach a new personal best for various areas of fitness. This would allow clients to improve their reps, weight lifted, distance run, or number of classes attended. As part of the challenge, clients can also compete with others to see who improved the most.
Along the way, you can send emails or SMS messages to get clients to set a goal or personal best time or target they want to hit. You can also send exercise tips and healthy meal suggestions to help them reach a new personal best every week and month.
5. Stretching challenge
Stretching helps improve performance and reduce the risk of injury; however, this pre-workout warm-up activity is often overlooked. Since not everyone stretches, this is the perfect challenge to ensure clients get their stretches in before their workout. Recommend your clients perform a variety of stretches, including legs (hamstring, calf, quad, and hips), arms, shoulder, and back.
How can you keep clients on track with their stretching challenge?
Remind clients to complete their stretches with daily emails or texts.
Get clients to record their stretches, like what they complete each day.
Send clients a stretching guide or videos with various types of stretches so they can mix it up.
6. Mindfulness challenge
There's more to fitness challenges than just movement. You can also focus on helping your members manage stress as well with a mindfulness challenge. Encourage a positive outlook with various activities like daily meditation, reflection, journaling, and walking.
Practicing mindfulness has many health benefits. It can help relieve stress, lower blood pressure, reduce chronic pain, improve sleep, treat heart disease, reduce anxiety and depression, and more.
In a 21-week mindfulness/meditation challenge, you can send clients emails or texts every day with clear instructions, calming music suggestions, and guided meditation videos. Clients can also write in a journal or diary about what they're grateful for.
7. Healthy eating challenge
Exercise isn't effective without nutrition and a healthy diet. In this challenge, you'll help combat your clients' negative relationship with food. Throughout the healthy eating challenge, clients can try new recipes, cooking classes, work with a nutritionist, and personalize their meal plan, so they can gain a whole new perspective when it comes to their diet. Here is how you can help your clients with the healthy eating challenge:
Encourage them to clean out their pantry and fridge from foods that are highly processed or high in sugar or unhealthy fats.
Discover what food sensitivities or allergies they have so they can avoid those foods.
Provide healthy meal ideas that include more fruit, vegetables, lean protein sources, healthy fats, fiber, and high-probiotic foods.
In addition, send them nutrition guides and recipe ideas to help get them started.
8. Share your transformation challenge
This is a very rewarding challenge for both you and your clients. Creating a transformation challenge is a great way to attract new members and motivate current members to get back into a routine. Here is how it works:
Clients will take a before picture.
Once they reach their goal, they take an after picture.
They send you their transformation pictures and you can share it on your website or social media platforms with your audience.
You can also reward clients for sharing their experience.
Increase client loyalty with the right fitness challenge ideas
Client retention continues to be one of the biggest challenges facing the fitness industry today. For most people, the motivation to work out fades away after a few days, which negatively affects a club's retention.
Gym and fitness studio owners can attract and retain more clients by incorporating fitness challenges into their offerings. Use some of the fitness challenge ideas in this blog to boost loyalty, motivate clients, and help them reach their goals while developing healthy habits.
For more info about fitness challenges, visit our other blogs:
WellnessLiving has all the tools you need to manage your clients and build loyalty, while taking your fitness challenges to the next level. In WellnessLiving, fitness challenges or contests can be created via your leaderboard to track rewards points earned by clients. In addition, the client's Transformation Log is the perfect tool to monitor client goals and progress.
Want to know how WellnessLiving can help you increase engagement, boost retention, and grow your fitness business? Book a free, no-commitment demo today for more!
Share
https://www.wellnessliving.com/blog/8-fitness-challenge-ideas-for-your-members/
Copy
Subscribe To Our Newsletter
wpDiscuz