Aug 03 2021, 9:00 AM
The Anatomy of Writing Social Media Post Captions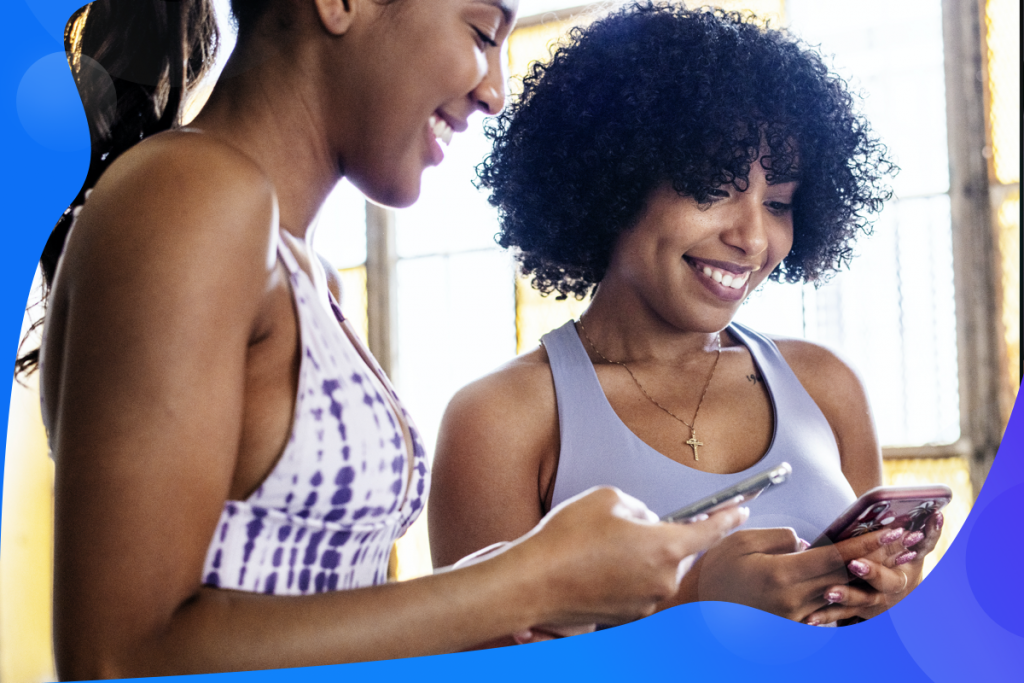 With 57% of the world's population now on social media, a solid social media strategy is one of the best ways to reach your audience. That doesn't mean it's easy. Encouraging engagement with social media post captions is essential for online success. But how exactly can you craft effective social media captions?
Here's a rundown on social media post captions: how they're crafted and some platform-specific tips to get you started on your own caption journey.
Have a clear goal for each post
Posting to social media should always have a purpose. You should know why you're posting and have a clear idea of how your post is relevant to your audience.
Ask yourself:
Are you celebrating staff?
Are you sharing client transformations or a client milestone?
Do you want to encourage comments?
Do want it shared?
Once you have a set goal for your post, you'll be in a better position to draft effective copy.
Keep it short but engaging
Social media post captions aren't the medium for writing your novel. You have to think of how people browse each platform—they're not there to engage in long-form content. Because of this, you have to keep your social media posts snappy but engaging.
Make sure your first sentence has a clear hook. If peoples' attention isn't caught early you're going to lose them to the scroll. From there, draft copy that's short but relevant to your audience. Stats show posts with 40 to 70 characters generally do the best on social media.
Start a conversation
Social media is a two-way street. You're not just blanketing your audience with flyers, you're encouraging them to engage with you in a meaningful way.
When drafting your social media copy, do so the same way you would start a conversation. Ask questions and make it clear you value input. Always address pain points and offer solutions to your audiences' problems.
When you do gain engagement in the form of comments, make a point to respond to each one. Make it clear to your audience that you're willing to engage in dialogue, and you'll see your engagement rate rise.
Do you want engagement? Ask for it
Building an online community is all about building engagement. You want your interaction on social media to go both ways. There are some tried and true methods for encouraging engagement on posts:
Ask a question.
Ask for feedback.
Get them to comment.
Share your post or tag a friend.
Each of these methods invites your audience to engage with you without being pushy or clingy. This is the goal.
Relate to your image or video
Social media post captions are only effective when paired clearly with relevant media. If you have a disconnect between the two, your audience is going to notice and you'll risk losing attention.
Always relate your caption back to your image or video. Talk about the importance of the imagery and how it's relevant to your audience.
Take advantage of emojis
Emojis are visual symbols that pack a lot of punch online. They say a picture tells 1,000 words, and this applies to emojis—also known as cartoon-like emoticons. Used effectively, they can impart nuance and subtlety to your post. How should you use them?
Get attention when placing emojis at the beginning of a caption. 🤗
Use checkmark or pointing emojis as part of a list. ✅👉
Encourage your audience by ending with a smiley face or flexed biceps. 😀💪
Just be sure to use the right emoji in the right context. A lot of emojis have developed their own slang over the years and you have to be aware of the meaning behind them. An eggplant isn't an eggplant, for instance! For a full list of emojis and how to use them, visit Emojipedia.
Include a call to action
Just as every caption needs a purpose, it also needs a call to action (CTA). This is a prompt to engage in an action, whether it be following a link or commenting on the post.
An effective call to action is clear, concise, and relevant to your audience. You might direct them to your signup page for your new fitness class or encourage them to comment on your latest blog post. Whatever your CTA, it has to be easy to see and take action.
Don't hard sell
People are inundated with advertising every day including on their social media platforms. One of the best things you can do to stand out from the crowd is to limit your promotional posts. Instead, post content that's relevant and interesting to your audience.
The goal is to get them engaging with your brand. You want to develop trust between you and your potential clients, and hard selling all the time isn't the way to do that.
Inspire your audience
Posts that tug at peoples' heartstrings do far better than any hard sell ever could. This is where posting inspirational material comes in handy.
Keep your captions positive and motivational. Lean away from controversial or downer topics and instead focus on the good aspects of the content you're posting. Your engagement rate will thank you.
Quick tips for each social media platform
Every social media platform is different and requires a different approach. Here are some quick tips that are relevant to the major social media platforms.
Facebook
Length
Facebook is a wild card when it comes to content length. Longer form content does well, but posts of 50 to 70 characters tend to outperform overall. That said, the audience does play a factor in what post length succeeds. When developing your Facebook strategy, trial run some posts with different content lengths and see how they perform.
Hashtags
All the professionals recommend less is more when it comes to Facebook hashtags. You ought to keep your tags to two to three at most. You don't want your post looking like a wall of hashtags—you want your copy to shine.
CTA
Facebook allows inline linking, which makes CTAs fairly easy to include. If your link isn't the most attractive, look into link-shortening apps like bit.ly.
Instagram
Length
The Instagram caption limit is 2,200 characters, but before you get excited about writing your next novella on Instagram you should know that posts between 50 and 70 characters do the best on the platform. It's also important to note that Instagram captions are truncated at 125 characters,  so your audience will need to press the "more" button to read the rest of the caption.
Hashtags
Instagram allows 30 hashtags in their posts, but that doesn't mean you should use all of them. If you use too many hashtags,  your content will look spammy and unappealing. You should try to use a maximum of 11 hashtags on Instagram.
CTA
Instagram doesn't allow inline linking, which is a bit of a pain when it comes to crafting CTAs. Instead, most influencers use their description link as their CTA link. The Instagram community is well versed in calls to "follow the link in bio".
Twitter
Length
Twitter recently increased its character limit from 140 characters to 280 characters, and it's a good thing too! Unlike other social media platforms, longer-form content does better on Twitter. You should be aiming for captions of between 240 and 259 characters.
Hashtags
Because your hashtags count toward your post, you have to be savvy with Twitter hashtags. Using one or two per post is usually the sweet spot.
CTA
Twitter allows inline links, which makes for easy crafting of CTAs. Just be sure to make use of a link shortener to keep your post looking neat and tidy.
LinkedIn
Length
LinkedIn follows in the footsteps of many other platforms: less is more. Because of the "see more" button, your updates will be truncated at the 140 character mark, so it's best to keep your captions below that limit.
Hashtags
While there's no limit to the number of hashtags you can include on LinkedIn, most experts recommend including no more than five at a time. Any more than that and you risk looking spammy.
CTA
LinkedIn allows for inline linking, which makes the crafting of CTAs relatively easy.
Time to boost your social media game
Social media marketing is a skill like any other. It takes time and practice to get right. With our guide to social media post captions, you have a better idea of how you can craft your posts for better engagement.
Now that you've upped your social media game, it's time to manage everything else with the right business management software. With WellnessLiving, you can take your business to the next level with booking and payment tools, an automated marketing suite, staff and client apps, tools to grow your online business, advanced reporting tools, and so much more. Book a free, no-commitment demo today to learn more!