Apr 12 2016, 7:55 PM
April 2016 Release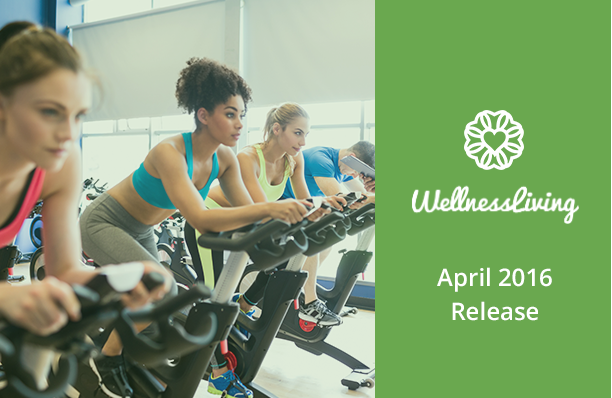 Another month, another awesome update! We've been busy over here at WellnessLiving, taking your feedback and making it a reality. This month, not only can you expect improvements to software speed and usability, but you can also expect some serious upgrades to its functionality.  Without further ado, buckle up and get ready for yet another exciting list of new WellnessLiving features which are available to you as of today!
QUICK Buy
We know, you have a lot going on! Running your business usually means doing at least a hundred things at once. For this reason (and because of popular demand), we have created the ability to make QUICK Buy items available during the booking process and right from the attendance list. The client wants to buy a bottle of water when they check in? No problem! You don't even need to leave the attendance list. Here's how it works…
Setting up the product for QUICK Buy
The first step is pretty easy.  All you have to do is choose which items can be sold quickly, and then choose which services have Quick Buy available.  Here's what it looks like:
Setting up Quick Buy from the Product options
Making purchases when booking or managing your attendance list
Actually, the next part is pretty easy too!  When booking a client for a service, and even through the attendance list, you can quickly make a purchase for any QUICK Buy item without ever having to leave your page.  The checkout happens from this screen, and you can go straight back to managing your schedule, giving you even more time to focus on the things that matter most to you.

Quick Buy from the Attendance List
Client Groups
Statistics matter, and knowledge is power. In a perfect world, the weather is always sunny and you should be able to pull up any information about your clients that you want. Although we can't control the weather, we think we just made your life a little easier with Client Groups. With this exciting new feature, you can tag any group of clients from any report, and then you can run any other report with just those clients listed. This will easily help you track client retention, sales by group; the list goes on. Want to save the group and get some more information later? You can do that too.


List of Clients in a saved Group
Adding Clients to a Group or a QUICK Group
All of your Client Reports just got cooler.  With the addition of Client Groups functionality, you can create groups and add Clients to them on the fly.  Any group that you create will then become an available filter that you can access from any other Client Report.  Only looking for temporary information?  Add these clients to a QUICK Group.  These clients will only be saved until you are logged out, and you can clear your QUICK Group at any time.

Add clients to a QUICK Group
Product Cost and the Inventory on Hand Report
Alright, we know you're a bit overwhelmed with all this cool stuff. Maybe we should have given you a proper warning, but it's too late now so let's just keep going. The next new feature you will have at your fingertips shortly is a huge improvement to our inventory tracking system. Not only do you now have the ability to make adjustments to your entire inventory on-hand list from a single report, but with an added "Cost" field to all products, you will always know the value of what you have on-hand. You can filter by Location, Supplier and print inventory lists for counting. Can we get three cheers for simplicity?
Inventory On Hand Report
Purchase Option Conversion
Sure, our Purchase Options are pretty powerful. They can do almost anything, but more freedom is always better, right? With the introduction of Purchase Option Conversion, you now have even more power in your hands when it comes to billing your clients. With this shiny new option, you can actually make any purchase option turn into any other purchase option of the same service type. What's a real world example? Let's say your clients are always on a one year contract when signing up for your business, but once that month is up you want them to be month-to-month? All you have to do is set up a conversion. Once the membership expires, it will automatically become whatever Purchase Option you choose.
Setting up Purchase Option Conversion
And as always, much more…
We also focused our attention on making numerous small incremental changes, bug fixes and performance improvements.  We are confident that these changes will greatly improve your user experience.
Remember, if you have any specific features or enhancements that you would like us to implement, please use the Feature Request form found on the WellnessLiving Support Center. We can't promise to implement your feature, but we do promise to bring it up at our next weekly Engineering Team meeting. We are constantly looking to improve our software and we value your feedback greatly.
Thanks again for choosing WellnessLiving!