Aug 16 2016, 7:42 PM
August 2016 Release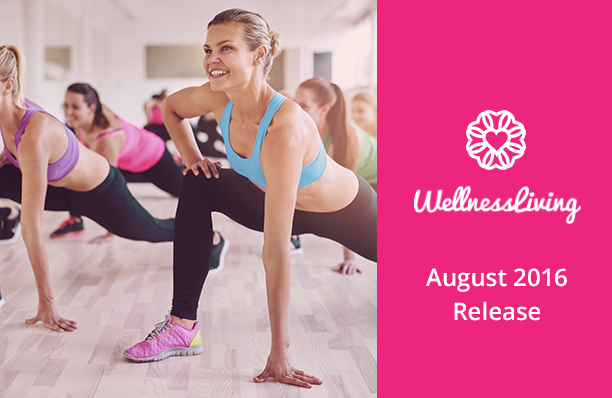 What's better than having an amazing summer while watching the Summer Olympics going on in Rio?  The answer to this is quite simple…Having an amazing summer, watching the Summer Olympics going on in Rio, AND finding out that WellnessLiving has some seriously exciting news and features coming very soon. Didn't your day just get a little better after reading that?  And we haven't even told you what the news is yet.  Anyways, we won't leave you hanging.  All you need to do is scroll down to see what's here now in the the August Release and what's coming in a future release.
Purchase Option Transferring
As fantastic as your services are, don't you think they would be even more enjoyable as a gift? The gift of giving just got a little sweeter, thanks to this fantastic feature. With the introduction of Purchase Option Transferring, your clients now have the option to buy something and give it to their friend or family member…or a complete stranger for that matter. Here's an idea of how it works.
Once an item has been purchased through the store, it can be immediately gifted to any other clients in your business, even if they are not related.

Purchase option transfer
Rescheduling Recurring Appointments
Regular appointments are a, well, regular part of your business. With our brand new reschedule options for recurring appointments, your clients changeable schedules can be more easily accounted for and accommodated.
So, let's say your client usually comes in for an appointment every Tuesday at 3PM, but for some reason can't make this or multiple sessions. Instead of implementing a series of imaginative workarounds, you can simply reschedule the appointment and move on with your day. Easy, right?

Reschedule recurring appointments screen
Features Coming Soon
If you are like us and you probably are, you are might wishing you had a crystal ball and can see into the future.  Well, now you can take a glimpse into WellnessLiving's future by reading below and finding out the sweet new features that we are working on for you.
Discount Codes – Coming Soon
Your clients love a good deal and, with our upcoming discount codes, creating and managing customized promotions for your business will become easier than ever. Now you can love offering a good deal, too.

Upcoming feature preview
With this upcoming feature, you will be able to create predefined discounts via the new setup side menu tab, Discount Codes. You'll specify how much the discount is for, when the discount expires, which products and purchase options the discount can apply to, and any other specifications that your promotions need. You can even turn deals on or off and choose the number of uses for each client account, giving you full control over your promotional offers. Creating and managing these discounts will be simple. From your discount codes menu, you'll be able to edit or create deals at any time. Codes can be entered or generated and each customization is easy to change to the way you want. See for yourself:

Discount Codes – Upcoming feature preview
Contact History – Coming Soon
Another upcoming change will be to your clients' email histories. Don't worry, all of your clients histories will still be there, they'll just be better. The Email History tab will be changing to become the Contact History tab. With this change will come a variety of new filters that will allow you to see all of the different interactions your staff members have with each client: email, mail, in person, over the phone, or via SMS messaging.
A new button will be added to the improved contact history, making it easier for you to keep in touch with your clients using any contact method. This button will allow you to create contact logs, which can be used to note information, create tasks, and even create follow-up tasks based on the previous tasks associated with a client.
Add contact log screen
Client App BETA Launch
We've saved the most exciting news for last. We know you've been waiting and it's finally happening! The WellnessLiving app has been approved for Android and Apple.
We are now in the process of setting up demo accounts, which will be distributed to our beta test team. If you signed up to help with our beta testing, look forward to receiving your log in and download information soon. If not, don't worry! Our app will be available to you once our beta testers are done and our developers are satisfied.
And as always, many more improvements
We know that's a lot to absorb. If we went into detail about every improvement, you'd spend all the time reading about our work and not outside enjoying the weather. As always, this release is packed with improvements to make your life easier and your business run smoother. Look forward to upcoming updates to see what else we have in store.  Thanks again for choosing WellnessLiving!