Aug 13 2017, 4:55 PM
Built to Grow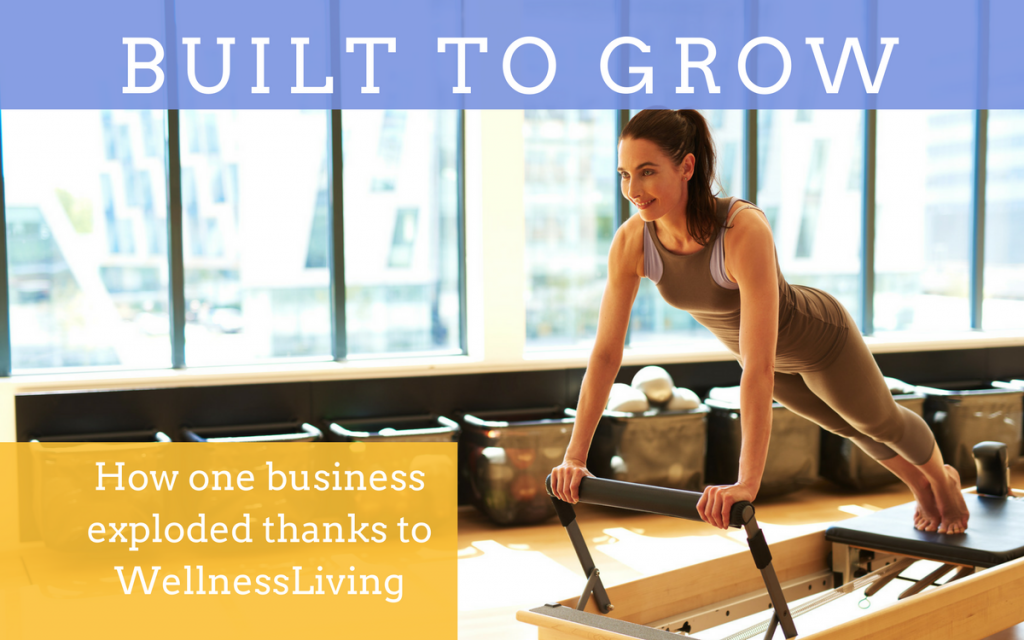 Every business owner has one ultimate goal in mind: growth. You want to see your business flourish, thrive, and grow — maybe even to multiple locations. That's exactly what happened for Allison Zang and Absolute Pilates.
Allison was always passionate about fitness, but it wasn't until fate intervened that she discovered Pilates. "I originally got into the industry after being injured in gymnastics," Allison told us about her first steps toward her eventual career. During her recovery and rehabilitation, she was introduced to Pilates.
Pilates became one of Allison's greatest loves, so when she moved to her hometown of Mechanicsburg, PA and discovered that there were no Pilates studios around, she took control. From the basement of her and her husband's home, Allison began teaching Pilates. Her skill and passion organically grew these lessons into a business and just over seven years ago, Allison opened Absolute Pilates' first location.
In her studio, Allison insisted on excellence. Her instructors are the only comprehensively trained Pilates instructors in the area, each with over 500 hours of training, a completed apprenticeship, and individual specializations. Armed with passion and brilliance, Allison's studio began expanding to multiple locations.
But, as Allison's studio grew, her current studio management software couldn't keep up. As a MindBody user, Allison became frustrated by the lack of infrastructure and excessive fees that caused problems as her business expanded. "We evolved in a way that it was no longer in our interest to use it," Allison said of her previous software. "We needed to find a service that was more inclusive to our needs."
What Allison really needed was a software that would allow and help her company to grow, which meant being able to accommodate everything that comes with a growing fitness business: multiple locations; multiple staff who crossover locations; different types of classes; complicated and varied price points. Because they're a complex business with a large amount of retail, Absolute Pilates needed something that could do everything and not cost too much.
That's when she found WellnessLiving.
When Allison first began working with WellnessLiving, she discovered that we cared about what she had to say. If her studio or instructors or clients needed something to work in a specific way, our development team was right there to get it done in exactly the way she needed. Whether it was improvements to already existing features or implementation of something brand new, whatever Allison needed, we provided.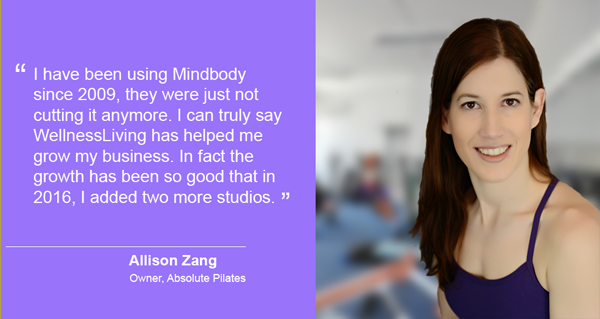 "I managed to pick it up without doing any formal training," Allison said. "It was easier for some of our staff that are not as technically oriented to learn how to use the system." Simplified but powerful technology in hand, Allison found she had more time back in her day to focus on her business, and less costs adding up. In just a year, Allison was able to increase her revenue by 32% and increase retention by 92%.
With the right software and a partner that was equally as passionate about her business's growth, Allison was able to expand Absolute Pilates the way she'd always wanted to. After just one year with WellnessLiving, her business exploded, now boasting five locations.
Want to learn more about how WellnessLiving can simplify running your business and help you continue to grow? Schedule a demo today! We'd love to talk with you about how our software can help you grow your own business, just like we did with Absolute Pilates.