Jun 26 2020, 9:00 AM
Why Your Business Needs the Elevate Staff App
Are you getting ready to reopen your business after COVID-19? Nearly every industry is looking different these days—from gyms, yoga or fitness studios, spas or salons, and dance, music, or martial arts studios—you need to step up your game! Making your business the best it can be is how you'll get ahead of your competition and rebuild your sales. It starts from within, with a staff app that'll get your business on track.
Your team will love the efficiency and ease that comes with the app, too! WellnessLiving's Elevate Staff App will get your business organized, ensure your team is on the same page and it'll even improve your customer experience – while keeping your staff happy and productive. Here are the features that make our staff app a game-changer for your business:
Efficiently manage appointments and classes
Besides keeping a watchful eye on your attendance, our Elevate Staff App allows you to easily set up appointments and cancel classes. Your team can also book clients, check class lists, stay on top of outstanding payments and get the data you need to allocate your resources where they're needed the most. You can also easily add family and friends to client's profiles—this means parents perform actions on behalf of their kids like make a payment and share emails and purchase options.
While we're still phasing into business as usual, it's important to manage your schedules and stagger appointments to keep visitors separate when you need to. Using the staff app to get more efficient and stay organized makes it easy to stay on top of the new protocols!
Host your virtual services
Our Elevate Staff App is also great for your virtual business! With our Zoom integration, when you host live class, appointment, or session, you can create your live video from the device that you're hosting that service. That means you can use Elevate to host your virtual services right from your mobile device!
Once you're in the app, all you do is tap the schedule, go to the service want to host, and start your Zoom class. Zoom will then launch and you're now able to host your class or session right on the go! Your staff will love this feature just as much as your clients!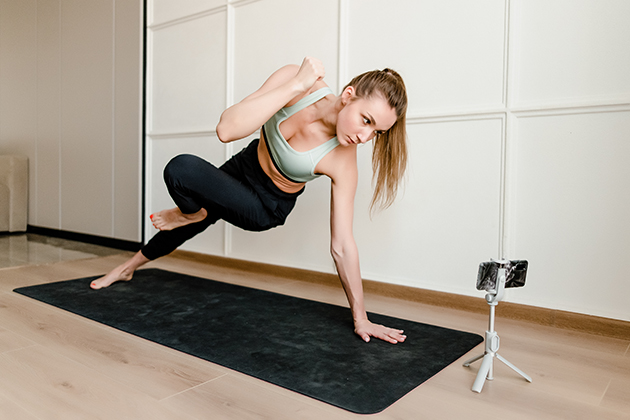 Helps you streamline the sales process
If you've struggled through the pandemic, now's your chance to make up for lost time with a revenue-generating strategy. The staff app lets you conveniently sell anything you want right from your mobile store and apply discounts on the go! It's simple to collect payment information with one of our credit card swipers and store the info in your client's profile for a completely seamless payment process. You also know exactly what your sales look like in real-time, so you're always up to date!
Did we mention it automatically sends an electronic receipt following each payment? During a time that's more challenging for your staff, simplify their lives with an effortless way to make sales!
Track clients
Connecting with your clients can be especially challenging if you're not sure when you'll be seeing them in person. Your team still needs a way to build their client relationships! Here are some of the ways our Elevate Staff App takes care of all your client details quickly and conveniently with just a few clicks:
Allows you to check class attendance and track class history
Let's you edit contact details and manage payment info
Gives staff the chance to manage and stay on top of their clients!
Have access to staff at your fingertips
Get an all-access pass to your staff with the Elevate Staff App! Manage their schedules, make changes to their activities, fill holes in staffing, add staff unavailability, make substitutes and more. Get an at-a-glance look at where your staff is and where they need to be, so you're never out of the loop.
Be smart with your staffing by being on top of your team and where they're needed most—whether that is teaching a virtual class or at your studio. When at your studio, your staff can then set everything up to help control class capacity! Don't sacrifice efficiency for safety—the Elevate Staff App has the capabilities to manage your team like a pro.
Contact clients any way you want
Reach out to your community through the Elevate Staff App to keep them engaged with your business with WellnessLiving's automated marketing. Call, text or email to get clients back, let them know you're open and continue to build the relationships your business depends on.
We mentioned checking out your clients' profile, but here's where you can combine two of the app's features for maximum effect. Use your client profiles to tailor your marketing! Know a client loves your yoga classes based on their history? Reach out to that client to let them know about upcoming yoga sessions, merchandise sales or to recommend a certain class they'll love.
Build your business from the inside out
As COVID-19 creates a new normal for your business, don't miss your chance to get back on track, streamline your processes and give you more time to focus on generating revenue. Get the tools you need to better your business, compete in today's adapted business world, keep your staff happy, and improve your client's experience!
WellnessLiving's Elevate staff app can do all that, and more! You can download the app on both Google Play and the App Store.
How else can WellnessLivng help you? We're experts focused on getting your business where you need it to go. From increased efficiency to getting your team on the same page, our software will build your business. Want to learn more? Book a free, no-commitment demo with WellnessLiving today.