Oct 27 2020, 9:00 AM
Can Your Fitness Studio Thrive with a Hybrid Business Model?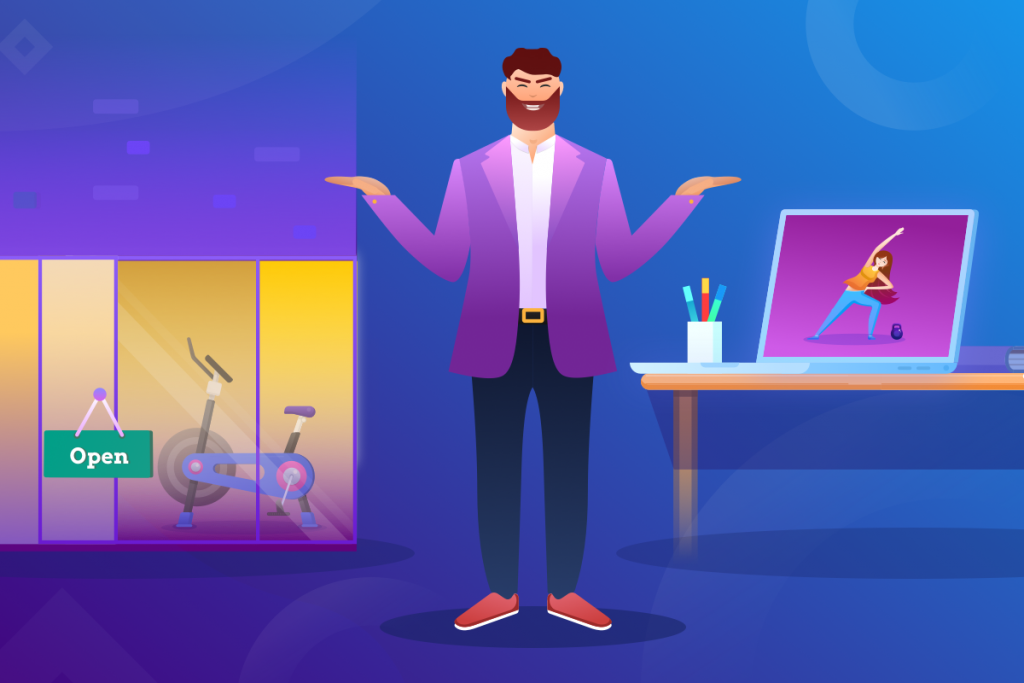 It's time to reopen your studio! When COVID-19 forced temporary shutdowns, you expanded your online offering to make ends meet. While some gyms and studios can't wait to get back to in-studio visits, don't be so eager to return to your old ways. You don't have to choose between an in-person and an online-only model. Why not get the best of both worlds with a hybrid model for your personal training, fitness, or yoga studio?
Here's how you can make a hybrid model work for your fitness business.
What is a hybrid business model?
No, we're not talking about your car. Simply put, a hybrid business model means there's no one-size-fits-all approach to managing your fitness business. It's a way for your clients to take advantage of your expertise, without forcing them into a set schedule. It also offers a more personal approach and targeted planning for your clients. Here's what it looks like:
In-studio: Offer in-studio, in-person, or outdoor options to train your clients on a set schedule at the location you choose.
Virtual services: Offer online classes via Zoom and on-demand, so clients can access your content on their own time, from anywhere they need to.
Things to consider with a hybrid model
The industry has changed, and so have your clients. Sticking to your old ways means you'll lose business. Think about it as a safety net for revenues! Not everyone will feel comfortable about in-person visits yet, so going online is a must for your bottom line. And what if businesses have to shut down again? With a steady stream of clients using your online services, you'll retain clients and keep them safe with a hybrid business model.
Here are some of the factors to consider when building a hybrid model for your gym or studio:
Who is your target audience?
Clients come first! COVID-19 changed scheduling, family time, budgeting, and so much more. While your die-hard fans may be set to visit in-studio, you're going to have clients who prefer an online model. This includes:
Parents who want to fit in a workout around their kids' bedtimes.
Seniors or at-risk clients who don't want to chance exposure to COVID-19.
Busy professionals or students, with adjusted schedules, who need to work out from home.
Don't lose your clients to your competitors! Offer what they need when they need it to retain the loyalty you've built for your business.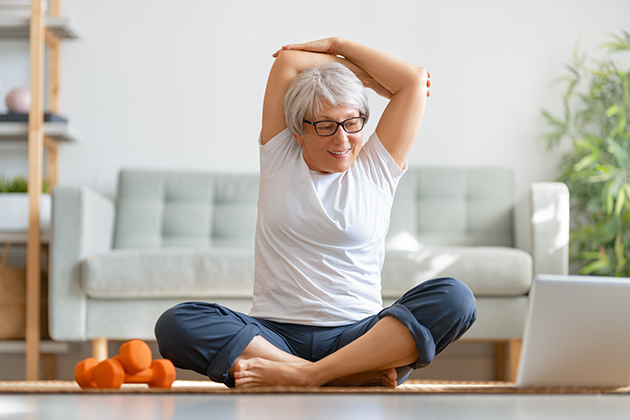 Do you have enough space?
Once your studio reopens, can you accommodate double the demand in your space?
Think about the ways you can still adopt a hybrid model, even if your space is limited, like using multiple rooms, teaching outside, or having staff members work from home. Remember, there are still strict guidelines to follow at your studio and these factors are important to consider when you're planning on adopting a different model:
Enforce the six-foot social distancing rule with floor markers to help direct clients.
Plan extra time after each class for an upgrade cleaning schedule. Clean everything regularly, including doorknobs, handrails, and all other surfaces.
Install sanitization stations around your studio or gym for clients.
Clearly communicate safety rules with posters, including handwashing guidelines, mask wearing mandates, and equipment disinfecting instructions.
Manage your capacity to maximize safety. Limit walk-ins and overcrowding at your front desk by blocking off certain equipment or areas, creating a waitlist, staggering staff schedules, and keeping clients apart with WellnessLiving's handy BOOK-A-SPOT™ feature.
Do you have enough staff members?
Are you adequately staffed for all classes, lessons, and appointments? Narrow down the number of classes in your roster, determine how many staff members are required, and consider adding more staff members if the need arises.
What about scheduling? Does it make sense to assign staff members to in-studio or online, or can they do it all? Can they work from home? Are they properly equipped to get their jobs done remotely?
Here are some ideas to get your team on board in making your hybrid model a success:
Let them choose! Offer staff members the option to teach online, in-person, or both.
Set them up for success with tips and tricks (like lighting and sound) to deliver a professional livestreaming experience.
Provide them with the equipment they need to provide the level of service your clients expect.
Can the hybrid model grow your revenue?
Don't think you can make money with a hybrid business structure? Think again! Here are a few ways your overall revenue will increase with this new approach:
In-studio memberships: Offer add-on outdoor classes, livestreaming, and on-demand services (included in the package or at an additional cost). Include tiers based on a certain amount of classes or services per month.
One-to-one training: Maximize the benefits of coaching or personal training with a targeted plan, nutrition recommendations, and greater accountability. This will add value to your business and allow you to charge a premium rate.
Virtual memberships: Keep your existing online clients happy and expand your services worldwide, reaching a limitless amount of viewers.
On-demand memberships: Set up an on-demand video library with access to subscriptions sorted by category, workouts, or classes for a set monthly fee. Encourage this membership with a low fee and you may even see them in-studio, too.
Teacher training or certifications: Add a revenue stream with on-demand video instruction for yoga teachers or trainers to learn on their own time. Simply record your training curriculum, store it, and allow access when it works best for them.
Rent out equipment: Use WellnessLiving's excellent online retail options and BOOK-A-SPOT™ so clients get what they need to work out on their own or to take your online classes.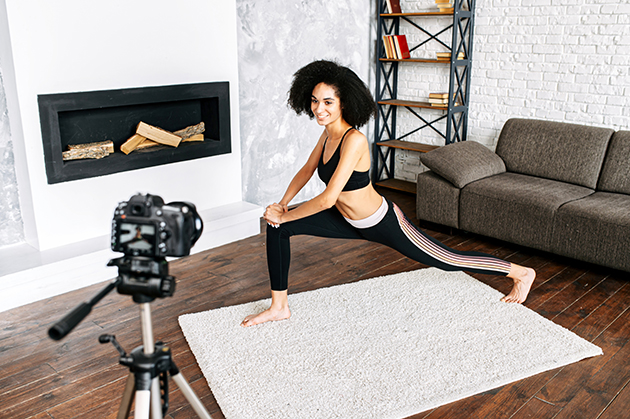 Does your software support a hybrid model?
If you want to do it all, you need the best! WellnessLiving's all-in-one software is the solution for your hybrid business model! Here are some of the tools WellnessLiving offers to help you seamlessly run your hybrid business:
Zoom integration: Set up virtual classes and schedule events and appointments, all in one place. You can also invite clients, track payments and attendance, run multiple classes simultaneously, and send out reminders so clients never miss out.
FitVID on Demand: Avoid sending clients elsewhere like YouTube or Facebook by uploading and storing your video content and controlling client access on the platform.
Mobile Apps: Make it simple for your staff members to host a class or session right from our Elevate Staff App or the web app, and make it easy for clients to join a class in the software or Achieve Client App.
Booking tools: Our Reserve with Google partnership means clients can find you and book your services right from your business directory, Google Maps, or web searches. Simplify booking with sign-ups from a web app, Achieve Client App, or widgets installed on your website or Facebook page.
Automated marketing: Reach everyone at once about your new on-demand classes, virtual services, or outdoor classes. Clients can sign up right from your emails, texts, and push notifications when you include a booking link.
Hybrid model: the best of both worlds
Can you sustain your business during another shutdown? If COVID-19 has taught us anything, it's to be ready for the unexpected. Adopting the hybrid model is the best way to ensure sustainable growth, and it's the best of both worlds for your clients, trainers, and overall business.
With WellnessLiving's expert tools like Zoom integration, FitVID on Demand, easy booking, and more, we'll take the work out of running both sides of your business. We can even help you spread the word with automated marketing and social media. Learn more about how we can help you grow your fitness business with a free, no-commitment demo with WellnessLiving today!