Nov 09 2021, 9:00 AM
Download Now: How Gated Content Can Attract More Clients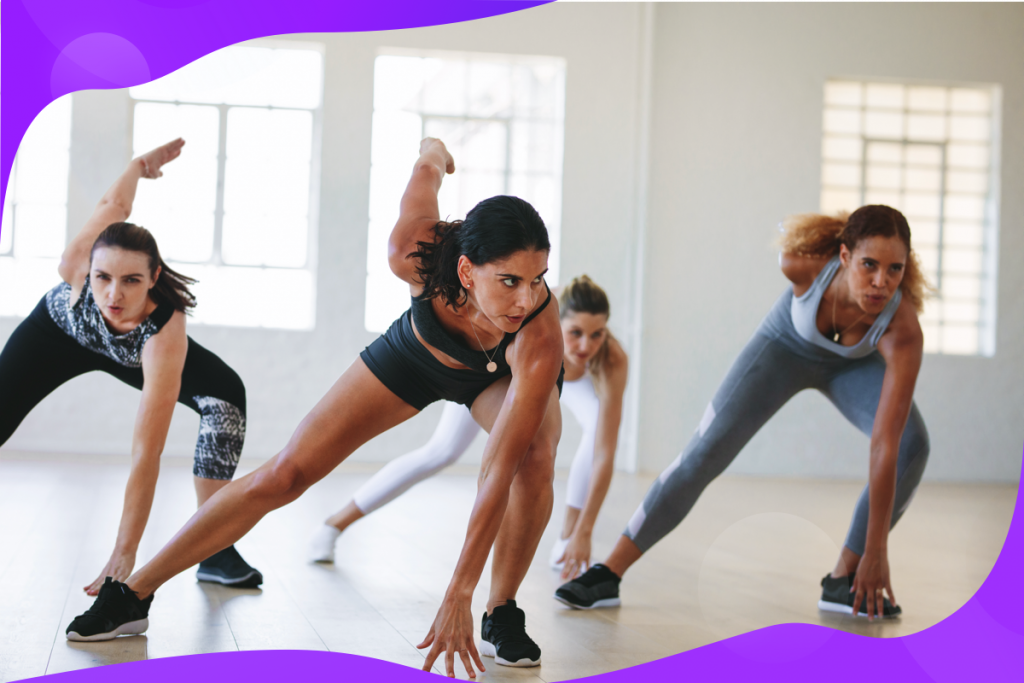 Are you looking for new ways to attract more clients to your fitness business? Wondering what irresistible offers get prospects to convert?
There's a solution. And we're not talking products or services. We're talking content—gated content to be exact. Conversion rates from gated content can go as high as 45%. That's 45 pre-qualified leads for every 100 visitors.
In this guide, we'll cover what gated content is, the benefits it offers, and how you can build a winning gated content strategy.
What is gated content?
Gated content is content that a user accesses after filling out a lead capture form. They usually enter their name, email, and other pertinent information to access the content. An example of gated content would be an exclusive email newsletter.
Ungated content doesn't require a user's information in order to access it. This often includes blog posts, YouTube videos, or infographics.
So why should your fitness brand use gated content?
Gated content:
Increases lead generation.
Helps you segment your email list.
Provides data and insight into your customers.
Improves sales while creating a platform for your community.
Gated content allows you to track who's engaging with your content, and where your non-gated content may be causing you to lose leads.
You also create a sense of FOMO (fear of missing out) with exclusive content that your members can't get anywhere else. Plus, you'll learn what your audience wants to see.
Create content for the buyer's journey
A buyer goes through many stages before they commit to your services. First, they become aware that your brand exists. But most consumers aren't ready to buy as soon as they discover a business. In fact, about 96% of visitors that come to your website aren't ready to buy.
So, instead of pulling out their credit card, potential customers want to learn about your business before they commit. They are aware that they have a problem (pain point), and they know that your business has a potential solution for it.
But here's what complicates things:
You have competitors. So, chances are, your prospects are researching your competitors, often while they're gathering information about your company.
This is what we call the buyer's journey. A prospect doesn't go straight to purchase when they discover a new business. They go through multiple touchpoints with your brand and take many steps before making a commitment.
What are the stages of the buyer's journey?
There are 3 main stages of the buyer's journey:
Awareness: The buyer knows they have a problem, so they seek a solution. Then, they discover one or more companies that offer the solution they're looking for. At this point, the buyer isn't ready to make a purchase yet.
Consideration: The buyer weighs their options by comparing the solutions they found through their research. They need more information to eliminate any doubts they may have about a company.
Decision: The buyer has narrowed down their list of companies that can solve their problem. They're getting closer to making a decision, and they need a final push.
At each stage of the buyer's journey, you should provide your prospect with content to help them make a decision.
This is where gated content comes in.
Let's look at this in action:
At the awareness stage, a potential customer comes across your fitness brand. They click on one of your ads that showcases how the customer can achieve a flat stomach.
From there, they go to your landing page and discover it's an ebook. But in order to access that ebook, they need to fill out a form that gives you their name and email.
That's gated content. It attracts potential customers by offering them something of value in exchange for their information.
So, if you're in the fitness industry, you can offer gated content exclusively to your target audience. This might include ebooks, workout templates, nutrition guides, and on-demand videos.
The aim is to provide your prospects, leads, or clients with actionable, valuable, and relevant content they can use. It's a true incentive to either get them to give you their information or to sign up and get the full experience.
Which types of gated content should you use?
Now that you have a good idea of what gated content is, let's explore the different types of gated content you can use to attract and nurture leads.
The awareness stage
Draw in prospects with:
eBooks – Ex: 5 Best Yoga Moves to Promote Mindfulness
Nutrition guides – Ex: How to Clean Your Pantry in 7 Easy Steps
Workout templates – Ex: The Ultimate Workout Template to Boost Your Fitness Goals
Workout videos – Ex: 3 Workout Videos to Help You Burn Calories Fast
The consideration stage
Remove the doubt with:
Testimonials: Show prospects that others had a positive experience with your business.
Case studies: Show real-life examples of how your business helped people. For example, if you own a dance studio, you can talk about how you helped a customer improve their dance moves.
Webinars: Showcase your knowledge in your industry with webinars. For example, if you own a spa, you can host a Q&A webinar that answers questions about your spa and why prospects should choose your spa over others.
The decision stage
Stand out from the competition with:
Free trials: Let prospects try out your service before they buy. For example, if you own a gym, you can offer a free membership for a full month. Prospects love a risk-free commitment.
Coupons: Offer discounts and promotions to drive prospects to purchase.
FAQs: Answer any final questions prospects may have and position your brand as their best option.
Keep in mind that you don't have to create gated content yourself. You can outsource certain tasks to a freelancer or agency. This can include copywriting, editing, and graphics.
Build a strong landing page
Before a prospect fills out a lead capture form, they end up on your landing page. So your landing page is your chance to shine and make a great first impression.Make sure you keep the barrier to entry low. Just ask for the basics like their name, email, and their reason for needing the content. Don't worry about getting too much information from the get-go. When they sign up as a client, you can gather more information such as their goals and objectives. Here are the elements of a strong landing page:
Lead magnets (i.e. your gated content)
Eye-catching headlines
Beautiful visuals (i.e. images and videos)
Compelling copy
Clear call-to-action (CTA)
Social proof (i.e. testimonials, reviews, etc.)
Relevant keywords
Fast loading times
Mobile-friendliness
Promote your gated content
So, you've created your gated content. Now it's time to promote it. Here are the best ways to promote your gated content.
Social media: Add a share button at the end of your social media posts.
Paid promotion: Use Google Ads or social media ads to drive traffic to your landing page.
Influencer marketing: Get content creators with large followings to link back to your landing page.
Interlinking from other high-traffic blog posts: This is great for SEO and for boosting your gated content performance.
And don't just stop at promotion, you must look at how your gated content is performing. Track conversions to measure how well your content is converting leads into clients. At the same time, you can track your subscription content to see what's performing, and tweak it based on your findings.
Gated content best practices
Still yearning for more information on gated content? Here are a few more tips:
Research what your competitors are doing for ideas on gated vs. ungated content for the fitness industry. Knowing what your competitors are doing can give you a good idea of what type of content to create. You can also identify gaps in the content they offer, and fill in those gaps.
Create gated content from repurposed content. Repurpose blog posts, infographics, and other ungated content and turn them into lead magnets.
Include links to gated content in your ungated content. This gives prospects more information about a topic. For example, let's say you wrote a blog post on how to eat healthy. You could link to an ebook that provides different healthy recipes.
Never make gated content the first touchpoint for your visitors. Prospects aren't likely to give out their information if they don't know the value they're getting. Offer ungated content first to hook them in.
Experiment with different types of gated content like free contests or challenges. This type of content can help set you apart from your competitors. It also helps build engagement with potential clients.
Pay attention to the quality of your gated content. You might have the best tips and tricks to provide leads with the best possible value. But if you don't position your offering in a way that's engaging and easy to consume, it'll be all for nothing.
Skyrocket conversions with gated content
Gated content is excellent for nurturing leads and guiding them down the funnel. And while it might not make a huge impact on SEO and traffic, it makes up for it in other ways. For example, it helps you gather more client data. This, in turn, helps you provide them with more value. And when leads find value in your content, they're more likely to convert.
Need help attracting leads to your gated content and blog posts? WellnessLiving's automated marketing suite can help. We can set up both email and text message campaigns to drive traffic to your site. To learn more, book a no-commitment demo with us today. It's totally free!