Everything You Need to Know About Yoga Studio Apps
Monday, August 19, 2019
•
12:12 PM EDT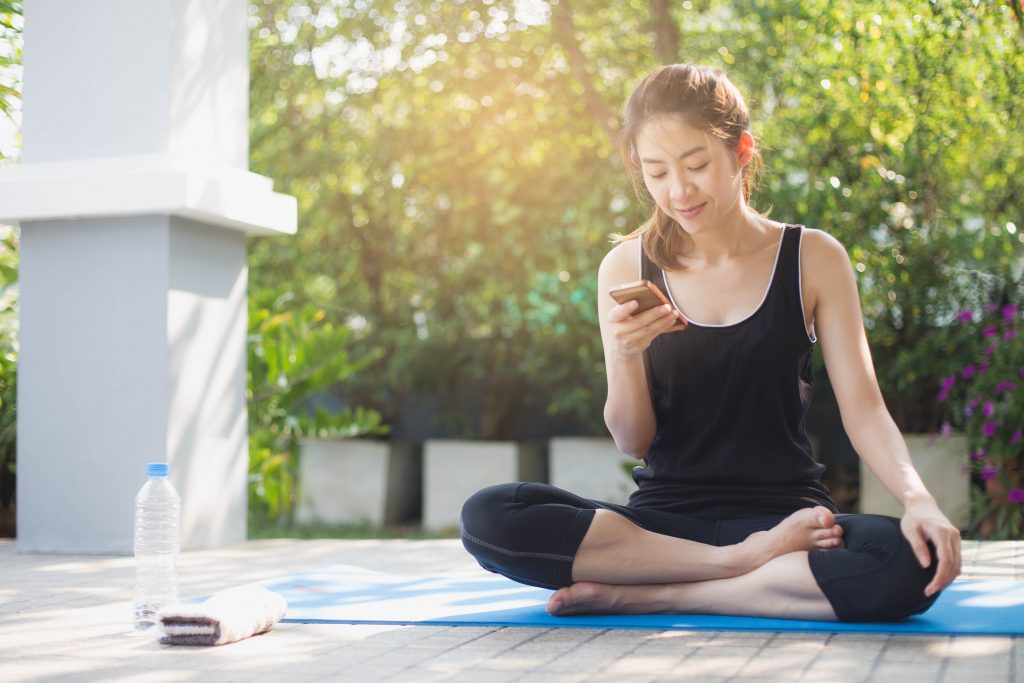 Running a successful yoga studio in the modern world means cooperating with the digital space. And for your business, this cooperation comes in the form of mobile apps.
The Two Kinds of Apps You Should Have
There are two different kinds of apps your yoga studio should have: a staff app and a client app. One is for your staff, and the other is for your clients.
Some may say having a client app is enough, but not only will a smoothly-fun staff app streamline admin work, but its branding capabilities will strengthen staff loyalty.
The reason why you should have both is to streamline information, and not bore or confuse your student with details they don't need to know. You don't want your staff using the same interface as your students. Think of the two apps as your business management software VS. your website: one keeps your team organized, and the other lets your clients interact with you.
Let's break them down:
Staff apps
Staff Apps are mobile applications built for you and your staff to use. You can use these to check your schedules, appointments, point of sale, and manage communication with clients. Staff apps can also play a part in maintaining staff loyalty. It's a functionality that's dedicated to them, and in turn, gives them a platform where they will grow to feel attached to. And best of all, with a staff app, you can check in on your business no matter where you are.
A well designed and maintained staff app gives you full access to manage your yoga studio on the go. You can book client appointments, cancel classes, change staff availability, and make instructor substitutions on the spot.
To make a staff app, you can hire an engineer to do it for you, or you can see if your business management software has the option to provide you with one.
WellnessLiving offers an all-inclusive software package designed to make you and your staffs' lives easier, including the Elevate Staff App.
Elevate gives you access to your yoga studio from anywhere, on any device, allowing you to easily find staff and student schedules on the go. You can book client appointments, cancel classes, change staff availability, and make instructor substitutions on the spot.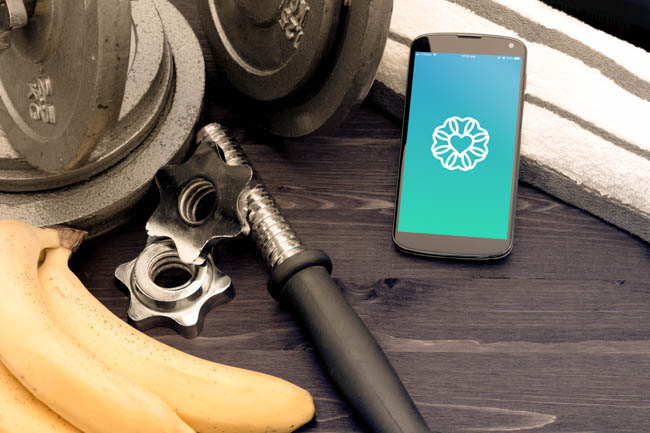 Elevate also offers the option to sell memberships, classes, and merchandise. You can accept credit card payments on the spot and send electronic receipts.
This staff app also gives you full access to client profiles, keeping their contact, attendance, and billing information all in one place. With Elevate, you can quickly view and edit client information; track client visit history and payment details; track their rewards point; reach out to clients via phone, text, or email; and add family and friends to client profiles with ease.
Client apps
Client Apps are mobile applications your students can download once they sign up with you. It's their access to everything they need from your studio. Client apps allow students to sign up for classes, purchase merchandise, view their schedules, and more. Client apps can also play a role in customer loyalty. Having a branded and dedicated app for your students gives them the feeling of belonging, strengthening their dedication to you.
WellnessLiving offers the Achieve Client App, a customizable package that matches the look and feel of your brand. The level of customization is up to your discretion and desire for strong branding. Keep in mind that a fully customized app for your yoga studio shows professionalism and benefits brand recognition.
The Achieve app allows your clients to book and pay for classes anywhere while tracking loyalty points.
The benefits of Achieve goes beyond functionality, we also make sure your clients won't see competitor ads. A customized app tailored to your yoga studio will make it seem it 's made by you (because in part it is! We just take care of the technical stuff), keeping your brand on point.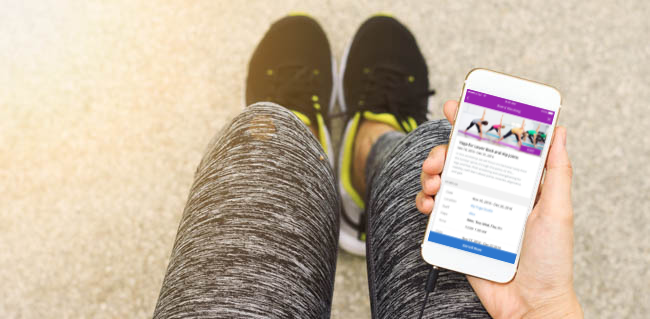 This client app also makes it easy for your clients to write reviews about your yoga studio. WellnessLiving will then take their 5-star reviews, and showcase it across the top traffic websites, including Google. So aside from helping you promote your brand from your app, we'll spread the word to the world.
Benefits of Apps for your Yoga Business 
There are many pros apps can provide for your yoga studio. Here are six major benefits we think you should know:
1. Apps can save time (for you and your clients)
No need to wait for computers to turn on or websites to load, apps are easy and fast to launch.
A staff app lets you keep in touch with your staff and their schedules, and provides an easy platform for communication. You can also set up the app to gather all the information you need, such as client profiles, payment options, class schedules, into one place. This would give you easy access to your business wherever in the world you may be. On a business trip or a family vacation? No problem! A quick swipe and tap on your phone or tablet are all you need to be brought up to speed with your yoga business.
Your yoga students can reap the benefits too. Clients can sign up for classes and pay on the go. And as soon as they reach internet access, their schedules and appointments would sync automatically to their instructors' calendars. Notifications and reminders can also be set up, so your students never miss their class.
The idea is to streamline information, save time, and make yours, your staff, and your students' lives easier.
2. Apps enhance customer support
One of the biggest mistakes companies make is overlooking the importance of good quality customer support. Small businesses are popping up faster than ever, and what sets one yoga studio apart from another often comes down to the client experience. Friendly and excellent customer support will not only maintain customer loyalty, but also boost referrals.
Apps provide an easy way for clients and potential students to reach customer support without text or phone charges. Not only does this simplify the process and make it easier for everyone involved, it also keeps all the information in one place (in case anyone needs to refer back to something).
Tip: Apps are also a good place for you to keep a saved FAQ page. That way, your students can refer to that first.
Apps are also a great place to find out what's working for your students and what's not. By conducting quick in-app surveys or even just from tracking app engagement, you can deduct what your students like or do not like about your yoga studio. This way, you can tailor promotions and enhancements accordingly. Which will, in turn, show your students that you value their voice.
On the business side, your clients can also make payments on the app to make the whole process easier for them. This means you can register new students on the spot, where ever you are; whether you meet them at an event or at the park!
3. Apps are a great platform to sell merchandise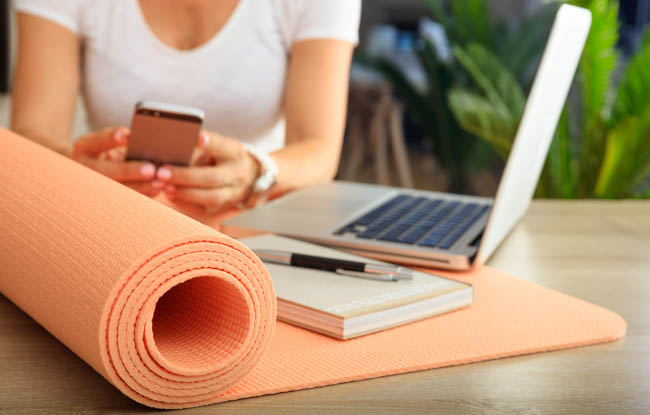 If your studio sells yoga equipment and accessories, such as yoga mats and water bottles, an app is a perfect place to sell them.
According to Google statistics, about 58% of people with mobile phones shop on apps, and in that group, 66% shop weekly. On top of that, 68% browsed or looked for products on mobile apps, and 61% go on to actively look for discounts.
The reason for this app-commerce-craze may be the ease of use apps provide. Nevertheless, it's a great platform to market and sell your products.
4. Apps are great marketing tools
More than just functional, apps are a great place to market your service by showcasing promotions and deals.
Tip: Offer app-only promotions during holiday sales such as Black Friday or Cyber Monday. This not only drives app engagement, but will serve to reach out to holiday shoppers who are itching to get good deals at this time of year.
A major benefit of mobile apps is that they promote user browsing during their downtime. Hands up if you've ever procrastinated by going through the apps on your phone (ME!). So if your app is interactive, easy to use, with frequent offers and deals, you can bet your app is going to get a lot of interaction (especially from the Millennials and Gen Zs).
Beyond physical merchandise, mobile apps also help with social media marketing. Having apps that your staff and students can share on social media will increase visibility and help promote your brand. And speaking of brand…
5. Apps enhance brand recognition
Think of your app as you billboard sign, you can customize it however you want.
The more times people see your brand (whether it be hearing your name or seeing your app) the more it's integrated into their subconscious. In marketing and advertising, the effective frequency (the number of times a person must be exposed to an ad/brand name before they take action) for brand recognition is about 20 times.
So customizing your apps is crucial. The more people see it, the more they recognize it. You want them to see your brand and associate it with your business. And over time, this will prove to be a key feature in client loyalty, referrals, and sign-ups.
6. Apps inspire loyalty
Due to their ease of use, apps are a great platform to put exclusive deals and track loyalty points.
Tip: Market promotions that are app-exclusive to encourage members to download your app. These can be anything from special discount codes to early-bird access to special events.
And deals aside, apps can be used to track rewards points. Students can check their progress, points, and rewards, all in one place. This functionality may seem simple, but the ease of use makes a big difference.
To Sum Up
Having a staff and a client app will put your yoga studio in line with the successful businesses of the modern world. From the ease of communication to tracking staff and client profiles to streamlining payments, functionality alone is a good enough reason to set them up. And on top of that, when done right, apps are vital to brand promotion.
Some may say having a client app is enough, but we encourage you to consider setting up a staff app as well. Keep in mind, not only will a smoothly-run staff app streamline a lot of the admin work, but its branding capabilities will also strengthen staff loyalty.
And of course, having a dedicated app for your students is a no-brainer. The question now is: how customized are you willing to make it? Different app developers offer different functionality and customization levels, so it's worth to make a list of what's most important to you. We suggest that at the minimum, your client app should have your yoga studio name, logo, slogan, and colors.
To learn more about what WellnessLiving's staff and client apps can do for your yoga studio, sign up for a free demo with us to day!
We hope you found this article on staff and client apps helpful! Now go forth, and stand your ground in this present age of mobile applications.