Fitness Equipment Trends: 10 Ideas to Enhance Client Engagement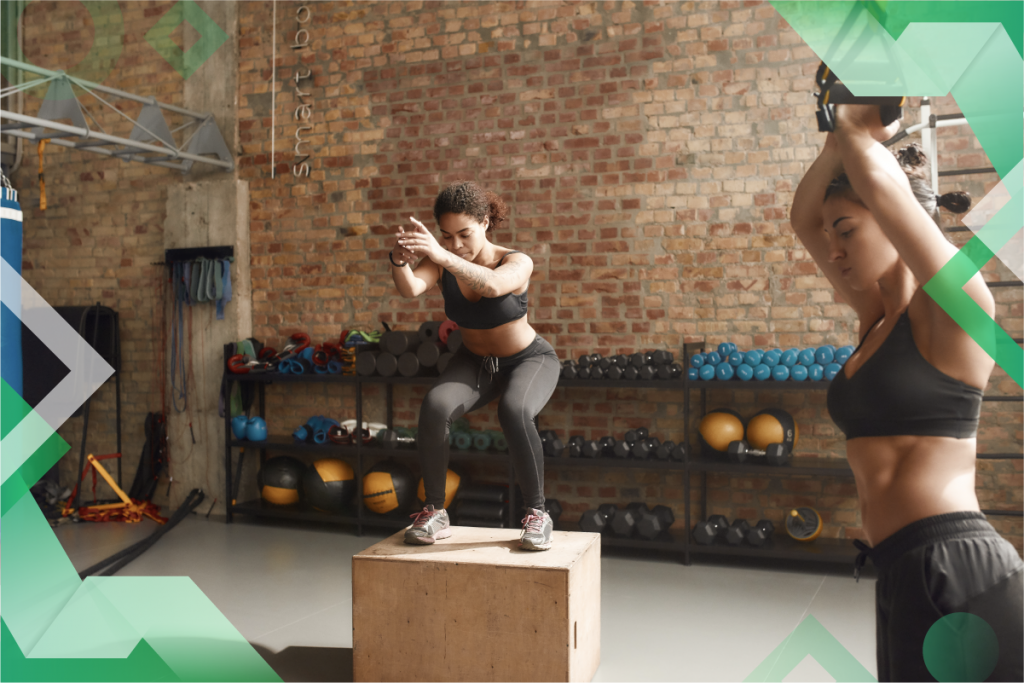 For the "pandemic years" of 2020 and 2021, top fitness businesses saw outdoor exercise, workouts, and activities as the leading fitness industry trends, according to data from RunRepeat. These exercises include running, cycling, and other outdoor workouts.
After a period of dormancy, the fitness industry is now starting to recover, and there's more room for innovations such as virtual reality and connected equipment.
New fitness equipment trends mean the global fitness equipment market will reach $14.8 billion by 2028. Personal training and client engagement indicate that the market is evolving dramatically and with good speed due to the increase in consumer health and fitness goals.
Nearly every fitness studio has finally reopened, with some even as a hybrid model offering both in-person and virtual services. Upgrading your equipment to create a better fitness experience is crucial to keep clients coming through the doors.
What are the new fitness equipment trends?
The pandemic led people to elevate their fitness goals to achieve greater levels of health, creating more desire for personalized training. Concepts like "biohacking"—improving one's body via diet, exercise, mindfulness, or technology—have increased dramatically in popularity by 220% since 2017. The current biohacking market of $15.42 billion is predicted to grow by nearly 20% every year until 2028. The digital technology component of the biohacking market, including wearables and mobile apps, is more than half of that market.
Since there has been a massive influx of digital fitness offerings, the way the world approaches health and fitness has changed. Increasing client engagement is critical for fitness businesses now more than ever. To help you out, we've compiled a list of new fitness equipment trends your clients will love.
1. A Rotating Climbing Wall
Recommended Product: Treadwall® Rotating Walls
Potential Accessories: Ladder line, digital display, training holds, and floor mats
Cost: Contact the company for a price estimate
Clients fulfill their natural human instinct for climbing with the opportunity to use a rotating climbing wall at their favorite fitness studio. Most appealing to young millennials and Gen Z'ers, and with the potential availability to connect to various fitness apps, the rotation speed is constant. It can be adjusted for the climber's abilities.
2. Sliding Board
Recommended Product: BRRRN Adjustable Slide Board
Potential Accessories: Slider booties, slider mittens, and a subscription service app that includes hundreds of on-demand workouts
Cost Range: $50 – $300 depending on materials used and style of board
Slide boards provide minimal impact and high-intensity exercise for any skill level. This is important because reducing pressure on major joints while still getting a good workout can be difficult for those with injuries to the knees, hips, shoulders, wrists, and elbows.
Other High-Quality Brands to Consider: SPRI Balance Training Slide Board, ProsourceFit Slide Board, Balance 1 Ex Slide Board, Yes4All, American Lifetime Exercise Slide Board
3. Reaction Lights
Recommended Product: BlazePod Reaction Light Training Kits
Potential Accessories: Flash Reflex Training app, charging bases, and functional adapters
Cost: $300+ for single kits with fitness business plans available on an enterprise-level
Push your clients beyond their best with innovative, cognitive, and physical training with reaction lights. The app comes with hundreds of activities for a vast selection of sports and fitness categories, but clients can also customize their programs.
4. Functional Training System
Recommended Product: Matrix Fitness Connexus Free Functional Training System
Potential Accessories: Bars, bands, med balls, boxing bags, straps, etc.
Cost: Starting around $2,000 + tax
Adding a piece or two of smart equipment can also be good for business. The Connexus Free system features multiple training stations that clients can access from different sides. It allows you to create protocols and customize the training for your clients. The system also comes with various accessories such as bands, bars, and boxing bags.
The Connexus is a versatile platform that features low, mid, and high anchor points that allow individuals to train with various abilities and bodyweight. Its flexible design helps keep workouts moving smoothly.
5. Resistance Training System
Recommended Product: VertiMax Raptor Dual resistance training system
Potential Accessories: 3 resistance options, 360 belt, straps, harnesses, and grips
Cost: $1,595 + tax
The revolutionary, lightweight, and portable system is designed to improve agility, power, and speed. It utilizes the company's patented Elastic Training Technology to create a more effective and efficient training system. Athletes, coaches, and trainers are known to rely on the system for its results.
The VertiMax Raptor Dual system can be attached to any wall, fence, or chain link fence. It allows fitness businesses to transform any space into a state-of-the-art strength and speed training facility. Its two cords have a training range of 0 to 20 yards.
6. Flywheel Training
Recommended Product: Exxentric Kbox4
Potential Accessories: 5 sizes of flywheel options, digital feedback systems, and storage and display setups
Website: https://exxentric.com/
Cost: $1,640 – $6,500
The kBox is a piece of premium training equipment that comes with scientific support. Its various models are designed to help people improve their flywheel training.
kBox is an excellent tool for medical or performance fitness training, with the bonus that the flywheel box includes a complete range of bespoke accessories to customize any workout plan or provide a wide range of options to your fitness clients. Given its portable design, it's the perfect system to take outdoors for groups or one-to-one personal training.
7. Testing Systems
Recommended Products: Nordbord Hamstring Testing System, Pasco PASPORT Force Platforms, Output
Cost: Widely varies depending on the system
Utilizing testing systems in your fitness studio or facility is a surefire way to keep client engagement as high as possible. Choosing one or all of these recommended systems would make that happen, as they're each unique in their purpose.
The Nordbord combines real-time data visualization, advanced sensor systems, and cloud analytics to give an accurate measure of your client's hamstring strength and imbalance. It's fast, easy, accurate, and reliable within a comprehensive system.
The PASPORT Force is a sturdy platform supported by force beams that measure the total force acting on it. Great for measuring static weight or structure of a client, as well as the dynamic force created when moving or jumping. The platform can even be placed on a floor, tabletop, or wall.
And finally, Output gives practitioners access to the company's capture sensors, mobile app, and desktop hub. You only need one kit to help your clients make data-informed decisions on their training.
8. Strength Training Systems
Recommended Product: Ancore Pro Cable Training System
Potential Accessories: Handle, tricep rope, ankle strap, and endless attachments
Cost: $650+
Every fitness studio needs some element of strength training, and utilizing a system that not only works smoothly but is easy to customize is critical.
Ancore Pro features resistance ranging from 5 to 65 pounds, making it easily adjustable to meet the needs of a client's specific training. The system's roller guidance makes for the smoothest training experience ever, enabling clients to train in all planes of movement without compromising the longevity of your fitness equipment.
9. Plyometric Boxes
Recommended Product: Yes4All Wooden Plyo Box
Potential Accessories: Resistance loop bands and dumbbells
Cost: $40 – 60 each
Ideal for heavy box squats, belted squats, deep squats, and incredibly easy to stack and store. These plyo boxes are made of high-quality materials with a unique "look and feel" to them that isn't matched by other brands.
Additional Highly-Recommended Brands: BalanceFrom 3-in-1 Plyo Box, JFIT Adjustable Plyo Box, Garage Fit Wooden Plyo Box, Bound 3-in-1 Wooden Plyo Box
10. Cognitive Training System
Recommended Product: Witty SEM Cognitive Training System
Potential Accessories: Telescopic tripods, Optojump Next system, USB cables, stopwatch, and inertial system tracker
Cost: ~ $2,000
The Witty SEM is a cognitive training system that consists of photocells capable of projecting varying numbers, letters, and directional arrows. These cells can be used to create a variety of testing protocols that are both reactive and cognitive.
The Witty SEM system has also been updated to include a variety of brain training modules that can help users improve their cognitive capabilities. These include increasing their brain speed, pattern recognition, and decision making.
Bonus: Airtrack
Recommended Product: Airtrack Pro Mat
Potential Accessories: Springboards, target mats, inflatable blocks, trampolines, and vaulting sets
Cost: $750+
High-grade fabrics are used to create the AirTrack, a training surface that provides a shock absorbing and energy-giving surface. It also has a variety of features to improve balance training.
The AirTrack can be stored and deflated easily, and its adjustable air pressure allows users to customize its surface. This makes it an ideal tool for different types of rehabilitation sessions. Its low-level design also ensures that it's safe to use.
Upgrade your business with new fitness equipment trends
Due to the increasing number of digital fitness options in the industry, the landscape of fitness has changed. With fitness fanatics using more digital options for everything in life, your fitness business has the immediate need for new fitness equipment trends to boost the client experience and attract more clients to your studio.
Now that you're up to date with your fitness equipment, it's time to upgrade your business management software. WellnessLiving's automated marketing suite lets you text or email clients to tell them about your new equipment. Plus, clients can also use Book-a-Spot to reserve a time on your new equipment at your studio.
Want to learn more about how WellnessLiving can grow your business? Book a free, no-commitment demo today to learn more.