Five 2020 Yoga Trends to Add to Your Studio
Tuesday, November 05, 2019
•
10:29 AM EST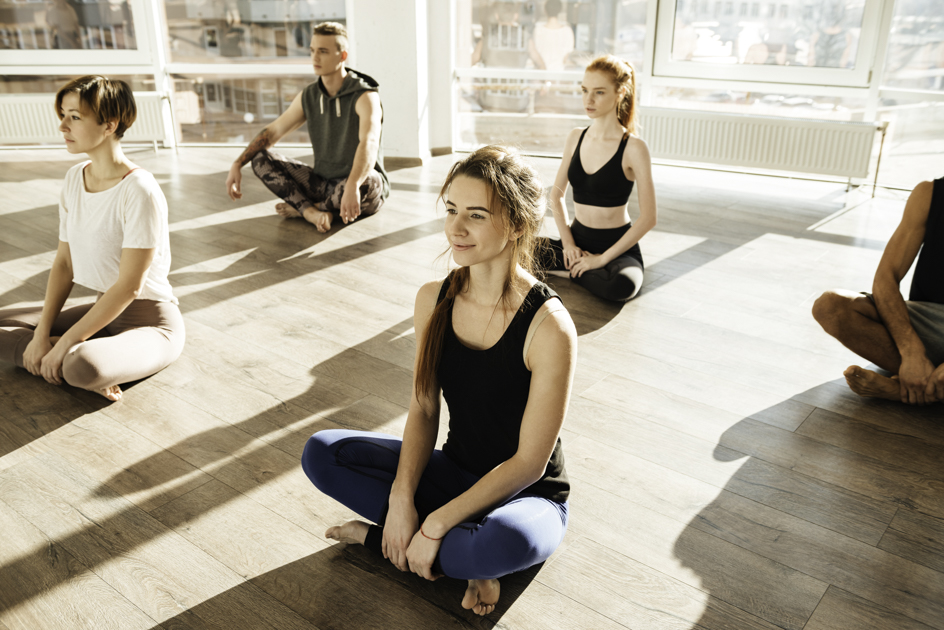 Yoga is constantly evolving with new trends emerging each year, so what does 2020 have in store? From class styles to tech, the future is 2020! Before you know it, the New Year will be upon us, so you need to be up to speed on what's hot and what's not on the yoga scene.
Why should the hottest 2020 yoga trends matter to you? If you want to grow your studio, what interests your clientele should interest you.
Being a progressive studio shows that you do your research, care about what your clients are interested in, and are aware of what's happening in your field. Growing your business means keeping an eye on the trends and applying them to your studio in a way that works for you.
Now that you know why keeping an eye on the trends is important, we can help you find a fit for your studio. Here's a look at the most popular 2020 yoga trends you should consider adding to your roster:
2020 Yoga Trend #1: Family Studies
In today's busy world, families are trying to multi-task, and combining fitness and family time is a great way to increase efficiency—and fun! From full-on family to couples' time, family classes are one of the 2020 yoga trends that'll up your revenue and fill your schedule:
Yoga for kids
Getting the kids started young is a great way to teach them breathing, stress management, core strength, and more! Many parents are concerned that their kids are not getting enough exercise at school, so offering classes for children could appeal to a large number of fitness-conscious parents.
Try polling your existing clientele to get a sense of the interest level and age ranges, and then give it a try! Be sure to enlist an instructor that's kid-friendly, with a flexible and simple program.
The more fun the kids have in the class, the more they'll rave to their parents and your mini clientele will grow!
Fun for the whole family
Encourage your community to get their family time in, while getting their yoga on! Worried this is one of those 2020 yoga trends that won't catch on? Start slowly by offering a one-off class to test the interest within your community. When it starts to gain momentum, add it to your full time roster to appeal to the demand, build your business, and see your profits grow.
Include all age ranges, from mommy-and-me to teens and everything in between! Be sure to schedule your classes around busy family schedules to encourage maximum attendance.
Couples' classes
With so many couples commuting and rushing from one place to another, time with our spouses can become a luxury. Why not offer some interesting date night-themed classes to address this need in the marketplace? This is one of the more fun 2020 yoga trends, so get creative!
Why not try out yoga and a movie night? Or maybe you could offer a beginner class, progressing to expert as the couples advance?
Offering family or couples' classes in a fun and unique way, may be just the thing to set your studio apart from the crowd.
2020 Yoga Trend #2: Yoga for Men
Affectionately being called Broga, yoga for men is a rapidly growing trend! In Western culture, yoga was seen as a practice just for women. But fortunately, that attitude has shifted.
Studios are incorporating classes that cater to men and their fitness needs! More and more men are seeing the positive effects of increasing core strength, providing injury relief, and building muscle strength through yoga.
Check in with your clients to see whether there's interest in a male-focused class. Host a "bring a friend" night so more men can try out your studio. If you're one of the few studios offering this type of class, you may just pique the interest of a new crowd.
See if you can use this trend to find another niche you're great at!
2020 Yoga Trend #3: Home Workouts
Don't panic! We're certainly not suggesting that clients won't be visiting your studio in person anymore! The truth is though, that people are seeking convenience and home workouts allow a certain amount of flexibility in our jam-packed lives.
How can you apply this trend to your studio? How about live streaming certain classes, making them available to members only? Or offering a few classes on YouTube so people can get a sense of your style before they join? Or maybe you could offer an alternative membership and nurture an additional revenue stream of online members?
Any way you look at it, adding the availability of working out from home will appeal to your clients, help you make a name for yourself, and increase your profits. It's one of those 2020 yoga trends you can ease into over time!
2020 Yoga Trend #4: Targeted Classes
Do you have clients that are struggling with injury, health issues, or anything that could specifically be helped with a regular yoga practice?
You're in luck because targeted classes are coming onto the yoga scene in a big way! Embrace the 2020 yoga trends by focusing on specifics in your class schedule:
Yoga for injuries
Due to yoga's rise in popularity in recent years, its reputation as a tool to help prevent and address injury is gaining steam too. Consider a dedicated swimmers' series, addressing overworked shoulders and tight upper bodies. Or a class for runners where increased hip flexibility is the goal. Maybe your clients with small children would be interested in a class to stretch out their backs and aching muscles?
Of all the 2020 yoga trends, this one might be the one to appeal the most to your clientele because it addresses a specific need they may not be able to take care of elsewhere. That sounds like a great way to make a name for yourself in the marketplace!
Yoga for sports
Similar to an injury-focused class, many athletes are looking to step up their game in their chosen sport and improving their fitness might just be the key!
In this case, rather than focusing on an injury, look at what it takes to improve a soccer player's game or a cyclist's performance. Could a class focusing on increasing endurance through yoga be helpful? There are a large number of athletes out there looking to up their game and you can get in on that!
Athletes are seeing some fantastic health benefits from yoga, and that's why this is one of the more popular 2020 yoga trends.
2020 Yoga Trend #5: Using the Tools
There has been an increase in the tools created to make our practice more effective. Here are a few ways that better tools can get you on board with the future of yoga, while increasing your efficiency and boosting your bottom line:
Fitness tools
In recent years there's been a rise in the use of tools being used during class. We've progressed from mats to adding blocks to incorporating inversion stools into the mix! Are there new tools you can think of to make your classes more interesting and fun or that'll help improve your clients' practice?
Do some research and make sure you're on top of this trend to stay current and impress your clients with your cutting edge approach.
Tech tools
The tech trend is invading all aspects of our lives and fitness is no exception! While we all want to unplug for a while, embracing the fact that we're constantly connected and working within that parameter will help you see success sooner.
Consider incorporating modern technology into your yoga practice by covering topics like smart watches or sleep monitors. You might also offer charging stations for your clients at the front desk—this will make it so they can conveniently charge their phones, while allowing them to unplug during class!
Tools for success
Tech tools aren't just for your clients! Trendy or not, it's a good idea to get yourself the tools you need to get your business to the next level. That's where WellnessLiving can help. Our all-in-one management software can help you increase efficiency, get your team on track and offer you a better look at where your business is headed.
From scheduling to payroll to automated marketing, getting the tools you need for 2020 should be a top trend you're paying attention to!
Keep Trends Top of Mind
Want to grow your studio by making the most of 2020 yoga trends? From family fun and dedicated classes to having the right tools, 2020 yoga trends are on the horizon! Get your studio set and ready to make the most of what's hot for next year.
And while you're trending, WellnessLiving's all-in-one software will help you get to the next level with increased efficiency, automated marketing, and an organized team. Sign up for your free, no-commitment demo today!
0