Jul 26 2022, 9:00 AM
Full Circle Brooklyn: Pole Dancing Studio Found the Perfect Fit with WellnessLiving's All-In-One Solution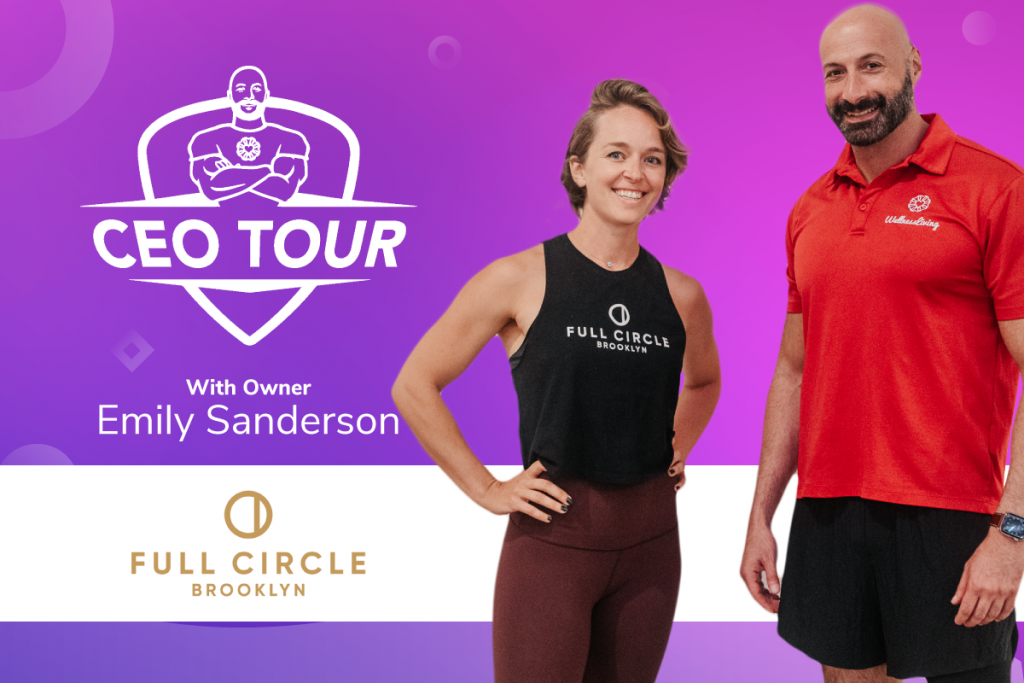 In 2021, when businesses began opening back up after pandemic closures, Emily Sanderson launched Full Circle Brooklyn, her own pole dancing and movement space in her hometown of Brooklyn, New York.
Emily was looking for the right software when she opened her studio and WellnessLiving checked all the boxes, providing her with an affordable software with all the tools she needed to efficiently run her business.
In the latest episode of the CEO Tour, WellnessLiving's CEO and Co-Founder, Len Fridman, met with Emily to learn about her seamless transition to WellnessLiving and why she selected the all-in-one platform to manage her pole dancing studio.
Read on to discover why many of our features, like the Achieve™ Client App, lead capture tool, rewards program, and more, are the perfect tools for Full Circle Brooklyn.
Full Circle Brooklyn at a Glance
📍Location: Brooklyn, New York
📍Business Name: Full Circle Brooklyn
📍Business Owner: Emily Sanderson, owner and instructor
📍Website: https://www.fullcirclebrooklyn.com/
📍Business Size: Large
📍Joined WellnessLiving Date: Sept. 6, 2021
📍Switched From: New Business
📍Active Subscriptions: Professional Plan; Achieve Client App, White Label; Message Center
📍Number of Partner Program Referrals: 1
Meet Emily Sanderson, Owner and Instructor at Full Circle Brooklyn
Emily started dancing at five years old, experimenting with all types of dance like competitive Irish step, tap, ballet, contemporary dance, and West African dance. She has also been teaching various forms of dance and movement for more than half her life. In 2012, she discovered pole dancing and signed up for an eight-week series.
"It was never something I'd normally try. I went to my first class and didn't like it at first," says Emily. "But I stuck with it and realized I was getting stronger than I had ever been. I started working at the front desk of the studio and then took steps toward teaching pole dancing."
Full Circle Brooklyn became an accumulation of Emily's life in dance, from student to teacher to business owner.
"My goal for the space was to create a welcoming and supportive environment for both pole dancing students and instructors in my own town," says Emily. "I really love that it feels like a neighborhood spot that people come back to continually. I've worked at larger studios in the past and I'd always see different faces in the classes, and it was hard for me to remember everyone's name. With Full Circle Brooklyn, it feels great to connect with the community, while seeing the students create friendships with one another."
When did Full Circle Brooklyn open?
As businesses began reopening in New York, Emily knew this was the right time to launch Full Circle Brooklyn. She had picked the name, found a location and signed the lease, and opened in September of 2021. The community now includes 17 part-time instructors.
Full Circle Brooklyn has one large room with eight stainless steel poles and often two students share a pole each class. The studio offers an Intro to Pole class, along with options for all levels, including beginner, intermediate, and advanced students. In addition, the poles can easily be removed, and the space is often used for other events or workshops.
Why did you choose WellnessLiving?
Emily knew that when she opened Full Circle Brooklyn, the booking software would be one of the most important decisions that she made.
"I looked at several different software options, including Mindbody," says Emily. "Many of the business owners I spoke to were frustrated with their high prices and poor customer service."
As Emily continued to research, the name WellnessLiving frequently popped up. Ultimately, she selected WellnessLiving as her all-in-one software since it checked all the boxes.
"As someone who isn't tech savvy, WellnessLiving is the perfect fit—it's affordable, my onboarding specialist made the system really easy to learn, and it has all the tools we need to manage and grow my business," says Emily. "When it was time to open my studio, the Onboarding and Customer Support teams ensured that everything was properly set up and ready to go. It was a very smooth experience."
What does Full Circle Brooklyn love about WellnessLiving?
There are several features that have been key to the success of Full Circle Brooklyn. What tools does Emily love the most? Let's run through some of her most favorite features of WellnessLiving's all-in-one software.
24/7 Customer Support
WellnessLiving provides 24/7 customer support, whether by phone, email, or online.
"Whenever there is something I've never done before, it's very easy to search the WellnessLiving Knowledge Base to learn a step-by-step process of exactly what I need to do," says Emily. "Also, when I've reached out, it's been very easy to talk to a real human for quick answers."
Custom Branded App
The fact that WellnessLiving offered a custom branded, White Label Achieve™ Client App was another big selling point for Emily. It allows her to maximize brand visibility with her business's logo and colors, while boosting the client experience.
"In today's world, it's necessary to have a tool that conveniently allows clients to book, cancel, and reschedule," says Emily. "About 30% of our bookings happen on the app and I've had positive feedback from clients. They really love how easy it is to book and pay for classes!"
Lead Capture Widget
With WellnessLiving's lead capture widget, Emily can collect leads and client information right from her website. She can easily view her lead and client contact info in a report, add it to a CSV file, and connect it with her email marketing platform.
"We've had many people create a client profile with us on WellnessLiving even if they didn't immediately come to the studio," says Emily. "Even before we opened, we had hundreds of email addresses in the WellnessLiving system, allowing us to reach out to people and start promoting our business. It's been super key for marketing and increasing our revenue as some of our leads have converted into clients by getting our regular email blasts."
Referral Program: Reviews and Rewards
With the help of WellnessLiving's rewards program feature, Full Circle Brooklyn has implemented a referral program. It allows clients to earn rewards points by leaving a review on the app or referring a friend to their business.
They've made the rewards program into a tiered system where clients earn a certain number of rewards points when their friend creates an account or makes a purchase. The rewards points translate into a dollar amount on the client's account, which can be used for free classes at the studio.
"The rewards points system has been a nice tool to encourage word of mouth and client reviews, while growing the community," says Emily. "Recently a client checked in with me to make sure she got rewards points for referring two new clients and she was really excited to take class with them. It's definitely a tool that's sparked a lot of engagement, so that's been positive for us."
Book-a-Spot and the Events Feature
Whenever Full Circle Brooklyn runs a workshop, both the Book-a-Spot and Events features come in handy for Emily.
"Book-a-Spot lets us rent out our room, while the Events feature is perfect for scheduling the workshop whenever we offer a service that's separate from our usual class schedule," says Emily.
Staff Management
With 17 instructors and another eight staff members that work at the front desk, WellnessLiving makes it easy for Emily to add new staff members, change staff permissions, and substitute instructors to cover a class. In addition, the Elevate™ Staff App allows her staff to view the schedule, tracks payments, book and check in clients, and more, right from their phones.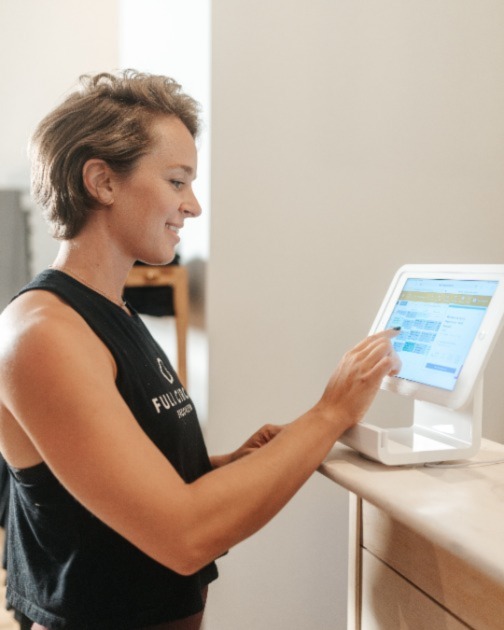 What tools do you hope will help grow your business in the future?
Full Circle Brooklyn offers two intro offers at discounted prices—a single class and a three-class pass. However, fewer than 25% of the clients who purchase these intro offers become full-time members.
Emily intends to activate the automated marketing tool and Message Center feature to send an email or SMS with a thank you message and another class package offer to clients who have purchased the intro offer.
Would you recommend WellnessLiving to others?
As a member of our Partner Program, Emily has already recommended our software to one other business owner who is now a WellnessLiving customer. That means Emily earned a one-time payment of $500, plus $20 a month for the lifetime of their subscription of the Professional Plan. She earned a total of $740 for the year just for referring one customer.
"If I hear of any friends around the world who are opening studios, I'll definitely be recommending WellnessLiving to them," says Emily.
Are you ready to grow your business with WellnessLiving?
Along her journey as a pole dancing teacher to starting a new business, Emily's life in dance came full circle to create the business of her dreams with Full Circle Brooklyn. WellnessLiving has helped make Emily's transition as a small business owner a lot easier, providing her with an affordable, reliable, and all-in-one software to manage and grow her business.
Emily says, "Anything I've needed, WellnessLiving has had the answer!"
Want to learn why WellnessLiving is the perfect solution for your business? Book a free, no-commitment demo today to learn more.