The Future of the Fitness Industry: Consumer Trends, Recovery, and Solutions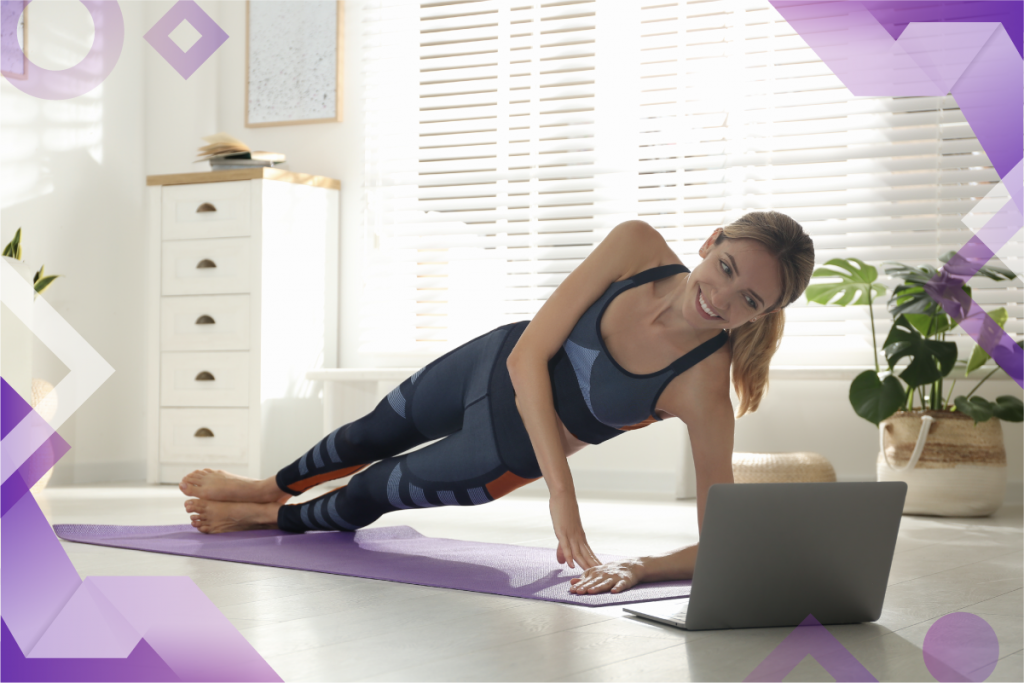 From countless closures to controlled capacity, the health and fitness industry was one of the hardest hit industries by the COVID-19 pandemic. Between March 2020 to June 2021, the gym and fitness club industry lost $29.2 billion in revenue. As of January 1, 2022, a total of 30% of fitness studios closed—an 11% increase from last year.
Without a doubt, the pandemic forever changed the fitness market, leading consumers to reflect on their priorities and behaviors while forcing the industry to evolve. Gyms and boutique fitness studios have responded with flexibility by restructuring their offerings to a hybrid business model—the combination of in-person and online services.
This has opened the door to recovery, as the global fitness industry is expected to grow to $190.56 billion in 2022 and reach $434.74 billion by 2028. In addition, the online/digital fitness market is expected to climb to $79 billion by 2026.
As the future of the fitness industry continues to take shape, let's explore insights from current consumer behaviors, recovery outlook based on the hybrid business, and key strategies to ensure your business thrives in a post-COVID landscape.
How has COVID changed consumer behavior?
The pandemic reinforced the importance of physical and mental health, and despite restrictions, fitness remained crucial. Consumers increased their spending on digital fitness with 75% livestreaming their workouts and 70% preferring the flexibility of on-demand videos.
Consumers also invested heavily in connected at-home fitness equipment with products like Nordic Track, Mirror, and Peloton, as well as wearable technologies. Specifically, sales of Peloton—an interactive stationary bike that brings users on-demand spin classes—increased by 173% during the pandemic, as their subscriber base skyrocketed from 700,000 to 3 million.
However, at-home fitness didn't work for everyone. According to a report from IHRSA (International Health, Racquet and Sportsclub Association), nearly all club members missed at least one aspect of physically being at their gym. For instance, 54% have limited equipment at home and 51% are unable to get the same variety of workout. Consumers also lost the sense of community and social aspect that comes with a gym membership.
What does recovery look like for fitness businesses?
Some reports suggest the fitness industry may not fully recover or reach pre-pandemic revenues until 2023 or 2024. After all, consider the members you've lost:
35% of US gym members who don't intend on returning at all, even after being vaccinated.
The group who just purchased their expensive at-home equipment with a new digital membership.
The speed of recovery and the future of your fitness business hinges on your adaptability to a hybrid model, with nine in 10 Americans who plan to return to the gym continuing at-home exercise as well. By July 2021, as many as 75% of fitness studio or gym operators provided some form of digital fitness, solidifying the hybrid model as a driving factor to improve the member experience and client retention.
According to the Post Lockdown Recovery Report from Leisure-net, nearly 70% of those surveyed said they'd likely go back to the gym if it offered online classes as part of the membership.
Rather than compete with brands like Peloton or Mirror, gyms and boutique fitness studios can personalize digital fitness with social interaction and a renewed sense of community.
What are key strategies for growth?
It's clear that the pandemic accelerated digital fitness, transforming the future of the industry forever. How can fitness clubs and gyms maximize the hybrid model to thrive and reverse COVID-driven attrition? Fitness businesses must evolve, adapt a flexible mindset, focus on the right market, and shift organizational infrastructure to support their new business model.
Focus on millennials and Gen Z
Millennials (aged 25 to 41) and Generation Z (18-24) have become the target audience for fitness operators. According to the 2019 Les Mills Global Consumer Fitness Survey, 80% of all gymgoers are millennials or Gen Zer's. In other words, winning back these age groups is vital to the success of fitness studios.
Unfortunately, a ClubIntel report indicates that millennials and Gen Z are more hesitant to return to their clubs than Gen X (42-57) or baby boomers (58-67). Only 61% of millennials and 59% of Gen X were very likely or fairly likely to return to their clubs after COVID, compared to 74% for boomers. Millennials and Gen Z are also more likely to have terminated their memberships due likely to financial insecurity. These groups were the most likely to leave their studio to join a new one after the pandemic, suggesting that fitness businesses must work hard to obtain loyalty among Gen Z and millennials.
Expand digital offerings to continue to thrive
Digital fitness is the key driver to ensure Gen Z and millennials recommit to your studio, since they were the biggest consumers of on-demand and livestream offerings during studio closures. Virtual fitness content also has an important role for Gen Z and millennials in their decision to return to their gym.
Studios and gyms must provide greater value and flexibility with options for on-demand and livestreaming classes as part of a traditional, in-person membership. Take your business a step further by providing personalized on-demand video training based on goals clients want to achieve as another upgrade for members. Or partner with at-home equipment companies, giving clients a discount to make it more accessible for them to do certain workouts at home.
Grow outdoor classes
Since the pandemic, outdoor activities have been on the rise. A RunRepeat study found that 72% of gym members said running and other outdoor activities were among the best ways to achieve their fitness goals. In addition, outdoor activities ranked third among the top 20 fitness trends for 2022, according to the American College of Sports Medicine's annual survey.
Gyms and fitness studios would benefit from adding more outdoor options to their class schedules during the warmer months, such as going for a hike, group running session, yoga, or body-weight workouts.
Upgrade your equipment
With nearly every studio or gym reopened, and some running as a hybrid model, it's important to keep the in-studio experience as intriguing and relevant as your virtual offerings.
The global fitness equipment market is constantly evolving and is expected to reach $14.8 billion by 2028. Treadwall® Rotating Walls, BlazePod reaction light training kits, the Matrix Connexus CRX50 Functional Training System, sliding boards, plyometric boxes, and virtual reality headsets are brands and products to consider as you upgrade the variety of equipment at your facility.
The Future of Fitness is Growth
Despite the challenges brought on by the global pandemic, the future of the fitness industry is a bright one for business owners who are adapting to the changing landscape. Remain flexible with in-person and digital fitness options that help you attract the right market while expanding the client experience.
When it comes to digital fitness and managing your in-person services, WellnessLiving's all-in-one platform has all the tools you need to attract, convert, and retain more clients. Streamline bookings and payments, manage capacity, expand your digital offerings, and more, with the right software solution. How else can WellnessLiving grow your business? Book, a free, no-commitment demo today to learn more!