Oct 01 2019, 5:01 PM
Ride the Halloween Market: 5 Yoga Studio Promotion Ideas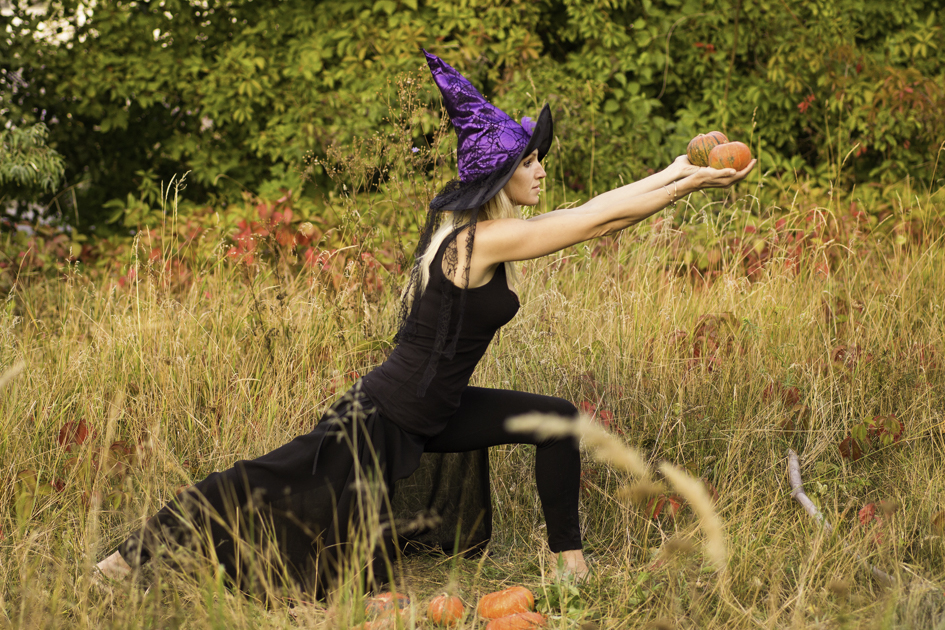 It's officially October, time to integrate the festive spirit of Halloween into your yoga studio marketing methods! This thrilling holiday is one which you should capitalize on to connect with your clients and give your competition a fright!
During this spooky season, people are buzzing with costume preparations and Halloween plans. Pumpkins are being carved, candy is being bought, and houses are being decorated in preparation for this ghoulishly delightful time! What does this have to do with your yoga studio you ask? This is the perfect opportunity for you to get the public's attention by joining in the fun!
Several businesses take advantage of holidays such as this to attract more customers. You might be thinking that there's no way you can link the soothing practice of yoga to the frightening elements of Halloween, but this simply isn't the case when it comes to your marketing strategy! Adjusting your advertising to suit the time of year is one of the many ways you can increase your clientele and reach your target audience.
5 Spooky Yoga Studio Promotion Ideas
Promote your yoga studio during this Halloween season with these seven bewitching techniques. Before you know it, you'll boo-st your business's popularity in no time!
1. Decorate your studio
One of the first ways you can attract more clients to your yoga studio during Halloween is to decorate your facilities with some devilishly clever elements that combine this occasion with the practice. Let's explain exactly what we mean.
Add certain items inside and outside your facility to give the public a positively delightful shock! For example, place pumpkins with yoga carvings outside your studio. These can include anything from different yoga poses to ohm designs. You can even use this as an activity to bring your staff and clients together and make a pumpkin-carving-get-together out of it! This will surely attract attention to those who may be passing by and may event entice new customers to walk in!
Inside your studio, it's important not to overdo the decorations but rather add spooky pockets here and there. For instance, add candy and pumpkin scented candles in different places to bring in elements of the occasion. Also, consider putting some skeletons in different yoga poses around your business! This will delight your clients and add a sense of fun to your studio.
There are so many ways that you can take advantage of Halloween this year, so take the time to work your magic!
2. Offer treats to your clients
Treats aren't only for kids this Halloween. Delight your yogis with treats when completing specific actions! Not only will this increase engagement with your studio, but it'll also have them excited to visit your yoga facility during Halloween.
To encourage more reviews online, for example, offer your clients special incentives! This could be anything from a discount on merchandise, upcoming classes, or double the amount of loyalty points! To boost sales, motivate your customers to make purchases by offering them a surprise deal during this time. For instance, buy two items for the price of one, or receive a 40% discount on any second purchase of their choice.
Another fun way to incorporate the spirit of Halloween into your yoga marketing strategy is to offer special discounts through email marketing during the month of October. One interesting strategy that is sure to spark engagement is to start a Halloween themed campaign. During this month only, give your yogis the opportunity to pick a hidden trick or treat through custom emails. Of course, there are no tricks during this season, so essentially they will be choosing between a smaller or larger discount!
WellnessLiving would love to help you set this up with our automated marketing options. With the help of our exclusive software, you can now create custom emails to send to your clients. This will allow you to connect better with your customers and increase your client retention rates! Not only can you send emails with our software, but you can also send custom messages or push notifications with our all-in-one management system. Connect with your clients more than ever before with WellnessLiving!
Another idea to spark more engagement is to ask customers to dress up in costume and send photos through email or your website to receive a special discount code. With this code they can access exclusive offers such as deals and prizes!
Want to take costume photos to the next level? Read on to find out how.
3. Spellbind your clients through social media
Put a spell on your yoga clients this Halloween by giving your social media content a new spin. Not only will this engross more users, but it'll allow them to see a softer side of your studio.
Boost client engagement on social media with a Halloween costume contest. This is a great way for you to see the lighter side of your customers and get to know them better! Nothing spells Halloween like wildly innovative and creepy costumes. So many of your clients and their families will be dressing up for the season anyways, so why not give them more of an incentive by offering a special prize. This can include anything from a three-month free membership to a relaxing weekend away! Generate a buzz and start promoting this contest at the beginning of October on all social media platforms like Instagram, Facebook, and Snapchat, and announce the lucky winner on October 31st.
Another way to draw in more clients is to create a Halloween theme for all of your posts during this month! For instance, introduce Mysterious Mondays where a yoga myth is debunked, or Thrilling Thursdays where a tip is shared with your followers. This is also a great opportunity for you to show a different side of your instructors. For example, dedicate a post to a specific teacher every week where they share a spooky fact or story about themselves. If your followers feel like they can connect with your team, they'll be more inclined to engage with your business and turn into lifelong customers.
4. Add Halloween themed merchandise to your store
Incorporating Halloween themed merchandise to your online store is yet another method to promote your yoga studio during this time. Don't sell merchandise or have an online store? We've got you covered!
Adding a retail option to your studio is a great way to boost sales and make your brand more recognizable. By having your studio's name and logo on all your merchandise, more people will start to become familiar with your business. The more people see the name of your brand, the more it gains a sense of credibility. During the month of October, advertise a special Halloween collection of items such as skull patterned water bottles, dark colored mats, and different scented oils to entice clients. By promoting unique merchandise every holiday season, you give your customers something to look forward to year after year!
With WellnessLiving's Elevate Staff App, you can set up your own online retail space. With this exciting feature, you can sell items, gift cards, or class passes even when your studio is closed for the day! Our software is easy to use and can even be accessed from your customers' phones. With our system, clients can make payments directly from a credit card saved on their WellnessLiving account from wherever they may be, so it's completely hassle free!
5. Host themed events
Halloween is a great opportunity for your yoga studio to host a variety of themed events! This will bring members of your community together and strengthen the bond you've built with your clients.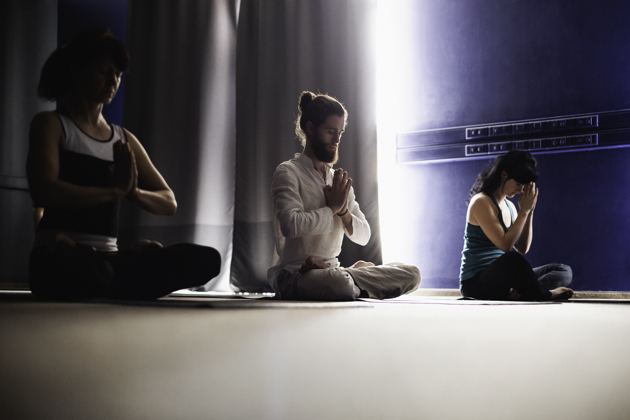 Entice more students to come to your facility by adding some hair-raising Halloween classes to your schedule! For example, introduce evening classes and meditation sessions focused on helping your yogis ward off any sense of negativity and fear. This can be done by incorporating certain poses during your classes that are more inclined to alleviate anxiety. You can also align these classes with this occasion by including glow in the dark features in the space! Different images can appear on the walls like skulls and cats that can give your customers a taste of this spooky occasion.
Children love this time of year, so host your own special Halloween-themed yoga class for kids! Encourage all children to come dressed in costume and include more animal poses in this session for them to enjoy! For example, have the kids meow in cat's pose or bark in downward dog. Special giveaways can also be given on their way out, which include healthy snacks and some branded merchandise like a water bottle or tote bag. It's never too early to introduce this practice to children, so what better way to do so than during the Halloween season?
Another great way to bring people together is to open your facility to your community on October 31st with a themed open house! This will give newcomers a chance to see your studio and encourage existing clients to get to know each other better. Ask all yogis to invite their family and host a variety of activities such as pumpkin carving, costume contests, and a special midnight yoga session for all to enjoy!
Events like these allow your business to build authentic relationships with your clients. If customers see that you are truly doing all you can to get to know them and provide them with a positive experience, you'll earn their loyalty.
It's More Than Just a Little Hocus Pocus…
Halloween is a great opportunity for you to promote your yoga studio by incorporating the best of the occasion to attract new and existing customers. From special classes to a social media costume contest, you'll surely make your clients scream with delight!
WellnessLiving would love to help you market your facility! With our user-friendly software, you can choose from a variety automated marketing options and client retention campaigns. Not only can we help you attract prospective clients and keep your current customers hooked, but we can streamline your business too!
Ready to explore the possibilities? Sign up for a free, no commitment demo with us and discover everything our software has to offer!