Jan 20 2020, 9:00 AM
How to Keep your Yoga Students Motivated
How do you keep your yoga students motivated to practice with you again and again?
Regardless of the industry we're talking about, it's common knowledge that it costs far more to acquire new clients than it is to retain existing ones. And yoga studios are no exception.
The reality is, most of your students won't find it hard to find a seemingly worthy excuse to skip their regular yoga practice. Whether it's their demanding job, family commitments, or something else, yoga teachers have heard it all.
Sure, people often begin their yoga journey for all the right reasons. They might be looking to reduce anxiety or manage depression, combat a physical issue such as back pain or lack of flexibility, improve their quality of sleep, or boost their strength and balance. Whatever it is, most yoga students start off with the right intentions. But when life throws unpredictable and challenging curve-balls their way, it's going to take renewed motivation to keep them coming back.
So how do you get people to commit to showing up to classes regardless of what life tosses their way? Read on to learn how you can motivate clients to incorporate yoga into their lifestyle and keep them coming back!
Focus on Relationship Building
Every business owner understands how important it is to treat their customers like a valued person and not just another number. Here are some key tips to building a relationship with your yoga students:
When new yoga students arrive to a class for the first time, make the effort to introduce yourself and remember their name.
Doing so will make you more personable and show your students that you care. This way, they are much more likely to feel comfortable and more inclined to take more classes with you.
Tip: Try repeating your student's name out aloud when you first meet them, and immediately associate their name with something that's already familiar.
Take a real interest in your students' lives and goals
Beyond knowing each yoga student's name, taking an interest in their lives will also help you connect with them.
Why have they started yoga? What's their short and long-term goal? What are they trying to achieve? These tiny details may appear irrelevant but true connection is what will convert a one-off client into a loyal student. When you're able to tune into their "why", it helps you tailor your classes to your yoga students or recommend other resources you've put together (more on that below).
Set up polls and surveys to get your clients' feedback on your yoga studio. Give your students a chance to voice their opinions, whether that be feedback for your classes or a say in what awards they'll get once they reach a rewards threshold (more on setting up a rewards program below using a yoga studio software).
Doing so will go a long way in connecting with your students. When people feel like their voices are heard, they are much more inclined to stay with you. Additionally, this gives you the opportunity to better serve your clients.
Ensure your Classes are Accessible to all Yoga Students
As a yoga instructor, you know better than anyone else that yoga is often underestimated when it comes to physical difficulty. But the last thing you want is for a new yoga student to limp out of your class because they couldn't quite keep up. It's important to know and understand what level your students are at and to plan and tailor your classes around this.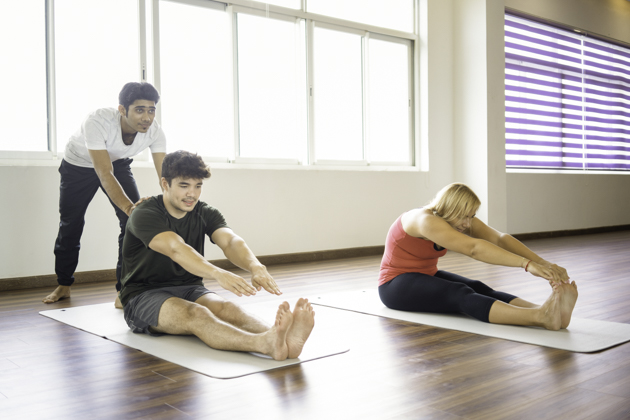 In yoga, we tend to talk about the ego a lot – many maintain that the purpose of yoga is to transcend the ego in an attempt to connect with the divine. Unfortunately, the ego is difficult to calm and if a new yoga student has a bad experience on their first attempt (experiencing an injury or being corrected too many times in front of everyone within one session), it can really damage their ego. And ultimately, that lessens the likelihood of them taking another class or telling their friends about how fun your class was and how great they felt afterwards. Remember, yoga should be a practice for everyone to enjoy.
Familiarize yourself with multiple modifications for every pose and be mindful of every student. Especially those at the back!
Offer Discounts and Promotions
Awesome yoga classes aside, there are many other ways to keep your yoga students motivated outside of the mat:
A great way to keep your students coming back is to reward them when they sign up for multiple classes. For instance, whenever a client completes five sessions in a row, offer them 20% off their next class or even a discounted gift card.
You can also sell multiple classes at a time by offering a bundle with higher value. For example, if one class usually costs $25, offer bundles of 5 classes for $100. Clients love more value for their dollar!
Another great way to boost your business is to find new clients through your current students, and reward both parties for it!
The possibilities are endless here, but you can be as generous or as practical as you like. You can set up a "Bring a Friend" offer, where both parties get 50% off a session, or give reward points. This is the place to put your thinking cap on and get creative!
Best of all, friends keep friends accountable! Once your yoga students bring their friends to your studio, they double up as accountability buddies. This increases the chance of them coming back again and again. Now that's a win-win!
Who doesn't love a discount that's tied into a key retail event?
At the start of every year (or before if you can), grab a calendar and mark-up all the holidays and key retail periods. Easter, Mother's Day, Father's Day, Halloween, Thanksgiving, Hanukkah, Christmas, Kwanzaa…the list goes on! Also look into non-traditional holidays, such as the International Day of Yoga (June 21st!).
From there, you can figure out what discounts and offers you want to run throughout the year and when. In today's highly competitive environment, you can bet other yogis are offering everything from freebies to fantastic deals. Mix it up and reap the rewards!
Set up a rewards program using a yoga studio software
A rewards program is a system to encourage your students to engage with your yoga studio. This encourages loyalty and retention!
For instance, you can award rewards points when students sign up for class bundles, bring a friend, talk about your studio on their social media, and any other action you want to encourage. Once they meet a certain threshold, they can redeem their points for awards!
To help you manage this, you can look into a yoga studio software to help you!
Provide Additional Resources
Keep your yoga students invested in your studio by offering them additional resources.
It's one thing to run a weekly or daily class for your yoga students, but you can take it one step above and give them access to a wealth of resources to use in their own time. Often, yoga students are interested in health and nutrition and other yoga-related content. They already see you as an expert, so why not use that to your advantage?
You don't need a super flashy website to do this either. With user-friendly sites like WordPress and Squarespace and a wealth of others, you can get help in whipping up a professional site in no time. From there, you can house information on your website, offer regular newsletters to build your email list, maintain a blog, promote videos, sell products via an online store, and so on.
Keep your audience engaged with your content and build their trust in you.
Build an online community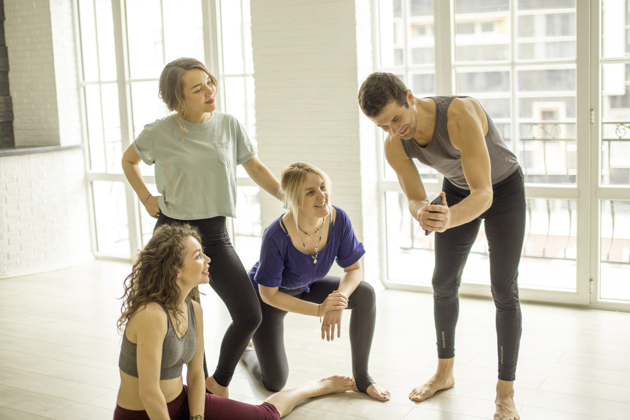 With social media platforms such as Facebook groups and Twitter communities at your fingertips, it has never been easier to create a community online. Ask your yoga students if they're interested in joining a closed Facebook group (or whatever other platform you fancy) so that they can connect with others. From there, you can send special offers their way as VIP customers, feed them information daily… it's up to you! Fostering connection among your yoga students will definitely help your business grow in the long-term.
Keep in Mind…
Getting and keeping your yoga students motivated is vital for customer retention. Building a successful and thriving business as a yogi takes time and we understand it can be challenging.
But you don't have to deal with it alone! Here at WellnessLiving, we work hard to be there for our customers so that they have the tools they need to truly thrive. With top notch customer service, easy-to-use yoga studio software and multiple business features (automated marketing, rewards program, staff and client apps, and more!), we are here to help you succeed.
Go ahead and book your demo today and see why so many yoga teachers have chosen to partner with WellnessLiving — a yoga studio software that delivers!