Feb 06 2020, 9:00 AM
How to Optimize the Client Experience This Valentine's Day at Your Fitness Studio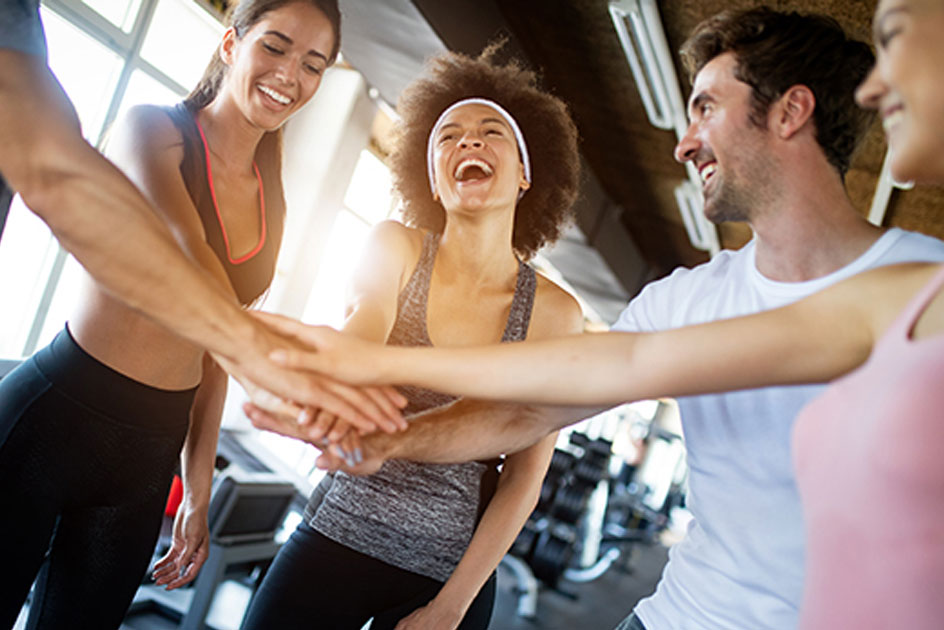 Want to boost your business, stand out from the crowd and become the go-to studio for your clients? Take your clients' experience to the next level this Valentine's Day and watch your fitness studio grow!
How important is it to clients that their experience is first-class? Well, according to Forbes, "Client experience is the new brand." Their studies show that while 80% of companies think they are delivering an excellent experience, only 8% of customers agree.
What does this prove? These stats show that businesses are not paying enough attention to their customers' needs, so they are losing customers – and they might never even know. How many times have you been unsatisfied with an experience? Did you let the business know, or did you simply go elsewhere?
Today's customer has high standards, expects excellence, and will quickly lose interest in a business not serving their needs. Don't let that be you! Optimize your client experience to win in your market.
The premise is simple: you want to make each experience positive and memorable, so your members return, remain loyal, and tell their friends about you. Starting with your team, including a social media strategy and getting the most out of your gym management software, makes a strong statement about your business!
Are you ready to brag about your superior client experience? Take a look at our expert advice on the best way to optimize the client experience at your fitness studio:
1. Focus on Teamwork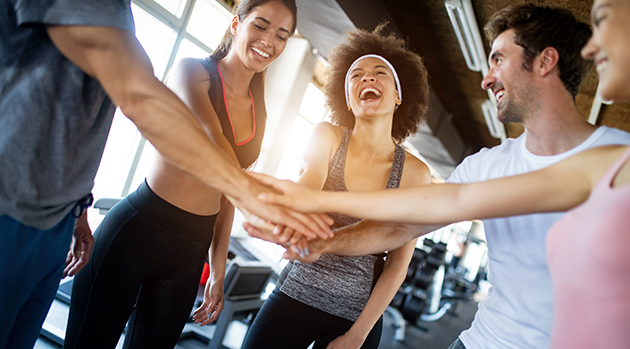 Your business is only as great as your team! Think of your staff as your brand ambassadors, the first impression you leave and the people who can make or break your business. If you want them to be at the top of their game, get a plan in place to make that happen. Here are a few ways you can get your team to that all-star level:
Train them
Make sure your team is set up for success! Start by hiring staff that's enthusiastic, eager to learn, and who share your passion for the industry. Next, get them trained with manuals, videos, and job shadowing. The more you expose them to your way of life, the quicker they'll be able to adopt your standards.
Having a winning customer service team, whether that is on-site or on your website, app, or social media platforms, is a giant step towards making your customer experience the best in the biz.
Reward them
You know your team is already motivated to do their best, but a little extra incentive can't hurt! Make it a game by rewarding your staff for positive guest comments, featured reviews, or repeat business.
Let them know that customer experience is paramount, and you're willing to go that extra mile to make them successful!
Recruit with them
Want to add more superstars to your roster? Ask your team to help! Do they have a friend that's interested in fitness? Or a sibling with experience? Your best resource is the one you already have!
Use your team's expertise to recruit and help grow your staff into a force to be reckoned with.
2. Make Friends
We all like to do business with friends! It encourages a sense of loyalty, which motivates us to support them, promote them and stay invested in their business.
Get your clients into the friend zone by taking a genuine interest in their lives! Focus on eye contact, use their first names, take the time to get to know things about their lives. Building a familiar rapport will create lasting relationships you can count on.
And what's the best part? Cancellation rates typically go down with increased loyalty and invested members, so your bottom line grows, too!
Long-term relationships, increased revenue, and fewer cancellations? That's how you optimize the client experience and make your customer service next-level!
3. Maximize Social Media
Now that you're connecting with your clients, it's time to build up your community! Getting social will enhance your connection, set your studio apart, and build up your online presence.
What's in it for your clients? We all want a sense of community, so provide them with a way to learn, connect and engage with your business and the rest of your community! Here are a few ways you can use social media to optimize your client experience this Valentine's Day:
Offer value
Improve your customers' experience by using your social media platforms to provide value for your community. Offer them content they can't get anywhere else! Not sure what to post? No problem! Think about what would interest your market. Can you post fitness tips on your blog? Behind the scenes video from your business? Stretching videos?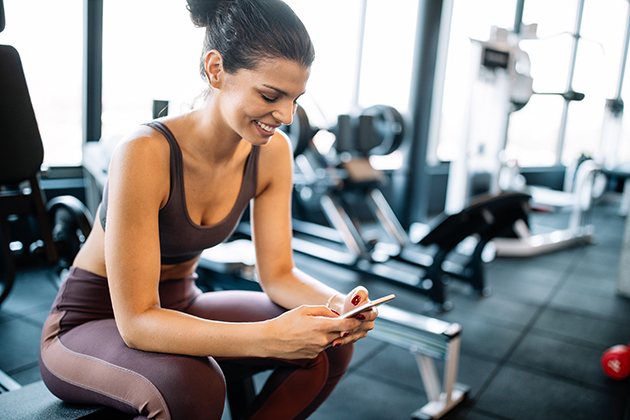 Include interesting and informative content to keep clients engaged in your business while you build those relationships!
Start groups
Get social media working to build your community by starting segmented groups to strengthen your ties. Think up a fun idea and get started! Can you start a hydration challenge? Or a group just for lifters? Or how about a trainer-led group where they give out expert advice and answer client questions?
Social media groups are a fantastic way to bring your community together to cheer on each other's successes, encourage a competitive spirit, and build motivation to reach common goals. Now that's what we call an optimized client experience!
Up your interaction
Social media offers you the opportunity to, well… get social! Engage your audience in conversation, encourage their interaction, share each others' content and grow your community.
The more you can get your audience involved, the more relationship building is happening with your community. Use social media to reach out, boost dialogue, and encourage loyalty – and it's a great way to spread the word about your business, too!
4. Get the Tools You Need to Succeed
The better you run your business, the more outstanding your client experience will be! Do you have a gym management software that tackles increased efficiency and improved performance?
You need the right tools, and WellnessLiving's gym software can help! Want to streamline your processes? Need a hand with payroll? Want to manage your scheduling on the go? Build customer profiles to get to know your clients better?
What's even better than a gym management software that betters your business? How about one that does double duty? Our gym software also provides the tools you need to make the experience exceptional from the client-side. With our mobile app, clients can make a booking, leave a review, make a payment and more.
When you want to make an impression with a superior experience, updated gym management software is the way to go!
Stay current
Stay ahead of the curve and impress your guests by being on top of what's hot! An optimized client experience means that you're moving ahead with the times. When you start to get behind your competition, you start losing clients.
You've set the bar high, and you don't want to disappoint clients with outdated tech, machinery or systems that might hinder their experience.
Could your equipment use an upgrade? Are there new classes you've heard about? Any feedback from your clients you're ready to implement?
Getting the tools you need to better your business will impress your guests and remind them why they chose you.
5. Reward their loyalty
What better way to show your appreciation for customer support than by giving back? Your clients have supported your business, and it's time to show them some love! Here are just a few ways you can get your clients feeling warm and fuzzy about your fitness studio:
Host an event
Why not host a client event to show them how much you value their support and appreciate their business? Making them the guests of honor will let them know just how much they're a part of your fitness studio! An event like this will also strengthen your relationships, allow you to engage with your community (in person), encourage loyalty, and elevate you above your competition.
Reward referrals and reviews
There's no better reference for your fitness studio than a review or referral. It's one thing for you to boast about your business, but when an unbiased third party endorses you, that's priceless!
Why should you reward your clients who sing your praises? Two reasons: to show them that you appreciate their effort and to encourage others to do the same! The more attention you get for your business online, the higher you'll rank in Google searches, and more people will find you.
Keep it simple! Reward gifts can include water bottles, gym bags, branded towels and t-shirts, or even wearable technology. By rewarding client loyalty, you're enhancing client experience while building your brand – it's a double whammy!
Offer loyalty based promos
Boost your customer service experience by launching loyalty-based promos to provide incentive for your clients to stay with you over the long haul. It's much easier to expand a client's business than to attract brand new clients, so add loyalty to your list of must-haves.
It doesn't have to be budget-busting, either! Consider offering a perk like offering long-term members free lockers or towels. Or you could adopt a 'pay for 10 visits, get the 11th for free' promo, which encourages your clients to commit to 10 visits to benefit from the reward. You might even allow loyal clients to try a complimentary new class or service: they get a freebie, while you encourage them to expand their purchases!
Ready to Get Started?
This Valentines' Day, get attention for your labor of love by optimizing your client experience! Get your team in top shape, use tools like your gym management software, and take a good look at loyalty. Work on getting your fitness studio to rock star status by optimizing your customer experience.
Just as you are committed to optimizing the client experience, WellnessLiving is in your corner as well. Stay on top with the tools you need from WellnessLiving's gym management software to make your fitness studio the best at optimizing the customer experience. At WellnessLiving, we've everything you need, such as rewards and loyalty programs, client profiles, customer reviews, and much more. Book a free, no-commitment demo today!