May 09 2019, 7:51 PM
All it Takes is Someone Who Cares – Why John Cirilo Switched from MindBody to WellnessLiving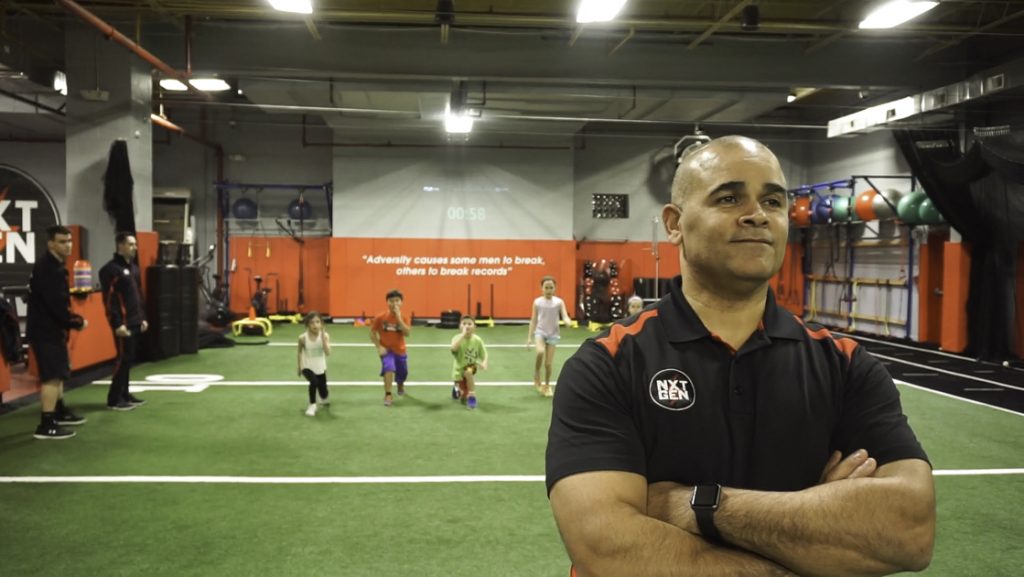 After switching from MindBody to WellnessLiving, John Cirilo and his team at NXT GEN Fitness finally stopped over-paying for frustrating software and started putting their energy into their purpose: transforming the lives of children and families in their community for the better.
About
At a young age, John Cirilo was an athlete and dreamed of playing college football. Unfortunately, as a kid who only weighed 98 pounds at 14-year-old, he was told that his dream was impossible.
A few years later, John joined the U.S. Marine Corps where he learned that his small size wasn't due to a short-hand in athletic ability — rather it was caused by a lifetime of malnutrition. "All it took was one person who cared enough to make a difference," John told us when we asked him about his superhero origin story as a Gulf War veteran. "I made a promise that if I ever got the chance to teach fitness and nutrition to children, that's exactly what I would dedicate my life to doing. That's what happened."
When John's eldest son needed some assistance with his own health and fitness, John discovered Bill Parisi. Bill created Parisi schools, which offer his specialized performance training methods. The flagship location was a mile from John's home. "The story I always tell is it's no coincidence, it's God-incidence. I was meant to go there with my son and the intention was to sign him up for the program…The only thing I can compare that experience to was when Howard Shultz walked into the first Starbucks in Seattle, he said it felt like home. That was my experience at Parisi."
At the time, John already had a thriving personal training business in Manhattan; he gave all that up to work with Bill Parisi. John worked his way up from coach to corporate, "With no true business experience, no true franchise sales training, I was able to execute 79 of the 90 plus locations he currently has in the network now…I did that strictly on the belief in the product, the mission of the company, and what we could do with children."
After years of hard work growing the Parisi brand, John decided it was time to switch gears and stay closer to home, especially now that his two sons were getting older.
And so, John became the managing partner and Director of NXT GEN Fitness, a family-friendly performance training facility in Port Washington, New York. John had also previously trained the NXT GEN Fitness team with the Parisi method. Adam Cirker, the business owner, had a passion for helping children in his community that was matched only by John's own dedication to health and wellness. It seemed like fate.
"We have a purpose, we have a mission, and by God, we're going to make sure we fulfill that mission of helping children and their families. We've been here six years, we have a 14,000 sq. ft facility, it's a million-dollar facility we built… [In the end], you gotta go with your gut. You gotta pray about it. And I just decided to make the move, and it was the best move I ever made."
The Problem
After joining NXT GEN Fitness, John jumped right into enhancing the facility. One of the major components that John had to consider while revamping NXT GEN Fitness's management strategy was the software on which they would run their business. When John first joined the team, they were using E-Soft, a program that was developed by another Parisi franchisee. John decided to switch the company over to MindBody.
With the help of his office administrator, John transitioned the team at NXT GEN Fitness to MindBody and got to know the software himself. "When I did a deep dive into the software, I found it could not accurately measure what we were doing or what we potentially wanted to do."
As John discovered the limitations inherent in MindBody, he reached out to their support team for assistance. Unfortunately, they would only offer him half-baked suggestions to work around each issue he encountered. "It was time prohibitive. It didn't make sense." They never seemed concerned about his business or interested in helping him make everything work.
Along with their indifference, MindBody's support team seemed to be inept. "Whenever I would call them for support, it seemed like I knew their product better than their support people… [I thought] 'I'm teaching you your software. You should be paying me now!' Then they would put me on hold for 45, 50 minutes. It's like calling AT&T, like calling the IRS. It was just so disappointing to the point where I would get angry getting on the phone. I had too many other things to worry about."
Frustrated with customer support, John decided to take matters into his own hands and dig deep into MindBody to truly understand how to use the system for his business.
"I paid $900 to go to their MindBody University that they hosted in Manhattan. I went there and it was a complete waste of my time, 100%. Instead of working with me as a boutique fitness owner, they're talking to me about reports that have nothing to do with me. I need them to help me run my business at a granular level. That's what I need. After two days there, I walked out saying 'I just got ripped off.'"
After that disappointing experience, MindBody addressed John's concerns by offering him a new feature: the option to send clients SMS notifications for an additional $1000 per month. But John wasn't looking to pay more for a new feature; he was hoping MindBody would offer him a solution that would work for his business model. Unfortunately, they didn't have an answer for him, focusing instead on cookie-cutter replies that did nothing to address NXT GEN Fitness's specific concerns.
In the end, it wasn't the expensive software that tipped frustrations over the edge, it was the fact that MindBody didn't seem to care about John's concerns. "I was just disgusted. I was disgusted at that point. When I walked away from MindBody University, I knew I had to find another CRM. That day."
The Solution
The hunt was on. John searched far and wide to find the ideal management system to replace MindBody and properly serve NXT GEN Fitness. He read about several companies, tested trials, and attended demos. "We went through at least 8 or 9 different platforms."
Eventually, an ad for WellnessLiving found its way to John. It addressed all his concerns and offered him a solution for a fraction of the price of MindBody. John jumped on the new solution.
NXT GEN Fitness's transition from MindBody to WellnessLiving began with their data migration. While John was apprehensive about the import of so much client data, the process was smooth. "The data migration was pretty simple. It was easy. We were happy with it."
After they moved all their data over, the team at NXT GEN Fitness was ready to learn how to use WellnessLiving. That process was just as pleasant. "[The WellnessLiving] platform is user-friendly. You could be a computer idiot like me, and just start looking around and feeling your way through it, you can figure it out."
Aside from being easy to use, WellnessLiving also encompasses everything they need and want from their software. With a rewards program and email marketing capabilities already included in the WellnessLiving package, NXT GEN Fitness no longer need to pay extra for the features they want. John also loves WellnessLiving's compatibility with other programs, "[The fact that] ClassPass and Groupon and all these other things work well with [WellnessLiving] makes it even easier for me to focus on the things I need to focus on as a director, which is growth."
When John needed help to understand a feature or learn how to properly utilize the system, he contacted WellnessLiving customer support. He was blown away by the level of knowledge and initiative that the team displayed. "WellnessLiving's support people are really great. If I ever felt like I was getting stuck or I made a mistake, I would just make a call and they would get on the phone with me. And if they didn't pick up the phone, I would get a phone call back within two hours. That was tremendous. Tremendous. And everyone is really, really nice. They don't talk down to people." And that was the deciding difference, John could tell WellnessLiving cared.
Now even as more competitors set up shop near NXT GEN Fitness, John is confident because he has WellnessLiving on his side to keep his team and his vision on track. "The reason why I love [WellnessLiving's] system is because it takes some of the pressure off me when I'm trying to run my business. I don't have to worry about trying to figure things out because the reporting mechanisms that are built in make it easy for us to look at numbers and figure out what's working."
We are excited and honored to be a part of John and NXT GEN Fitness's success story. Curious to see how WellnessLiving can help your business? Book a free demo with us today!