Jul 15 2016, 7:45 PM
July 2016 Release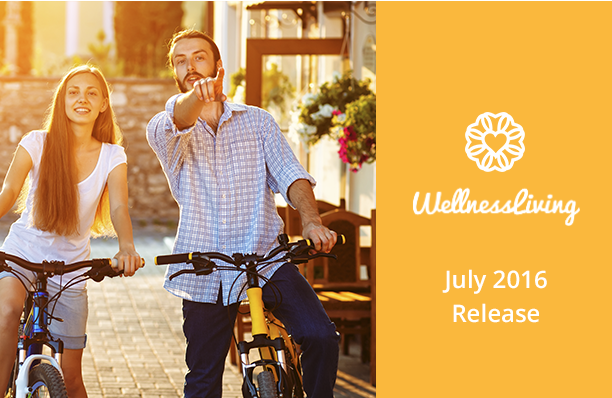 Summer is here, and WellnessLiving is sizzling this month with updates and improvements in all areas.  This release consists of some new interfaces that have been built from scratch, for your convenience and ease of use.  We won't make you wait.  Relax, grab yourself a Shirley Temple (are those still a thing?), and check out what's new in WellnessLiving.
Task Management
We say this a lot, but you'll just have to get used to it: Staying organized is really important.  With the introduction of Tasks and Task Management, your to-do lists just got a whole lot easier…and more colourful.
Task Management is a brand new feature to WellnessLiving which provides you with the ability to delegate tasks to your staff members.  You can set due dates, completion statuses, and even associate a task to a specific client.  Your staff will automatically get notified when a task is assigned to them, and there is an indication right within WellnessLiving when the task is due.
Assign tasks directly from the Client Profile Overview

Task Manager is accessible directly from the top menu
New Purchase Option Type – Duration Pass
Move over Session Pass, there's a new Purchase Option in town.  We are please and excited to announce a whole new way to sell your services: by the duration of the service.  With the introduction of the Duration Pass, you are now able to give your clients the ability to book any length of service, and they will only pay for what they use.
And now in layman's terms: let's say you offer both 30 minute massage and 60 minute massage.  If you create a pass with 10 sessions, you can't really give your client the flexibility to choose which length of service they want, it needs to be one or the other.  With a Duration Pass, you can simply sell the client 600 minutes of massage, and they can choose how it gets used up.  Cool, huh?

Client Profile – Duration Pass Preview
Attendance Web App and the New Web App Menu
New buttons are always a good thing, right?  This handy addition to the staff menu allows you to quickly access all mobile interfaces, no matter what page you're on.

New Web App Menu
The WellnessLiving gurus out there will have noticed that there is a new page on the menu above: The Client Self Attendance Tab.  Now make sure you're sitting securely on your chair, this feature has already knocked a few people off their feet.  With the Client Self Attendance tab, clients can now preview what sessions are coming up on a tablet, choose what class they want to attend, and check themselves in.  We would say more, but it's really that simple.  Here's how it looks…
Once the class is selected, your clients can simply click "Check In", or start searching for their name if they did not book ahead of time.

The Client iOS/Android App is Coming!  

Join the BETA Test Team  
Are you a WellnessLiving Ambassador? Are you loving the software and telling all your friends and business associates about it? Are you constantly waiting for the next big software update to arrive? If so, we have news for you — the WellnessLiving Client iOS/Andriod app is going to be released in the next few weeks and we have announced a new BETA Test Team program just for it. The best news is that you can apply for it today.
The BETA Test Team program is for users who want to test experimental and upcoming software features, and also provide WellnessLiving with help and feedback. As a member of this program, you'll have unique access to the WellnessLiving Development team and input into the software's future road map.  To join the program, simply send an email to BetaTeam@wellnessliving.com.
And as always, many, many improvements
As you have probably figured out by now, WellnessLiving has a whole lot of stuff going on.  If we gave you a full list of improvements, you'd be here all day.  Rest assured, there is a long list of things we have done to make your life easier and the software better.  We hope that you enjoy using these features just as much as we enjoyed making them for you.
Remember, if you have any specific features or enhancements that you would like us to implement, please use the Feature Request form found on the WellnessLiving Support Center. We can't promise to implement your feature, but we do promise to bring it up at our next weekly Engineering Team meeting. We are constantly looking to improve our software and we value your feedback greatly.
Thanks again for choosing WellnessLiving!