Jan 07 2019, 8:05 PM
Boost your Dance Studio Business with Modern Software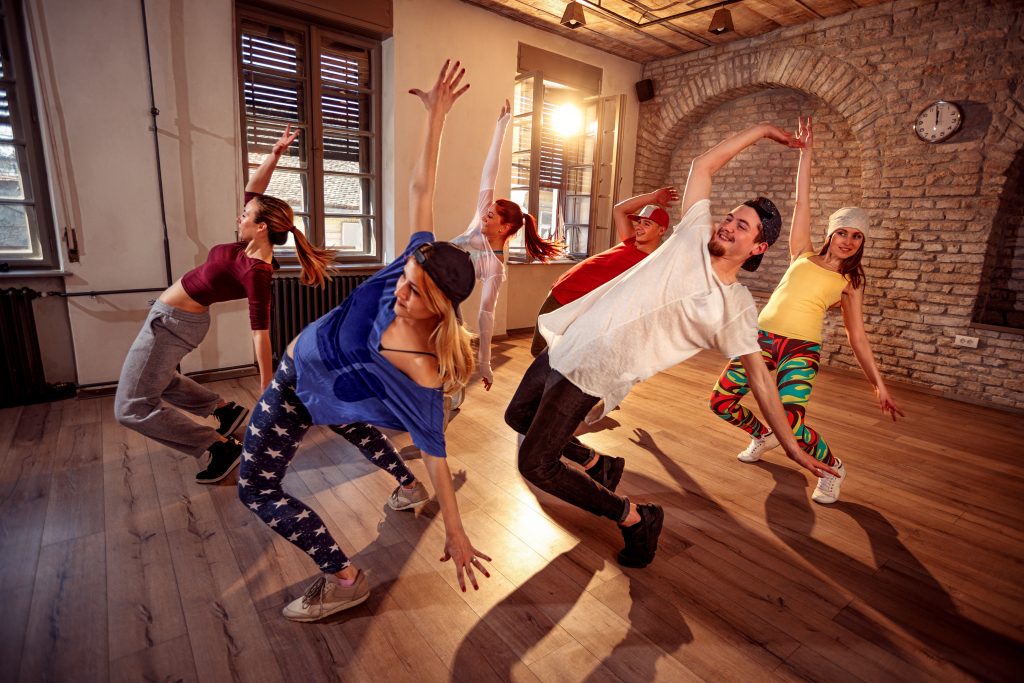 Are you trying to manage your dance studio business but find that it's becoming increasingly difficult? Is the thought of having to rifle through paperwork to see your staff and students' ever-changing schedules stressing you out? Are you doing all the work manually because using ineffective software feels like climbing Mount Everest?
If you answered yes to any of these questions, then you came to the right place.
The fact of the matter is: using paperwork or outdated software to manage your studio is doing nothing to help alleviate your stress. And If you find yourself constantly wishing for a better solution, maybe it's time look into a new management system.
Dance studio software has come a long way, and it's time to take full advantage!
Using modern business software can take your dance studio to new heights. It can be the difference between success or failure, and change the way you run your business for the better.
So, how exactly can modern software boost your dance studio business? Read on to find out.
1. Modern software helps you with marketing
To be a successful dance studio, you've got to be at the forefront of people's minds. You have to tell your story. The best way to show who you are is to use marketing techniques to your advantage. Doing this will not only inform new clients that you are open for business, but will also spread the word of your studio in the community. 
We understand that you went into the dance studio business because it's your passion. That's why you need software with built-in marketing tools that will take the guesswork out of selling your business. You need a software that offers:
Email marketing
Aside from keeping your current customers up-to-date about the latest news and promotions, email marketing also enables you to keep in touch with your customers on a personal level. Email marketing should be used:
If a client's membership is about to expire
A personalized message encouraging your students to renew their membership can get them to re-commit to you for longer. Offer extra incentives such as free bonus classes or free merchandise for a limited time to sweeten the deal.
If a client hasn't visited your dance studio in a long time (aka 'client win-back')
Winning back a client is essential to your business. A simple "We Miss You" email can make a huge difference. It shows each student that they are more than just a number.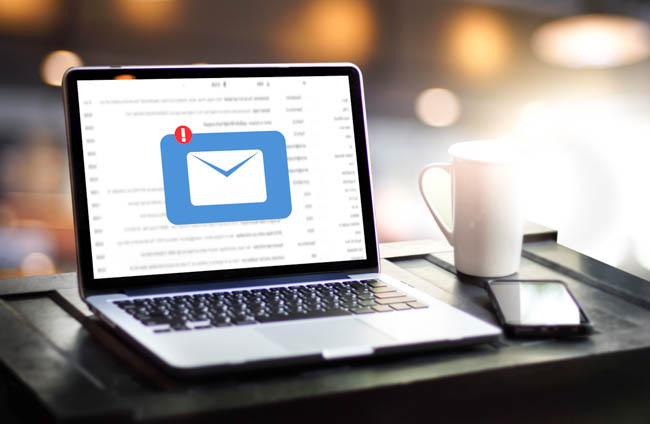 To offer new promotions and sales to loyal students
Offering exclusive deals to current students via emails, such as private dance events or first entry into new dance classes, can be a huge draw for members. Your clients would love to get the first word and the best deals you have on offer before you share them with the general public, it proves to them that they are valued. 
To properly e-welcome new customers and rehash details regarding studio culture, offerings, and staff, and dance schedules
This is standard, but important to mention. Be sure to send out welcome emails when new students join your studio to verse them in everything they need to know to get started.
Review Generation and Display
We don't need to remind you of the importance of glowing reviews. With easy access to the Internet, you better bet dancers are looking online for recommendations before deciding which studio to attend. You want to make sure you come out on top.
Encouraging your current students to leave reviews would be a game-changer because if you do your part, and offer an incredible experience, then you're bound to have loyal members willing to shout from the rooftops about how great your studio is.
So you provided great service, and now you have some awesome reviews. What next?
You've got to get those reviews seen. That's why you should look for a software that displays your reviews on a large scale medium, namely, on Google search. 
WellnessLiving's integration with Reserve with Google does just that. 
Here's how it works: your customers can engage with your business when they search the name of your dance studio on Google's homepage. There, they can book classes, make payments, and leave reviews. Thanks to our collaboration with Google, you will rank high on Google's search engine. When customers search "dance studio's near me" your dance studio will come up towards the top of the list. A high Google ranking is powerful because, as we all know, few people go to the second or third page unless they've exhausted the first. So do your business a favor and partner with WellnessLiving today!
Rewards programs
Having a rewards system in place is vital to your business because it provides an incentive for your members to stick with you.
And it doesn't just motivate the students you already have. Having a rewards program also:
Although having a rewards program is important, it can be difficult to implement if you don't have the right ingredients in the mix. That's why it's so useful to choose software that has a built-in rewards system in place.
WellnessLiving offers a built-in rewards system that is cutting-edge and easy for studio owners and studio patrons to use.
With WellnessLiving's sleek rewards program, you can:
Offer rewards points in exchange for customer reviews
Offer the excitement of a live competition displayed on a leader-board
Motivate your students to stick with your dance studio
A good software will handle the technical details for you, so you can focus on your students.
2. Modern software offers online-store capabilities
Having the whole package, which includes offering merchandise online, can be an asset to your business. These include workout clothes, water bottles, t-shirts, headbands, and even private dance lessons.
That's why you need software that offers:
A solid point-of-sale system
With WellnessLiving's point-of-sale system, you can easily build an online store, track how it's doing, and sell your products. Compared to other companies, we offer the lowest credit card processing rate – which means more money in your pocket.  
If you have repeat customers, who want to be set up to pay for the same service on a monthly basis, then you can set up recurring billing.
Revenue reports keep track of sales and income, and WellnessLiving's QUICKSTATS does just that. With QUICKSTATS, you can generate financial reports from your desired time frame and keep track of every stream of income. 
3. Modern software provides schedule synchronization 
With a lot of staff and students to manage, synchronizing your studio's schedule is vital to keep everything running smoothly. Last minute changes come from both students and teachers, and you have to ensure that everyone is on the same page immediately. You need software that works for you, your clients, and all of your staff. The software you choose should offer real-time updates that are automatically synced on all devices.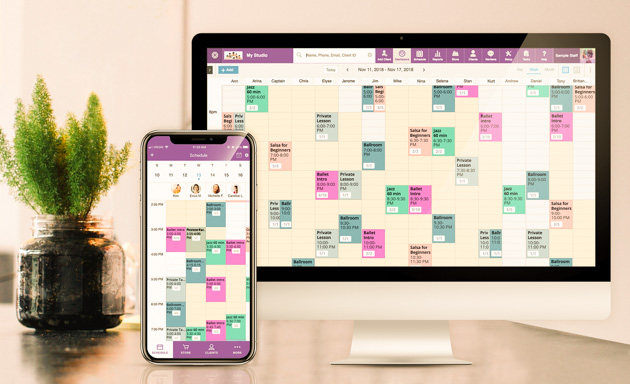 With WellnessLiving's scheduling widget for both your website and Facebook, once a dance class is booked online, it automatically syncs to the schedule you have on your devices (such as your desktop, mobile phone, or tablet). Our Elevate staff app makes schedule management easy. The Elevate app is mobile staff management and a point-of-sale system that allows clients to sign up on the spot. It also syncs schedules to your desktop automatically, so any new information input will be visible to everyone. 
This widget is a big deal for your business because it puts your business on the first page of Google search. This means if a prospective client searches for dance studios in their area, your dance studio will come up on the first page. Nice, huh?
The Best Solution
We know you're motivated to make your dance studio business a success. Know that we're here to help with an all-in-one software solution that takes the guesswork out of business management and marketing.