Jul 31 2020, 9:00 AM
Music Ownership Rights: What You Need to Know
Let's talk music for your business! COVID-19 has led many fitness and yoga studios to go online with livestreaming and on-demand services, but what music can you use for your classes? Research shows that music can help enhance athletic performance by stimulating the brain and motivating you to improve your performance. And, that's why most instructors like music in their classes and so do your clients!
What's the problem? The issue arises when you go online and share music on your livestreams and on-demand videos. Using music while you're getting paid is a big no-no, legally.
You might avoid copyright issues by skipping the music, encouraging your audience to play their own music during class (muted to the rest), but where's the fun in that? No, to boost your client experience and offer the best classes you can, you need to get the rights to use those songs!
Here is what you need to know about using music for your business online and in-person:
What does music reproduction rights mean?
This means whoever holds the rights to a song has the authority to allow their work to be used for various media, like records, CDs, digital media – or your livestreams and on-demand videos!
Music licensing is the licensed (or permitted) use of copyrighted music. It's designed to make sure that the owner of the music is compensated when people use their work.
Here are some of the other terms you should know when getting familiar with this part of your business:
Publishing rights: Rights belonging to the person who writes the lyrics for the song.
Performance rights: Rights belonging to the person who performs the song or music.
Public airwaves rights: This is the right to play the music or song for other people (and make money while doing that).
What are sync rights?
Sync rights allow a business to pair visual content with copyrighted music. So, it's when you synchronize your content (video or livestream) with someone else's music for your use.
The Peloton story
You need to know these terms to avoid any legal issues! Here's what happened to Peloton, a major player in the fitness industry. Because Peloton uses popular music along with their livestreaming classes, they needed to secure the sync rights to that music. But their music library is so vast, this became a large, laborious task.
They were sued with the claim that they had failed to secure these rights for over 1,000 songs, meaning that they did not get permission to use the music from the appropriate publishers. It was a difficult undertaking because often there's more than one publisher who owns the rights to a song or music.
You need to avoid something like this happening in your studio… but how? There's a big difference between obtaining sync rights for your livestream and recorded classes and getting a public performance license for the music you use in your in-studio classes.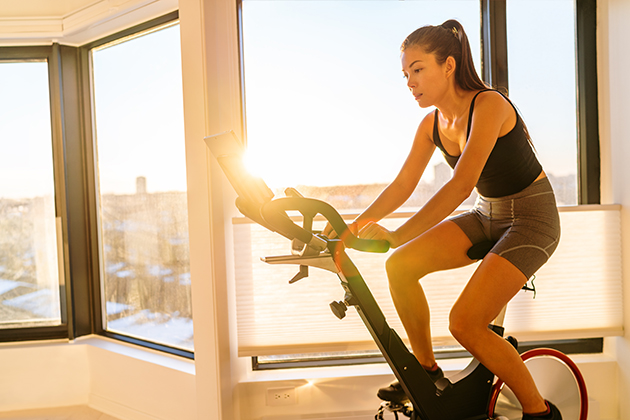 Music licensing companies specializing in synchronization licensing
Music and fitness go hand in hand, providing additional revenue for the rights holders and a better experience for fitness customers. In response, rights companies and fitness companies are joining forces!
Harry Fox Agency's Rumblefish
Rumblefish, a licensing and rights verification company owned by the Harry Fox Agency is today's biggest name in this arena. They've recently partnered with ClassPass, a fitness subscription company, to handle music rights for their on-demand content. That's a step in the right direction for fitness companies looking to get a handle on their music rights.
When you need synch licensing, consult the experts! Rumblefish isn't the only one out there—lots of companies are also helping to get mechanical licenses, so businesses can use other people's music and still make money. You need to get help from the pros to make sure you're getting licensing and permissions for legal music use.
What are the top music rights platforms?
What about permission to use music for your in-studio classes? Use a music rights platform, so they do the work for you! You pay for the use of the music they've secured the rights for. Here are some of the top music rights platforms:
Yogi Tunes: They offer a fully licensed, livestream-friendly, fair trade music service for yoga, fitness classes, and more. Perfect as background music for your live or recorded Zoom videos!
The Orchard: A subsidiary of Sony, The Orchard has reps in over 40 markets, and they're experts in synch licenses, video monetization, performance rights, and more!
Audio socket: They offer over 80,000 songs for your use with simple licensing and a 7-day trial for you to check it out.
Syntax Creative: As one of the top independent digital distributors, they are constantly expanding their offering and building relationships to expand the reach of their artists so more places can be exposed to their music.
Downtown: They're a leading music rights company representing nearly 100 years of popular music titles.
Performing Rights Organizations
Paying music licensing fees may not be new to you, and performing rights organizations simplify this process by condensing it into a single step. You can go through them to get a public performance license for your in-studio classes. Once you get a license from one of these providers, you have access to their catalogue of songs that you can play as many times as you want for your in-studio classes. Here is a list of the top performing rights organizations in the U.S.:
Here are the performing rights organizations you need to know in Canada:
 Stay in tune with your music rights
You need music in your life—and in your classes! Get permission to use the music you need— either with sync rights or performance rights so you can rock your classes. Consult the experts for the music platform that best suits your business and get the tools you need to follow the law and focus on fun.
Get tools to grow the rest of your business, too! How can WellnessLiving help manage your business? With our expert tools in automated marketing, staff and client apps, and more, you'll see real results. Ready to learn more? Book a free, no-commitment demo with WellnessLiving today!