Jul 01 2022, 9:00 AM
Mystic Power Yoga Embraces WellnessLiving's Virtual Tools and Mobile Apps to Grow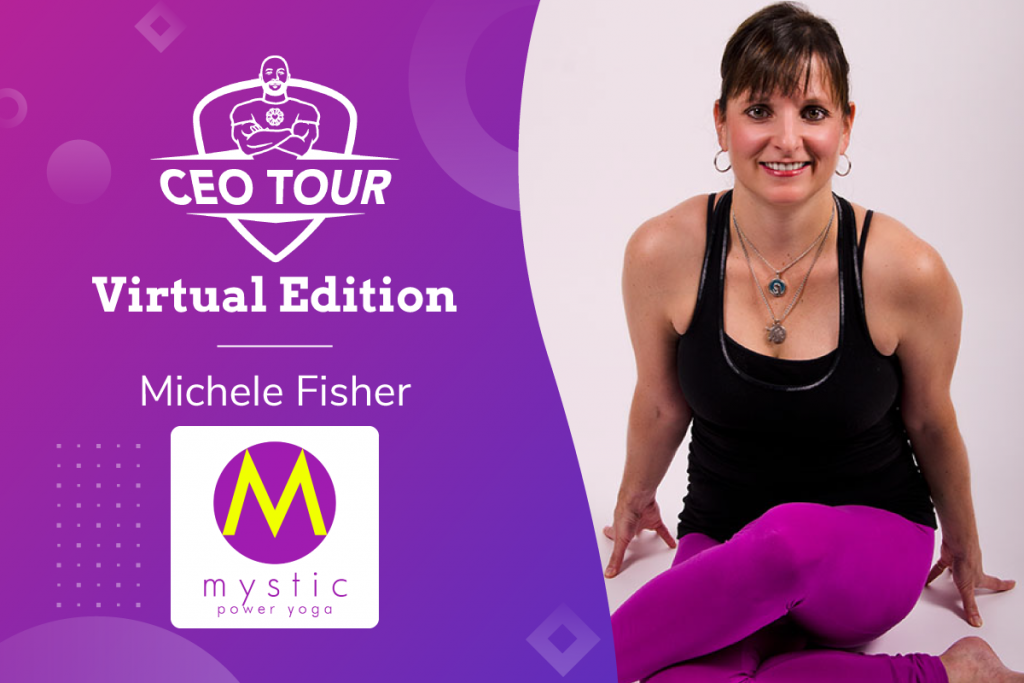 From intuitive mobile apps to built in virtual tools, WellnessLiving's all-in-one software has everything you need to manage and grow your business.
Just ask Michele Fisher, owner of Mystic Power Yoga in Hazel Township, Pennsylvania. In the latest edition of the CEO Tour, WellnessLiving CEO and Co-Founder, Len Fridman met virtually with Michele to learn her story and how she can't live without WellnessLiving to run her hybrid yoga studio.
Mystic Power Yoga at a Glance
📍 CEO Virtual Tour Destination: Hazle Township, Pennsylvania
📍 Customer Business: Mystic Power Yoga
📍 Website: https://www.mysticyogastudio.com/
📍 Special Guests: Michele Fisher, owner and instructor
📍 Number of Locations: 1
Meet Michele Fisher, Owner of Mystic Power Yoga
About 13 years ago Michele discovered yoga after trying to manage her anxiety and depression for many years. Like so many others, Michele believes that yoga found her at a time in her life when she needed it the most.
When Michele joined an entrepreneurial program in her hometown aimed at helping people start their own business, her dreams of owning a yoga studio became a reality. Mystic Power Yoga, located in the quaint town of Hazle Township, Pennsylvania, has now been open for over 13 years and is more successful than ever.
Now a hybrid studio offering in-person and online classes, Mystic Power Yoga teaches the basics of Baptiste Yoga, Power Yoga, Power Vinyasa, Chair Yoga, Slow Flow Vinyasa, Prenatal Yoga, and Guided Meditation. In addition, Mystic Power Yoga offers a Kids Yoga Class for children aged three and up. The class helps kids manage stress through breathing, meditation, and movement.
How did Mystic Power Yoga transition online?
Like many studio owners, Michele was concerned about being able to maintain a personal relationship with her clients when the pandemic forced them to shut their doors.
Michele turned to WellnessLiving's virtual options—FitLIVE and FitVID on Demand—to help her achieve her goal of staying connected with all her clients when they needed it the most. Even after the studio reopened, many clients have chosen to continue to practice both online and in-person.
When the pandemic began, WellnessLiving provided their customers with a Zoom integration so they could livestream and manage virtual classes right from their software. In 2021, they upgraded to a fully-integrated livestreaming service, FitLIVE. In addition, WellnessLiving has FitVID on Demand, where businesses can upload livestreams and create an on-demand video library, so clients can practice yoga when and where they want.
"We've had people take class via Zoom from the beach while on vacation. Some will even just connect with us virtually on their lunch break to do a meditation," says Michele. "It allows us to provide yoga and meditation to those who still don't feel like coming into the studio, or just can't find the time to make it to class."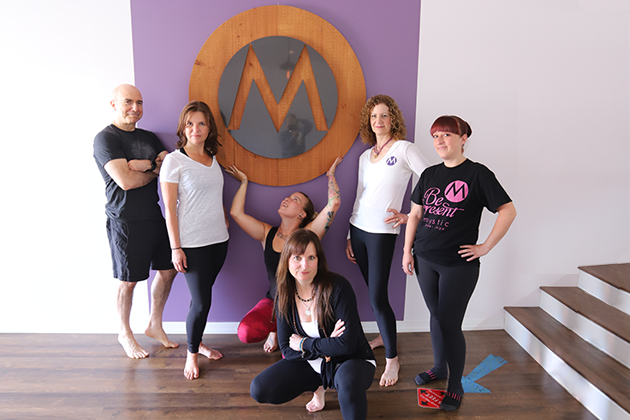 WellnessLiving makes online easy as 1-2-3
Transitioning to online teaching can seem intimidating, but we are here to support you every step of the way. Our 24/7 Customer Support Team is available to assist all day, every day.
"At first, switching to virtual classes was intimidating and a learning curve for both the instructors and the community," said Michele. "But once everyone got over that learning curve, with the help of the WellnessLiving Customer Support Team, having the virtual options has  been beneficial for everyone."
What else does Mystic Power Yoga love about WellnessLiving?
There are two more WellnessLiving features that Michele can't live without—our mobile apps and Reserve with Google integration. Let's explore what she loves about them.
Intuitive Mobile Apps
One of Michele's favorite features of WellnessLiving's software are the apps, that allow her clients and staff to manage bookings from their mobile phones.
The Achieve™ Client App allows Michele's clients to book in-person and online classes, right from their mobile devices. Plus, clients also have quick and easy access to Zoom links.
The Elevate™ Staff App allows Michele's staff to know how many people will be attending their class. The app also tracks important class details like late cancelations or no shows so Michele can hold her clients accountable for classes that they signed up for and missed.
"Our students really enjoy having the app available to them. We list both in-person and online options on the app. And if they need to get the Zoom link for the online class, they can get that from the app as well," says Michele. "The app has really been a game-changer for us!"
Reserve with Google
"Now, if clients find us on a Google Search, they can sign up for one of our classes directly through Google," says Michele. "It's a fantastic way to get people who have never been here before into our studio!"
WellnessLiving is one of a select group of Google partners to offer Reserve with Google integration. This lets potential clients to find and book an in-person or virtual class directly through Google Maps or Google Search.
Reserve with Google boosts SEO, resulting in first-page visibility for local searches and a wider audience reach, increasing your leads, reputation, and credibility.
Need a solution to manage and grow your business?
When the pandemic hit, Michele and the Mystic Power Yoga team was glad they had the right business management software by their side. As a hybrid studio, Mystic Power Yoga continues to grow thanks to WellnessLiving's virtual tools, mobile apps, and Reserve with Google integration.
Are you ready to see the power of WellnessLiving's all-in-one software for yourself? Let us show you how WellnessLiving helps manage and grow your business. Book a free, no-commitment demo today to learn more.