Oct 13 2016, 7:24 PM
October 2016 Release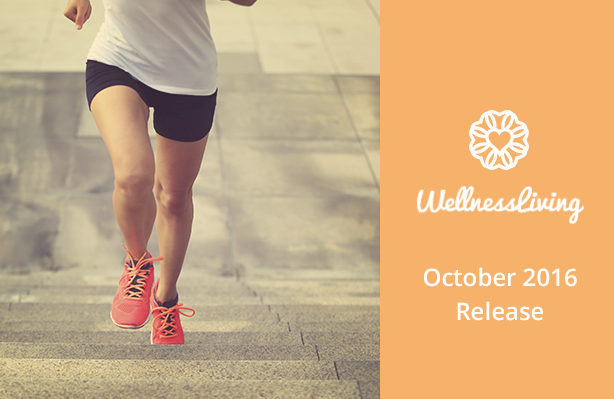 Alright, so this might not come as a shock to you by now, but we're going to say it anyways: we really love turning your feedback into a reality.  There is just something really exciting about it, y'know?  Anyways, even though you're not shocked yet, we must warn you that the October Release for WellnessLiving has a high chance to knock you off your feet.  In fact, before you read on, we recommend you grab a seat and make sure there is no chance of falling over.

Found a seat?  Good.  Now you are allowed to read on, and see what new features are available to you starting right now.
Discount Codes
Deals and discounts are a big part of finding new customers and keeping regular customers interested. With Discount Codes, you now have the ability to create exciting new offers for your clients, all without any hard work on your end.
The customization is all in your hands. It's up to you how long the codes are available for, how many times each customer can use the codes, even the code itself: it's entirely customizable for your business and your deals. Needless to say, you also have a wealth of Marketing components to get your discount codes into the right hands.
Discount Codes
Custom Payment Methods
We know, there can never be enough options for accepting money.  Why can't you just accept all money?  With Custom Payment Methods, you have just gotten one step closer to that dream.
In addition to accepting all normal forms of payment, Custom Payment Methods now allow you to keep track of outstanding balances outside of the normal world of payments.  This is especially useful for insurance tracking, but has a wealth of other uses as well.  Here's how it looks.
Creating your new custom payment methods is easy. Simply head to the Setup screen, click the Business tab in the side menu, then choose the Payment Methods option in the sidebar. All your default payment methods will appear in blue, while your customized methods will appear in green. Feel free to play around! Only the methods you choose to make available in the online store will be shown to clients.
Google Calendar Integration
Your schedule has a lot of information that can be very useful to your staff and clients, but some of them may use a different calendar to organize their day-to-day tasks. Now you can make sure that everyone will see their schedule, no matter what calendar they use, with WellnessLiving and Google Calendar Sync.
With this new addition, your staff and clients can synchronize their WellnessLiving Schedules with their Google Calendars. When synced, your entire personal WellnessLiving schedule will show up right on your Google Calendar, and even right on your Android/iPhone.
Features Coming Soon
New features are great, but we know very well that you are curious about what else we are working on.  For that reason, we won't keep any secrets.
Read on to see what we're hard at work on, over here at the WellnessLiving HQ.
Event Rosters – Coming Soon
When you setup and manage events, you want to be able to see the most accurate and current information to keep track of how many people are coming, which people, what those people want, and what events they've attended in the past.
With our upcoming Roster Preview, you'll be able to see all the people who are involved in your events, compare information, and click through to their profiles to view more details. This way, you'll be sure that your events go off without a hitch. Along with the preview page, we'll be making some tweaks to the way that event instances are displayed and filtered, making your event management simpler than ever.

Upcoming feature preview – Event Roster
Online Store – Custom Categories – Coming Soon
Our goals with the Online Store are pretty much the same as our goals with the entire WellnessLiving software…make it as customizable as possible.  With this new enhancement coming to the Online Store, we want to give you the power to separate your items however you want, and we also want to keep a history of your favourites.  Here's a sneak peek…
Upcoming feature preview – New Online Store Setup layout
Client App
We know that you've been wondering just when you'll be able to go fully mobile. With our upcoming Client App, your clients will be able to access all of the tools that you provide with WellnessLiving directly from their iPhone or Android device!
From booking to purchases, your clients will discover even more convenience using the Client App that you'll be able to provide and customize, just like your client web app. The app is nearly ready for you and your clients. With our beta version out soon, you'll be able to get it in your clients' hands in less than a few months!
And as always, many more improvements
We know that's a lot to absorb. If we went into detail about every improvement, you'd spend all the time reading about our work and no time using these amazing features to enhance your business. Without further ado, we give you full permission to dive head-first into WellnessLiving and see these fantastic features for yourself.  Let us know what you think!