Jan 28 2020, 3:30 AM
How Positive Reviews Can Help Grow Your Martial Arts Studio in 2020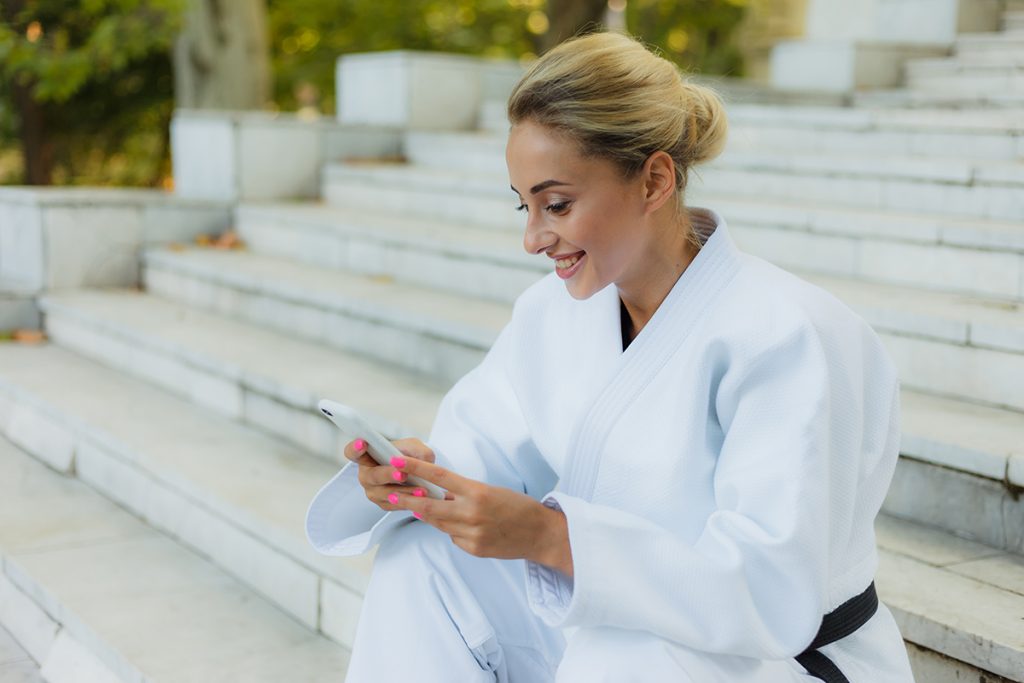 As of 2019, the martial arts studio industry is now a $5 billion industry with over 80 thousand studios across the U.S. Whether you specialize in mixed martial arts (MMA), kickboxing, or karate, how does your studio stand out from the pack?
The answer is: positive reviews and testimonials.
In essence, your best sales reps are your customers. When choosing the right martial arts studio, people rely on word of mouth and trusted referrals from family and friends. Parents are also more likely to choose your studio for their children when other parents recommend it.
Nowadays, many people turn to online reviews. In fact, studies show that more than 85% of American adults trust online reviews as much as those word of mouth referrals. According to Fan & Fuel, 97% of people say reviews factor into their purchasing decisions.
The good news is that 77% of customers have shared positive experiences with friends, on social media or review websites in the last year. Positive reviews also make 91% of customers more likely to use a business, such as your martial arts studio. At the same time, 82% of people may not choose your studio after reading a negative review.
Needless to say, positive reviews are crucial for your business. The question is, how to get your students or their parents to write them? In this article, we will review six ways you can get them to write positive reviews.
6 WAYS TO GET POSITIVE REVIEWS
Where do your clients leave a review? Put direct links to your review platforms, like your Facebook Page, Yelp and Google My Business, on your website. You can also include these links as part of your email marketing campaign. This takes your students directly to where they need to go for leaving a review.
Does your martial arts business have a mobile app? It is estimated that over 2.5 billion people have smartphones. Give them the option to leave a review right on their device! With the WellnessLiving Achieve Client App, your martial arts students can easily give feedback without having to go to another app or website.
Now, how do you get your students to write amazing reviews that lead to more martial arts students? Let's get into it!
1. ASK FOR TIMELY REVIEWS
Timing is everything. That's why it is important to ask for a review at the right moment. When you do, this can lead to some very valuable reviews for your business!
As members of your martial arts studio, your clients are on a fitness journey with unique goals and aspirations. Many of them wanted a new and exciting way to workout. Others have dreams of becoming a world champion!
There are several moments throughout that journey where you can ask for feedback. For instance, let's say your MMA student just learned a new move or technique, like a "round kick." Did a beginner give an intermediate student a good fight? When that student reaches new heights of success, congratulate them in person and also send a follow-up email asking them to review their experience at your martial arts studio. They just reached a goal. Of course, they'd be happy to leave a review!
When else can you ask for a review?
When they've referred a family member or friend. They were happy with your studio, and told their friends and family. You now need them to say the same thing in a review!
Did they just tag your studio and give credit to a specific teacher on social media? Like and share that post, and send them a private message with a review request.
2. ASK OPEN-ENDED QUESTIONS
Before you ask your client for a review, have a conversation – with open-ended questions – to gauge how they feel about their experience first.
For instance, you could ask them: "How are you enjoying your MMA class?" or "You are new to kickboxing. How has your first month been?" or "How did you like winning your fight last week?" These open-ended questions help you collect valuable feedback from your martial arts students. When you get a response with excitement, this is a good time to ask for a review.
You can also ask them questions that spark a positive review. Some thought-provoking questions to ask include:
What was your life like before taking classes at our martial arts studio?
What were you hoping to achieve at the studio?
What have you accomplished since your first class at the studio?
What has exceeded your expectations since taking classes at the studio?
Why would you recommend us to others?
What made us stand out from other martial arts studios?
Open-ended questions also help you avoid asking for a review when they're having a bad experience, such as a difficult time with one of your teachers. While there's nothing you can do about negative reviews coming onto various review platforms, you can focus on resolving a students' concern before asking them to review your business.
3. CREATE INCENTIVES
Your time is important, and so is the time of the members of your martial arts studio. Let them know you value their feedback and give them an incentive for leaving a review.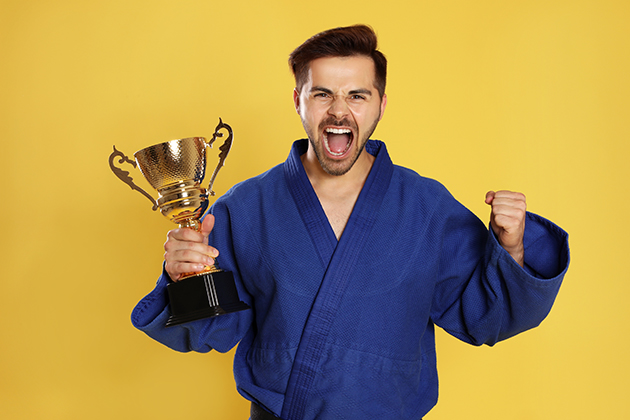 One of the better ways to reward your members is through WellnessLiving's martial arts software's rewards program. As a result, your members can automatically earn points when writing reviews on social media like Instagram or Facebook. The more points they earn from this, the greater the chance your members will give you a positive review. Offer great incentives such as discounts on memberships, free merchandise, or FREE tickets to martial arts events.
Contests with larger rewards can also give clients an incentive to write you a great review. You can also customize the guidelines for the contest, such as being a long-term member of your martial arts studio. This ensures your reviews are coming from your most loyal members who likely have positive feedback for you!
4. GIVE POSITIVE REVIEWS FIRST
Positivity is contagious. If you want a positive review, give your student one first. Taking the first step may lead them to leave you one as well.
For instance, here is an example of positive feedback you can give to a student after you've begun to build a relationship with them:
"Great job in class the other day. I've noticed your form really improve since you've started. I've really enjoyed teaching you over the last few months. Keep up the good work!"
If they thank you for your kind words, this is where you'd politely ask them for a review on a specific platform, such as Yelp or your Facebook Page.
5. SHARE POSITIVE REVIEWS
When you get positive reviews, spread that love! Share your positive reviews on your social media platforms, such as Instagram or Facebook. After people see quality feedback about your martial arts studio, they are more likely to leave a positive review as well.
Sharing positive reviews on social media sounds straightforward, but there are a few things you should consider:
KEEP IT SHORT: As a rule, keep review social media posts short and sweet. Pick a highlight from their review then link to the full version in the body of your post. Here is an example of a short post:
o "I've had a great experience! Thanks for helping me reach my black belt!"
USE VISUALS: Words alone likely won't grab attention. That's why visuals, like a photo of your student, infographic of their quote, or a full-length video review, can help bring your review posts to life!
THANK THEM: Sharing your positive reviews is not bragging. Always say "thank you" to your students who leave you with such positive feedback.
SCHEDULE POSTS: It's amazing when students have great things to say about you, but avoid flooding your social feed with reviews. Schedule your client reviews alongside your other social media months in advance.
Sharing positive reviews creates client engagement and attracts new students to your martial arts studio! As you receive multiple glowing reviews about your business, you can interview your students and turn their review into a case study that can be featured on your blog or a larger social media post.
6. HOST AN EVENT OR WORKSHOP AT YOUR MARTIAL ARTS STUDIO
A workshop, seminar, or tournament-style event is a great way to bring your martial arts community together! It also creates the perfect opportunity for you to ask your clients to give you a review.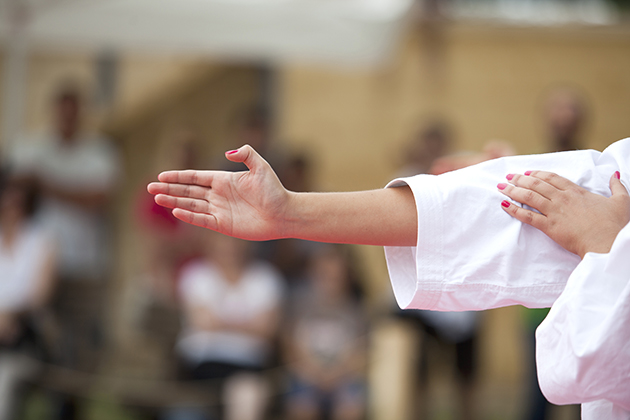 Not only will an event excite and educate your students, but it will also create a lot of buzz around your martial arts studio. Needless to say, it will give them a memorable experience they'll be talking about and reviewing for weeks!
How can you bring greater value to your students beyond the everyday classes taught each week?
HOST A SEMINAR: Host weekend workshops, seminars, or clinics for students to expand their practice and learn new technical skills and fighting principles.
HOST A TOURNAMENT: Hosting a tournament helps your studio establish credibility within the martial arts community. Students will also test their skill level against other competitors.
BRING IN AN EXPERT: Is a UFC (Ultimate Fighting Championship) or MMA (mixed martial arts) fighter from the same place as your martial arts studio? Reach out to famous martial artists and invite them to teach a class or seminar at your studio.
IN CONCLUSION…
There are a number of ways you can get your students to be your biggest cheerleader and write you positive reviews. Prepare to reach new heights as more people speak glowingly about your martial arts studio!
Just as your clients are in your corner, we have your back, too! Let us be a part of your journey. When you ask for reviews, timing is everything. At WellnessLiving, we will help you save time and generate more reviews with our Achieve Client App. At the same time, WellnessLiving's all-in-one martial arts software can help streamline your business with our innovative rewards program, automated marketing options, and online booking and scheduling options.
Are you ready to get 2020 off to an incredible start? Let WellnessLiving help you get more positive reviews for your business. Book a free, no-commitment demo with us today!