Jun 23 2020, 9:00 AM
Protect Your Business with a Liability Waiver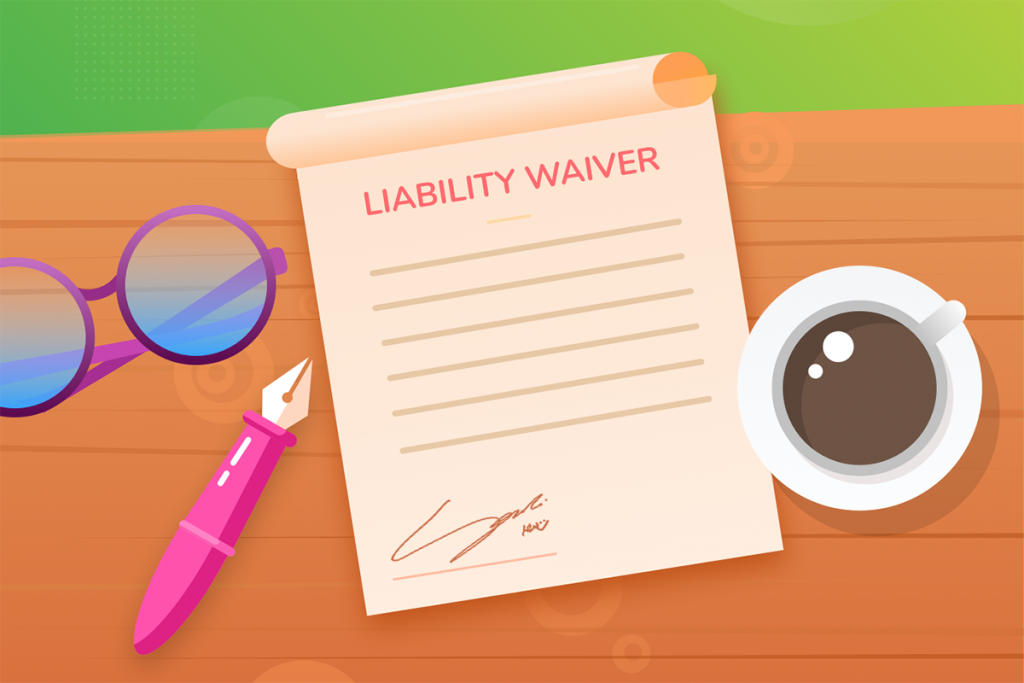 Getting ready to reopen your business? It's so exciting to see your loyal clients again, but it's natural to be nervous, too. There's a lot to consider, from figuring out customer safety to knowing the risks involved with welcoming them back. What if clients contract COVID-19 and claim they got it from your business? The safety of your company depends on you taking the right steps to protect yourself!
Once you've figured out proper cleaning precautions and safety practices, it's time to address the risks you'll face when you reopen. Mitigate your liability with the right type of waiver form, so before your clients even enter your business, you know you're covered.
Not sure where to start? At WellnessLiving, we'll get you set up with everything you need to know about waiver forms to lower your risk while you grow your business:
What is a hold harmless agreement/waiver?
A hold harmless agreement is the document that lets your clients know that you understand the risks involved with the reopening of your business. Post COVID-19, this is especially important because we are all venturing into unknown territory. This document also informs clients of the dangers they're exposed to, allowing them to decide if they're willing to take on the risks associated with visiting your business.
This form is different from your standard waiver for classes or service because it is specific to COVID-19 and the issues that may come from visiting your business. It's designed to release your business from associated liability after you reopen.
Communicate your reopening plan clearly, so clients feel confident that you're taking their safety seriously. Be clear on concerns and responsibility, explain the risk of COVID-19 exposure and describe steps you're taking to reduce the chance that it's contracted through your business.

What does signing the form acknowledge?
While you're doing your absolute best to keep your customers safe, danger still exists, of course. The form is an acknowledgement that all parties are aware of that risk. It assures your clients that you recognize the risks and that you—the business owner—agree to provide as safe an environment as you can. Your clients also agree to take some responsibility. By signing the form, they agree that:
You've clearly explained the risks of using your services.
They knew those risks and the possible outcome before they were exposed to your business.
They assume responsibility for their actions and that you will not be held liable for any negative outcome.
What should your liability form include?
Your form needs to be thorough in case you need it to be valid in court. Include the following as part of your form to cover all the basics:
Name of your business
Person entering into the agreement (i.e. your client)
Your business address
Services being provided
Range of risks of receiving your services, taking your class, etc. (exposure to COVID-19, physical injury, etc.)
Dates the waiver covers (start and end date, if applicable)
Is your liability form good enough?
You've followed all the steps, but will your form hold up to legal scrutiny if you need it to? Waivers are subject to state law, so always consult with a legal professional for review before sending it out to clients. Here are a few tips to consider when creating and using your waiver:
Confirm that your state's reopening orders allow you to reopen and what conditions are required.
Make your message clear and easily understood. Don't include fine print—be upfront and use plain language.
Some states don't permit these types of waivers for certain situations. Seek legal advice to confirm the specific regulations for the waiver in your state.
Get everything signed before your client uses your services. Oral agreements won't hold up in court!
Give your business peace of mind
Your clients trust you to keep them as safe as you can after you reopen, and that's a big responsibility. With a liability waiver, you can keep them informed and provide peace of mind for your clients and your business. Navigating through a post-COVID-19 reopening is new to all of us! Keep your business safe by knowing the risks, clearly communicating with your clients, and taking the steps necessary to protect your business.
While no amount of planning will completely eliminate the possibility of legal liability, taking a proactive approach will give you a head start. Be prepared with the tools you need – like a liability waiver – to keep your clients safe and informed, while safeguarding your business for a successful reopening.
Download the Liability Waiver
At WellnessLiving, we've created an example of a liability form for you to outline the form that you give your clients to sign.
Looking for more tools to better build your business? WellnessLiving offers all-in-one business management software with user-friendly tools for scheduling, point-of-sale, email marketing, SMS marketing, client and staff apps, and so much more! Book a free, no-commitment demo with WellnessLiving today and learn how our tools will help build your business.