May 19 2017, 12:27 AM
These Irresistible Reward Ideas Will Spark Client Engagement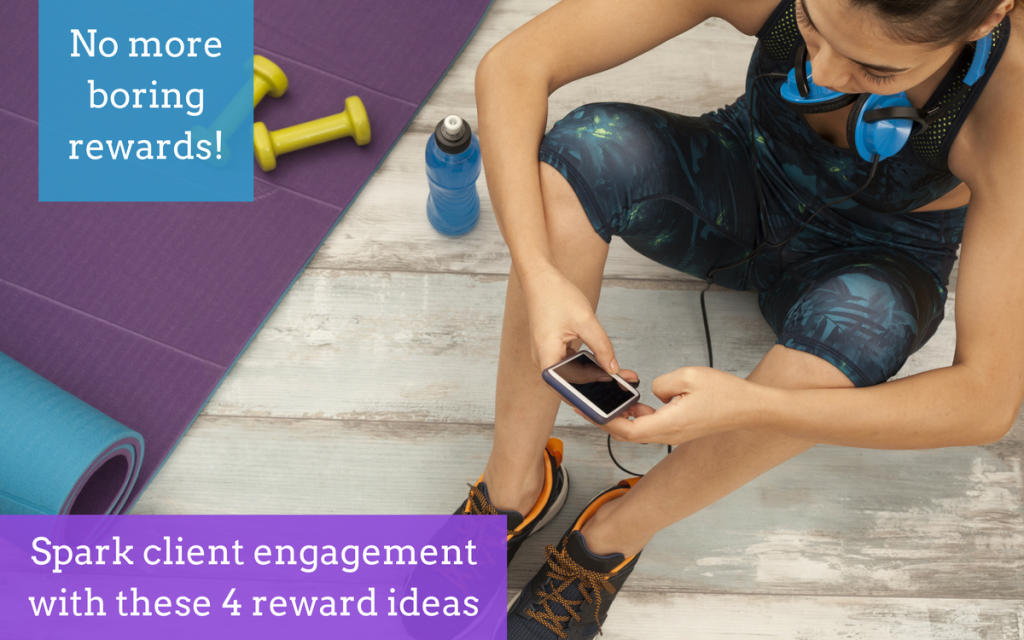 What good is a loyalty program if none of your clients want to use it? The problem could be as simple as mediocre rewards. Find out what motivates clients to keep earning points and boosting your business.
We know effective, customizable rewards programs drive business for our customers. Take it from Dave Crane, Owner of Krav Maga Solutions — he said, "I love the rewards program. I can customize how I reward clients for class attendance, referrals and even healthy habits, which keeps my clients engaged at all times…". If you want your clients as engaged as Dave's are, you need a rewards program. But it's not that simple. You need to make sure your rewards program is something clients want to put the effort into.
How do you do that? With Awesome Rewards!
If you don't have every client rushing to the front desk and asking how they can be a part of your loyalty program, there's a good chance your choice of reward options could be to blame. But don't beat yourself up over it. It happens. That's why we've put together a list of awesome rewards that will make your loyalty program, well…awesome!
Awesome Reward #1: The Money Saving Award
Why It Works: Who doesn't love a discount? This reward might be obvious but sometimes wellness businesses don't understand what clients are looking for in a discount. Make sure the discount makes sense for all of your clients. For example, if you're a yoga studio offering half off a specific Vinyasa flow class when clients get to 100 rewards points, that might alienate your clientele who only attend your Yin Restorative class. Instead, offer 50% off any class when they hit 100 points. Offering a discount to something they have no interest in can have more negative repercussions than if you never offered a discount at all.
Tip: Research shows that people respond to the same discount in different ways based on the wording. Test out the verbiage of your discounts and stick with what receives the most excitement. Switch between a percentage discount and dollar amount discount to keep the offers looking fresh and new.
Awesome Reward #2: The Spendable Award
Why It Works: It's not a myth. Shopping really does make us feel good. Studies have shown that shopping can reduce sadness and positively affect someone's mood. Rather than assuming what your clients want as take-home prizes, let them do the deciding for themselves in the form of a gift card. They'll love a free shopping trip and you're sure to see them back in your business soon.
Tip: Offer a variety of gift cards for clients to choose from. Consider offering gift cards to large department stores, online websites, restaurants, and of course, your own retail store, if you have one.
Awesome Reward #3: The Sharable Reward
Why It Works: People love to help others and look like the hero. Offer rewards that can be shared with a client's friends and family. Not only is this great marketing for your brand, but it lets the client know that you not only care about them and their business, but also the people that are closest to them.
Tip: Consider offering a pack of movie tickets or a basket of goodies. You can also look into spa packages for two or let them invite a couple friends for free to their next class or session.
Awesome Reward #4: The Unexpected Reward
Why It Works: Letting a client earn rewards is one thing. But throw an unexpected reward at them and a psychological response will ensue. Being unexpectedly rewarded causes a surge of dopamine in the brain, the feel-good hormone that plays a role in habitual behavior. Clients will associate the sudden surge of awesomeness with your brand and come running back for more.
Tip: If you're in the middle of a slower month or looking to drive attendance during a quiet day of the week, hand out promotional items to loyal clients. Invest in water bottles, tote bags, coffee mugs, and similar items (all with your logo) and watch the receiver's face light up. It's not about the price or even the item. An unexpected kind gesture will always be well-received.
Don't have a rewards system yet, but realize now you need one?
Check out a demo of our software and see how easy it is to manage prizes and encourage clients to keep coming back for more.