Jun 24 2022, 9:00 AM
Shambhala Yoga & Dance Center Discovers WellnessLiving's All-In-One Solution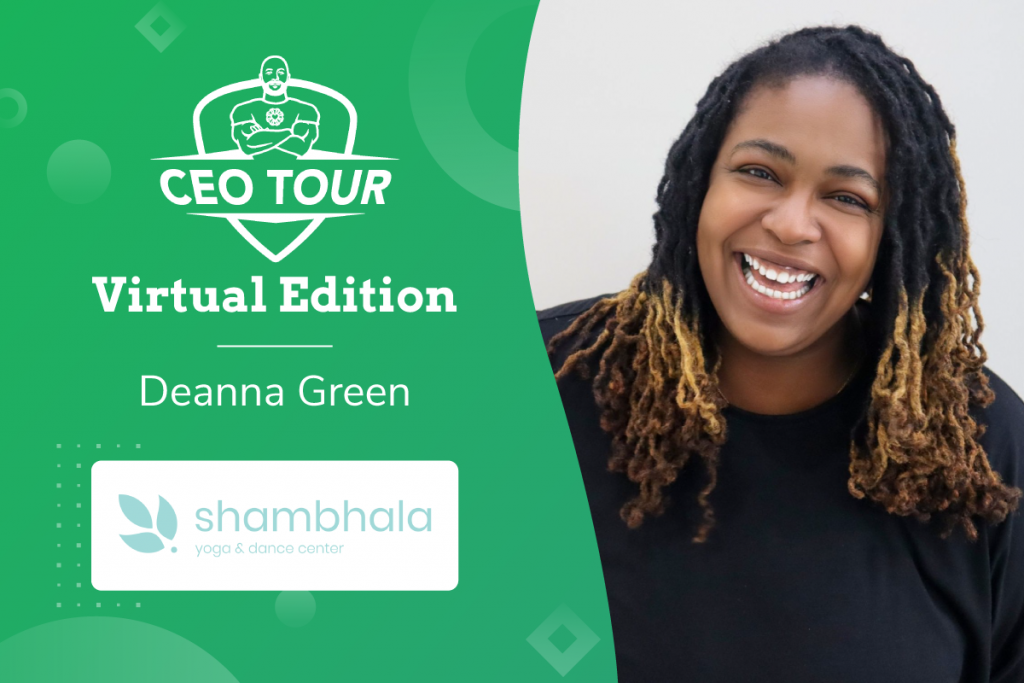 The pandemic forced many studio owners to close and re-evaluate their business, like it did with Deanna Green of Shambhala Yoga & Dance Center in Brooklyn, New York. In this time, many of them discovered WellnessLiving's all-in-one software to deliver virtual services, communicate with clients, collect payments, and more.
On the latest stop of the CEO Tour, WellnessLiving CEO and Co-Founder, Len Fridman met virtually with Deanna to learn her story and how WellnessLiving's virtual tools, payment options, mobile apps, and online store helped take her yoga studio to the next level.
Shambhala Yoga & Dance Center at a Glance
📍 CEO Virtual Tour Destination: Brooklyn, New York
📍 Customer Business: Shambhala Yoga & Dance Center
📍 Website: https://www.shambhalayogadance.com/
📍 Special Guests: Deanna Green, owner and instructor
📍 Number of Locations: 1
Meet Deanna Green, owner of Shambhala Yoga and Dance Center
Deanna began her yoga journey over six years ago, while searching for a solution for her chronic back pain. After just one yoga class she felt so much better, inspiring her to practice yoga on a regular basis.
Like so many others, Deanna not only benefited from the physical aspects of yoga, but she also discovered all the mental health benefits that came along with everyday practice. From there, Deanna became a yoga instructor, which eventually led to her becoming the owner of Shambhala Yoga & Dance Center.
Deanna is the third owner of Shambhala Yoga & Dance Center, which opened just after 9/11. With a primary goal to provide an oasis of peace and comfort for the community, Shambhala offers many types of yoga, such as Basics Flow, Morning Flow, Vinyasa Flow, Slow Flow, Rhythm and Flow, Chair Yoga, Mat Pilates, Gentle Mat, Candlelight Wind Down, Community Flow, and Move and Meditate.
How did Shambhala Yoga and Dance Center transition online?
When faced with closing the studio at the beginning of the pandemic in 2020, Deanna began looking for a new software provider to help streamline the process of teaching online. Deanna quickly made the switch to WellnessLiving when she discovered they had a Zoom integration that would allow her studio  to livestream classes and manage an  on-demand video library without the need for any third-party providers.
"When we were told we had to shut our doors, we thought it would just be for a couple of weeks," says Deanna. "But we soon discovered it would be much longer, and we knew we needed to find a software company that was up for the challenge. WellnessLiving provided everything we needed, and more, at an affordable price. The fact that they could also support our online retail store was a bonus."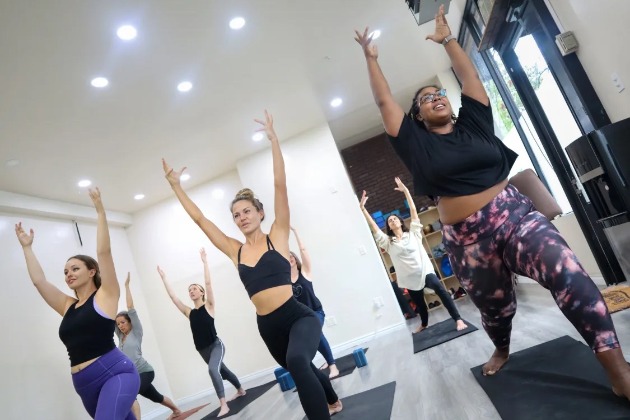 FitVID on Demand and FitLIVE
At the beginning of pandemic, WellnessLiving implemented a Zoom integration, so their customers could livestream and manage virtual classes right from their software. In 2021, WellnessLiving upgraded to FitLIVE, a fully-integrated livestreaming service, with the option to upload your livestreams to FitVID on Demand, and build an on-demand video library, allowing your clients to practice where and when they want.
"We were hesitant to move to virtual classes at first, but we figured if our 70- and 80-year-old clients can do a Zoom class, anyone can," says Deanna. "Now as a hybrid studio, livestreaming and on-demand options will be a big part of our business moving forward. With WellnessLiving's virtual tools, FitLIVE and FitVID on Demand, our clients can conveniently work out on their own time and in their own space."
Switching to WellnessLiving is simple with 24/7 support
Transitioning to a new software doesn't have to be scary. WellnessLiving's 24/7 Customer Support Team is always available, along with your personal Onboarding Specialist to ensure all your data is successfully migrated to the new system.
"At first, we were nervous transferring over years of data, but we trusted WellnessLiving and our Onboarding Specialist took us through each step," says Deanna. "We felt supported the whole time and were provided with milestones and check-in dates to ensure the transition was on schedule."
What are some of Deanna's favorite features of Wellnessliving?
There were three more WellnesssLiving features that Deanna can't stop talking about—our point of sale system, check-in tools, and mobile apps. Let's explore her favorite features in greater detail.
Point of Sale Made Simple
When it comes to point of sale, WellnessLiving has you covered. With credit card swipers and credit card mobile readers with USB port capabilities, WellnessLiving has the right tools to collect payments at your studio. In addition, WellnessLiving lets you feature your digital store directly on your website. Add direct buy URL links, so you can highlight your most popular merchandise, letting your clients purchase your products and services anytime.
"We were gearing up to open the retail component of our business, and I was starting to look into different POS systems," says Deanna. "But then I realized that WellnessLiving had all the software and hardware options that I needed to get my store set up, both online and at the studio. It was quick, easy, and so convenient!"
Seamless Check-In
While the most difficult parts of the pandemic are now in the rearview mirror, there are still many practices that businesses and people have chosen to continue on a regular basis.
"WellnessLiving offers a seamless check-in process, with a barcode scanner and key tags, allowing clients to feel safe when they enter our studio," adds Deanna.
Affordable Mobile Apps
Deanna loves that she was finally able to offer her clients and her staff a branded mobile app.
"One of my favorite things about WellnessLiving is having our own app. We couldn't afford an app before, but WellnessLiving made that possible for us," says Deanna. "My staff and my clients really love it. It helps with marketing and keeping our clients in the loop with what's going on at the studio."
The Achieve™ Client App allows Deanna's clients to book in-person and online classes, right from their mobile devices, and gives them quick and easy access to the Zoom link.
The Elevate™ Staff App allows the staff at Shambhala Yoga and Dance Center to share Zoom links, manage class sizes, and track last-minute cancelations or no-shows.
Are you looking for better software to manage your business?
The pandemic made operating a business challenging for many studios. Deanna knew she needed to transition online and upgrade her software to a company that would be able to support her new business plan. Operating as a hybrid yoga studio, WellnessLiving's FitLIVE and FitVID on Demand have been an integral part of the success of Shambhala Yoga & Dance Center over the last two years.
Are you ready to find out how WellnessLiving's all-in-one software solution can help you grow your business? Book a free, no-commitment demo today to learn more.