Feb 18 2020, 9:00 AM
Share the Benefits of Learning Music to Attract More Clients
Have you ever had the feeling that if more people understood the benefits of learning music, you'd be looking at a full roster of students? If you could just get the message across to more people, then they'd flock to your studio? You're right, and we can help! From finding a new approach to getting your music studio software to work for you, it's time to up your game.
What kind of benefits are we talking about? There are so many advantages to be gained for students learning music, including improved cognitive function, stress reduction, better concentration, discipline and focus, just to name a few!
Experts also cite some major advantages like enhanced speech processing, learning for children with dyslexia, and protection against dementia later in life. Those are some impressive results! It's important to give people a reason to give you a try and there's real scientific evidence to support them paying you a visit.
We've covered why music is important, but how can you use that info to get the word out and attract more clients? We've got a few ideas! Check out our list with some new ways you can spread your message, fill your studio, and grow your business:
1. Think Outside the Box
Have you heard the expression, "Nothing changes, until you change?" If you want to attract a different crowd than your regulars, it means switching up your tactics!
Mix it up to capture the attention of newcomers and excite your existing clients. Find the ways that work for you to get your message across and gain the attention you're looking for:
Start a music blog
Have you thought about starting your own music blog? There are several reasons you might use this as an avenue to draw attention to your message.
First, a blog is a great platform to cultivate a consistent, attentive audience. Think of it as a regular column in a newspaper, where you can address an interested crowd with your point of view. It's a great way to inform and entertain at the same time!
A second advantage to this approach is that published material – online or in print – tends to add credibility to the subject matter and to its author. A music blog would allow you to establish yourself as an industry expert while keeping your audience informed.
Lastly, a blog helps attract attention to your business while boosting your online presence. Any time it's easier for people to find your business online, you're winning!
Reach expert status by promoting your blog on social media, with your music studio software and through your website.
Start your own podcast
Podcasts are a place where audiences can listen to experts talk about their favorite subjects. What a great way to reach a community of interested listeners!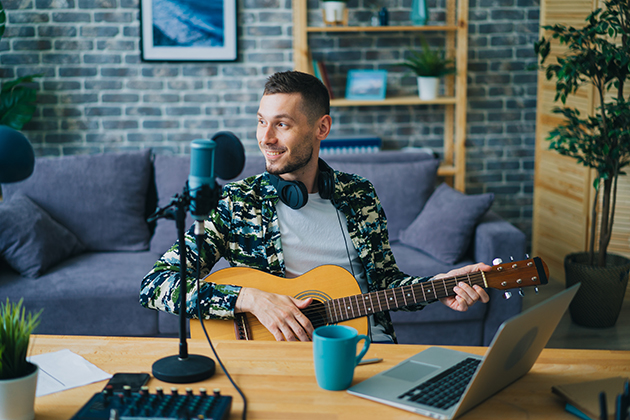 Still new to podcasts? No worries, you can ease in gently! Do your research, talk to other podcasters and listen to some examples to get an idea of what's involved.
Next, put a plan for content together and jump right in! The most important thing to remember is why you're doing it, so you stay focused and on message. That's the way to educate while attracting new clients to your business.
2. Make Social Media the Star
Social media is a fantastic vehicle to reach a large amount of people with a limited amount of time and effort – it's definitely the best bang for your buck! Here are a few ways you can spread your message and attract new clients to your studio:
Bring stories to life
People relate best to other people, so use story-telling to really drive home how music can enrich your life. Make your content relatable with testimonials from parents, profiles of students, and success stories from teachers.
In this approach, you're teaching about the benefits of music by demonstrating actual results. This strategy provides legitimacy for your claims – kind of like a referral. It also shows real-life results, which are impressive and a great way to get people to give you a try.
Use dramatic visuals
We're visual beings, so anything from infographics full of stats to videos of successful music students will capture the attention of your community. Have you started a YouTube channel yet? Here's a great social media platform where you can feature videos of performances, lessons, talks, and anything else to campaign for music lessons and all they offer.
Produce interesting content that entertains and informs, including attention-capturing visuals to market with the best of them!
Expand your reach
Once you've perfected your message, it's time to spread the word far and wide! Here's where social media is a super effective tool. With a few simple steps, you can target your content to specific groups of people.
You could even invest a few dollars to boost some of your posts! Choose your audience by demographic, geography, interests (and more), so you're sure you're hitting the right note.
Check the data to tweak your content! Let the world know about the many benefits of learning music and to getting attention to your studio by maximizing your exposure.
3. Make it Personal
Make a connection with your community by communicating your passion. This gets your point across and helps you become a familiar face!
Give a talk
Get a group together to give a talk on your topic! The great thing about this approach is that you can gauge audience reaction in real-time, adjusting and addressing concerns as you go.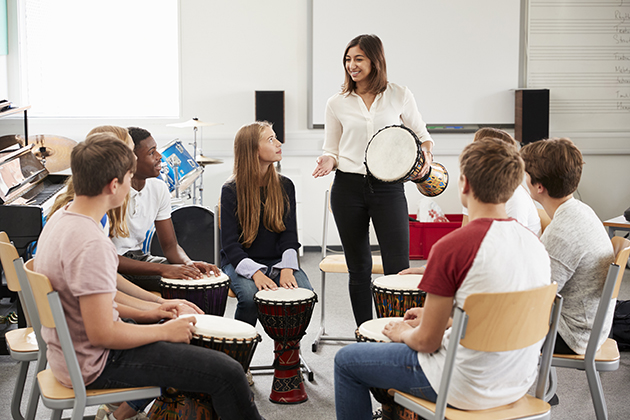 Be sure to encourage questions so you know your material is clear, as well as to establish credibility as an authority in your field. The more your audience respects your point of view, the more likely it is that they'll see the advantages of music lessons and want to give your school a try.
Approach local schools, daycares, colleges, and businesses (adults can learn music, too). You might even get a booth at a local fair or event so you can meet the community and talk shop.
Word of mouth is a powerful tool, so get out there and start teaching!
Give a tour
It's time to show off your stuff. Get the community into your studio to see what you've got! Host an open house with a studio tour, including an introduction to your teachers and finish it off with a performance from some of your current students.
Once your guests see what you're all about, get ready to fill your classes and see your revenues rise!
4. Target All Ages
We tend to market music lessons to children, but don't forget about adult music lessons and the benefits that they offer! Target your approach to a specific market to direct your message to those that need to hear it the most. Music provides benefits to all ages, so be sure to cast a wide net to maximize the attention your studio gets.
Learning music has been credited with improving declining hearing, strengthening memory, increasing happiness, creating a social network, and more. These are some major advantages for seniors!
Be sure to address all relevant markets – including an older market – to reach as many people as you can with your message and get them into your studio.
5. Sell Them on Your School
Once you've gotten the message across about the benefits of learning music, you need to focus on why your business is the music school of choice. Convincing people that music is worth the investment doesn't get them directly through your doors.
What makes you their go-to music school is the second part of your strategy. Focus on selling your studio to establish credibility, build loyalty, and increase traffic. Develop a unique proposition and run with it!
Is it your expert team that sets you apart? Or do your classes give you an edge? Or is it location? Hours? Pricing? Figure out what makes you unique and get to work. Give people a reason to go to your studio.
If you've spread your message, you need to include setting yourself apart from your competition to get attention for your studio as you take your next steps.
How We Can Help
We've covered all the ways to get the word out about the benefits of learning music to attract more clients, but now it's time for some extra incentive. Seal the deal by selling them on the benefits of choosing you and use your music studio software to give you an added edge over the rest!
At WellnessLiving, our music studio software offers you tools to be the best! From our music studio booking software to our automated marketing, our features help you reach all your goals.
Want to sell clients on booking anytime, from anywhere? Great! Or looking to reach your clients efficiently with your message? We can do that too! How about using your music studio software to increase your online presence and spread your message even further? Yes, we can even do that.
Once you've mastered the tricks we've listed, along with letting your music studio booking software simplify your life, your attendance numbers will be music to your ears! What are you waiting for? Book a free, no-commitment demo today!