Apr 29 2022, 9:00 AM
Sol Speak Yoga Found an Upgrade with WellnessLiving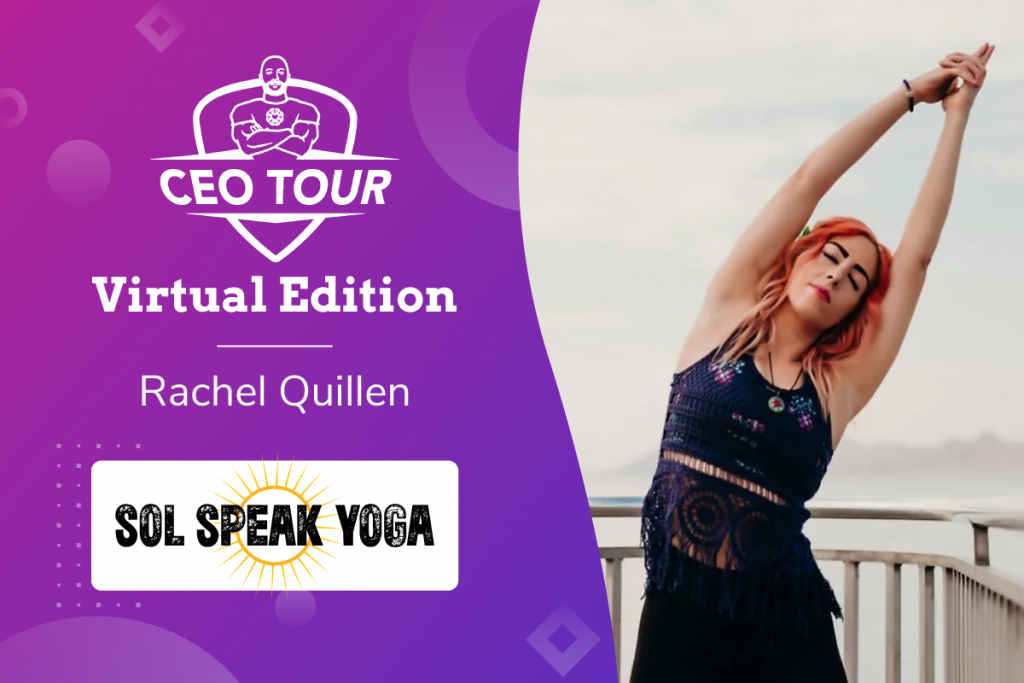 Our customers are at the heart of everything we do. That's why Len Fridman, CEO and co-founder of WellnessLiving, loves meeting with customers virtually to hear their stories and learn how they've utilized our all-in-one software.
In this edition of the Virtual CEO Tour, Len meets Rachel Quillen—the owner of Sol Speak Yoga in North Logan, Utah. Shortly after reopening her studio, Rachel knew she needed a software upgrade to manage capacity at her business. Fortunately, Rachel switched to WellnessLiving and she discovered BOOK-A-SPOT™ to help control class sizes.
Read on to learn about Rachel's yoga journey and all the ways we make her life easier.
Sol Speak Yoga at a Glance
📍 CEO Virtual Tour Destination: North Logan, Utah
📍 Customer Business: Sol Speak Yoga
📍 Website: https://www.solspeakyoga.com/
📍 Special Guests: Rachel Quillen, owner and instructor
📍 Number of Locations: 1
Meet Rachel Quillen, Owner of Sol Speak Yoga
When Rachel walked into her first yoga class seven years ago, she had no idea that it would change the course of her life. Both as a practitioner and teacher, yoga has taken her on an incredible healing journey, and now she's mentally and physically stronger than ever.
When the pandemic forced Sol Speak Yoga to close, they nearly went out of business. However, that's when Rachel's soul spoke to her, and she stepped up to become the new owner of Sol Speak Yoga.
"I truly believe that yoga is the cure for anything and everything and I live by that," says Rachel. "My hope is that we can bring people from all walks of life to heal their mind, body, and soul, just like yoga has done for me."
Sol Speak Yoga offers a variety of yoga classes, from warm stretch and flow and hot power yoga, to regular and hot vinyasa, and yin yoga. In addition, they offer barre and HITT classes for those who want more variety in how they work out.
Sol Speak Yoga got an upgrade with WellnessLiving
Shortly after Sol Speak Yoga reopened, Rachel realized she needed to upgrade her software. After shopping around, she found everything she was looking for and more with WellnessLiving's all-in-one platform.
For Rachel, WellnessLiving checked all the boxes. "Customer Service is 24/7. It's more affordable. It's easy to use. Plus, it has every feature we need to attract, convert, and retain more clients," says Rachel.
We know switching software providers can be scary. After all, you're migrating all your data and you need to learn a new system. We partnered Rachel with a dedicated Onboarding Specialist who seamlessly migrated her entire business to WellnessLiving. Plus, our expert Training Specialists were there for Rachel every step of the way until she became comfortable using the platform.
"The switch to WellnessLiving was so smooth that many of my clients didn't even notice," says Rachel.
Our 24/7 Customer Support
In the weeks and months since she switched, whenever Rachel has needed us, we've been there for her every step of the way with our 24/7 Customer Support.
"I never have to worry about asking for help! Every time I've called Customer Support for anything, they've literally treated me like gold. If they don't know the answer, they find out right away," Rachel says. "I've never hung up the phone feeling like my issue was unresolved."
What tools have helped upgrade Sol Speak Yoga?
WellnessLiving had everything Rachel wanted in a software provider. Here are some of the features that helped take Sol Speak Yoga to the next level.
The Achieve Client App
When asked about her favorite WellnessLiving feature, Rachel says, "I really love the Achieve™ custom branded app!"
The Achieve™ Client App allows Rachel's clients to stay connected to her business by providing all the tools they need in one convenient place. From their mobile phones, they can book classes or events, check in to services, make payments, and leave reviews.
BOOK-A-SPOT™
In the Achieve™ Client App, Rachel's clients can also book their favorite equipment or spot at the studio with BOOK-A-SPOT™.
With health and safety being a top priority, BOOK-A-SPOT™ allows Rachel to coordinate her space with ease.
"It's the ultimate solution to manage class sizes," says Rachel. "Our clients can conveniently see the layout of our studio and book their equipment and spot in the studio to avoid overcrowding. I really just want everyone to feel safe here."
With WellnessLiving, Sol Speak Yoga has upgraded to the next level
Over the last few years Rachel has upgraded her life with yoga and her business with WellnessLiving's all-in-one software. Is your business ready for an upgrade? Book a free, no-commitment demo today to learn more!