Oct 15 2020, 9:00 AM
Solntse Hot Yoga: Integrating with Zoom Changed Everything!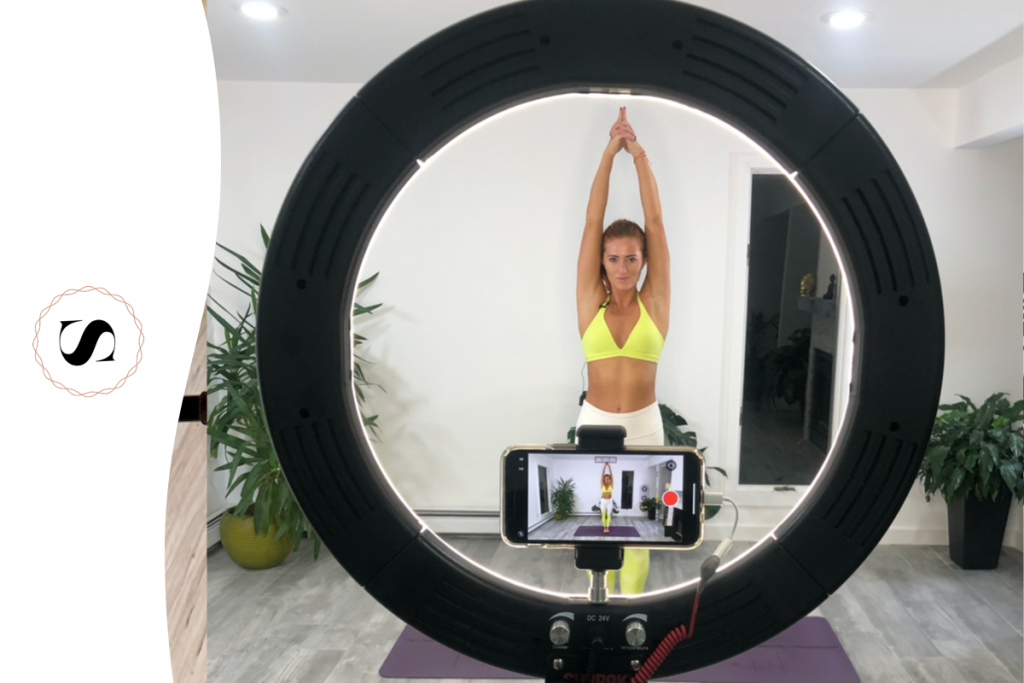 Nearly every studio is going online with Zoom but, do you have a seamless way to bring online classes to your yoga students?
It's no surprise that yoga studios everywhere had to change and pivot due to COVID-19. Solntse Hot Yoga got ahead of the pandemic lockdowns and shifted to a virtual business model and began offering online classes to their students.
Over the past few years, Solntse Hot Yoga has built a loyal community in the small town of Wading River, New York. Owner Ina Visich fell in love with yoga many years ago and wanted others to feel the same way. When she opened the studio back in 2016, some people in the town hadn't even heard of yoga so she needed to convince them to try it.
Once the studio closed, Ina wasn't going to take yoga away from them now that the town discovered the amazing benefits of yoga. Ina wanted things to stay as normal as possible, and that included keeping yoga as part of her community's routine.
Ina loves her business management software, WellnessLiving, but she was hesitant at first to get her classes set up with our Zoom integration because her community was used to doing things a certain way and she didn't want to confuse them. Although, Ina knew she had to adapt for her business to survive. Luckily, Ina took advantage of our virtual tools and she couldn't be more thrilled:
"I love WellnessLiving's Zoom integration," says Ina. "It's less stress and work for me. I'm happy with it, all my teachers are happy, and most importantly, it makes my job so much easier as a business owner!"
Read on to learn more about Solntse Hot Yoga and their experience going virtual by setting up our Zoom integration.
Solntse Hot Yoga's experience going virtual with Zoom
Since they opened in 2016, Solntse Hot Yoga has been incredibly successful with a lot of growth. They had a full schedule of classes, from hot yoga, vinyasa yoga, barre classes, meditations, and even various workshops and retreats, but then the studio shut down and Solntse Hot Yoga had to pivot to an online approach. Ina started livestreaming her classes on a private Facebook group and Zoom about a week before the pandemic closures began!
Ina went all out when it came to delivering the best online classes to her community, by using extra equipment like a ring light, a tripod, and an external microphone system.
Even though her business was fully online, Solntse continued to book classes and collect payments with the help of their trusted all-in-one WellnessLiving platform and their Achieve Client App.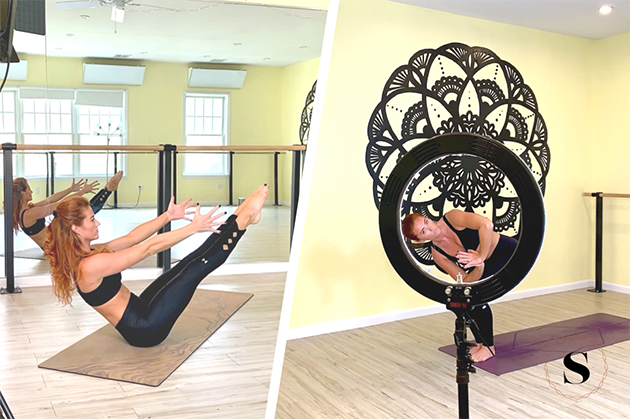 Why did you integrate with Zoom?
Ina had been rigorously sending emails with Zoom links every day so her community could join their classes. The problem was that unauthorized clients would join her Zoom sessions without paying and she would need to take time to remove them from the call.
When we told Ina about our Zoom integration, she was hesitant at first. After all, her community didn't like change. Our very knowledgeable customer support staff trained Ina, and took her through the integration, step by step. Once Ina learned more about the benefits of the Zoom integration, all her hesitancy went away. In just a few easy steps, the Zoom integration made Ina's life much easier.
She connected her Zoom account with her WellnessLiving account.
She set up her virtual services and adjusted the privacy for her classes.
Then she told her clients about her virtual classes with notifications and reminders.
"Now I don't have to worry," says Ina. "I can easily track payments and attendance, and clients don't get access to class unless they register. It's that simple!"
No more sending emails full of Zoom links every week—clients can just join their classes right from the software, the Achieve Client App, or the Client Web App.
Solntse Hot Yoga was so excited for the Zoom integration, they even shared the news on social media: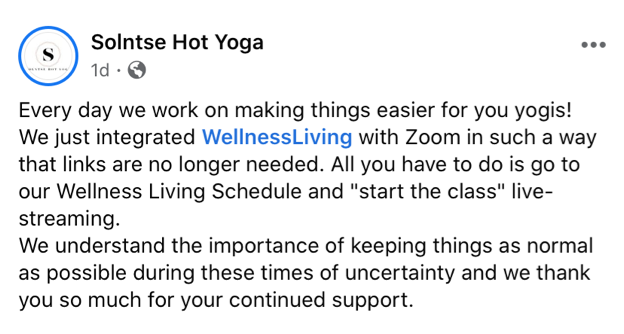 How else has WellnessLiving helped you through the pandemic?
Besides integrating with Zoom, there have been many other WellnessLiving features that have made going virtual and getting through the pandemic easier than ever. Here are some of the other ways WellnessLiving has helped Solntse Hot Yoga:
Clients can book services on the Achieve Client App, and Ina can see their purchases in the software backend.
With the Elevate Staff App, Ina can easily check daily sales and check clients in, right from her mobile device.
Reserve with Google lets her clients find and book virtual classes directly through web searches or Google maps.
Clients can book services right on Facebook, through WellnessLiving's schedule widget.
Solntse Hot Yoga can easily store client credit card info, right in the system (another way to prevent people from sneaking into class without paying).
Whenever they had issues, the WellnessLiving Support Team has been there for Solntse Hot Yoga.
"I couldn't be happier with the software!" says Ina. "It's very easy to use for me, my customers, and my teachers!"
How has your community responded since the pandemic began?
Solntse Hot Yoga community has been super supportive—so much so that they've retained about 98% of its members! Ina's main goal was to minimize any stress for her clients and keep everything as normal as possible for them, even though the studio pivoted to a virtual model. Taking a virtual class was simple for clients—all they need is their yoga mat!
"It's been very beneficial for the students to be able to see all their favorite yoga teachers in class," says Ina. "Some clients have even showed up every day."
Since many of her clients had been homeschooling their children, they really appreciated that Solntse Hot Yoga stuck with their routine and the schedule remained very similar, too!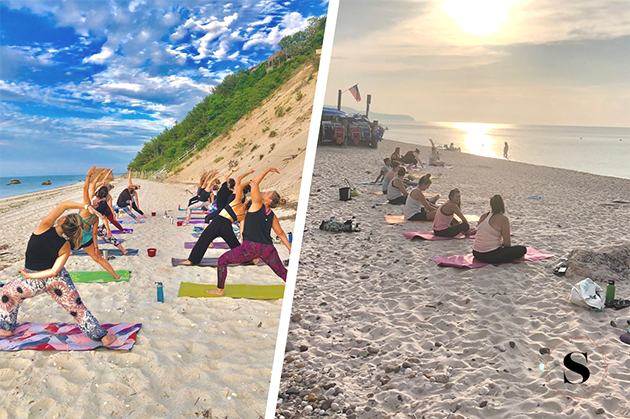 Reopening and going online with the right software!
Situated right on the water, Solntse Hot Yoga offered socially-distanced beach yoga classes during the summer. Then in September, they reopened their yoga studio, but still had virtual classes on the schedule.
While integrating with Zoom was daunting at first, Ina and Solntse Hot Yoga were glad they did it. Business couldn't be better for Solntse Hot Yoga and WellnessLiving is the main reason why!
From integrating with Zoom, collecting credit card payments, and making it easy for clients to book, Ina knows that getting through this pandemic would not have been possible without WellnessLiving's all-in-one platform! How can WellnessLiving help your business reopen and go virtual? Book a free, no-commitment demo today to learn more!