Jan 30 2020, 2:05 PM
How to Start a Music Blog and Boost Your Business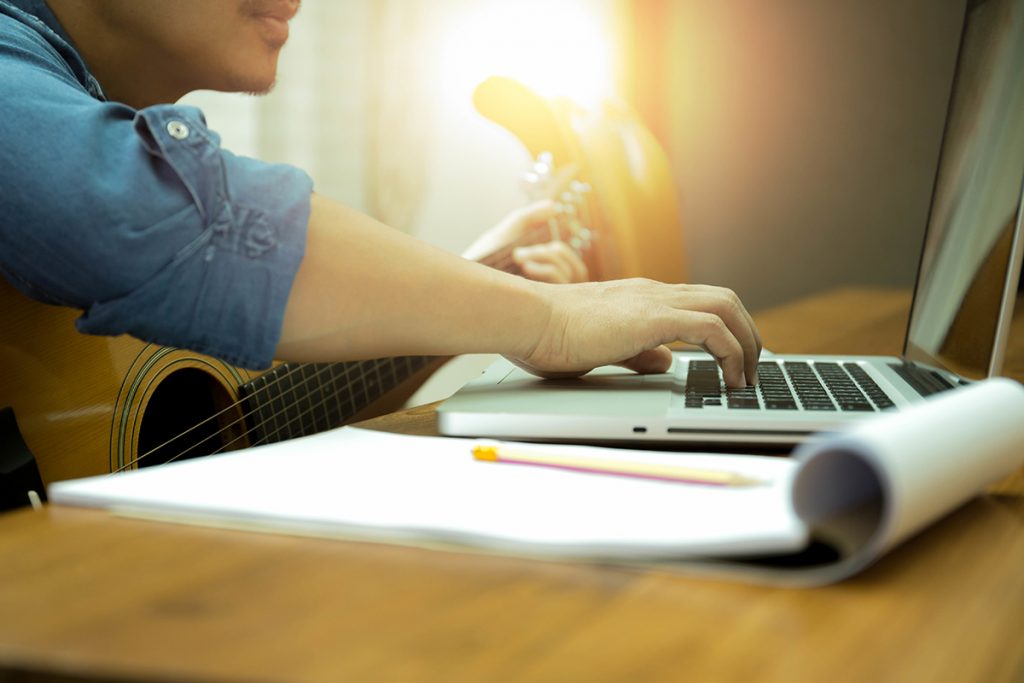 If you're looking for a new way to get attention for your music school, build relationships and see your profits grow, you need to start a music blog!
From educational content to making the most of your music school booking software, our experts will give you the why's and the how's of starting your own blog to boost your business.
The most successful businesses are seeing real results by adding a blog to their marketing strategy. In a nutshell, blogging offers businesses the following perks:
ESTABLISHES LEGITIMACY
You establish yourself as an expert in your field once you've published a number of blogs covering your specialty. Once you've got some street cred, you'll start to make a name for your business, get respect for your expertise and become the music school people are talking about.
CREATES DIALOGUE
Once you get your audience engaged, they'll start talking about your content, commenting, and sharing your blogs with their friends. It also means that your students get the unique opportunity to see you from a different angle and get to know you a little better.
Getting to know your clients – and allowing them to get to know you, makes for long and happy relationships.
DRAWS ATTENTION FOR BUSINESS
Increasing your online presence with great content and increased exposure for your music school is a great way to stand out in a crowded market. Maybe your competition hasn't added a blog to their repertoire just yet? Be the first in your field to embrace blogging as a way to boost your business.
Still not sure it's for you? Here are a few stats to show you just how much a blog can make an impact on your business:
– A whopping 77% of Internet users read blogs. Think some of your clients are included in that stat? Of course they are, so this is just another way to connect with them!
– 61% of Americans spend more time reading blogs than they do reading emails. Now that's a captive audience you can target!
– Having a blog can increase your business' Internet search ranking results up to 434%. Looking to make a name for yourself online? Looks like blogs are the way to go!
OK, now that you've read about the impressive benefits your business can expect by adding a blog to your strategy, it's time to help you build a successful blog. Here's our list of the elements your blog needs to gain popularity, establish longevity, and turn your readers into loyal customers:
1. OFFERS SUPERIOR CONTENT
Content is king when you're considering the success or failure of a blog. All great blogs are rooted in great content! Remember, most of us are short on time in our everyday lives, and so if you're asking someone to give their time toward your business, your blog needs to include the following two key elements:
ENGAGING CONTENT
It can be tough to try and predict what your readers will be most interested in, so there's a bit of trial and error at the start. Begin by thinking about what you might be interested in as a student at your music school and create content around that. Then stay on top of how each blog is performing so you can get a sense of what's most popular with your audience.
Are your readers interested in industry trends? Behind the scenes info? Expert advice? Tips on performance? Stay on top of what's the most popular and make sure that's where you focus your time and energy.
Of course, you need to vary your content to keep it interesting, but also give the people what they want so that you build a long-term following and ultimately, increased revenues.
EXCITING VISUALS
By the growing popularity of platforms like Instagram, it's obvious we're visual beings! With shorter attention spans and busier lives, quickly attracting attention with photos and video is crucial to your blog's success.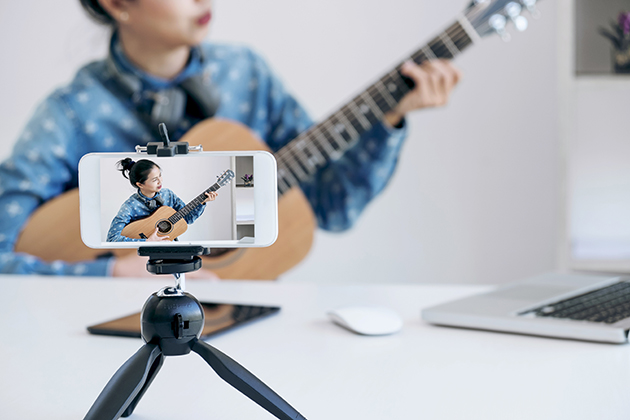 Be sure to include a mix of stock photography, images you've taken, and video to make the most impact. There's a certain appeal to a "real" look at your business, so don't feel pressured to produce perfectly polished content. Keep your brand and goals in mind, but don't stress about flawless presentation.
Be creative here! Think about the type of content you consume, keep it visually appealing to hold the attention of your audience, set yourself apart, and grow your community.
2. PROVIDES VALUE
We've covered that your content needs to be interesting and relevant, but it also needs to provide value. If people are reading your blogs and not learning anything, your audience will drop off pretty quickly. There needs to be a reason that they're drawn to your content and a motive to keep coming back for more. This comes in the form of educational content.
Now, we're not talking about a thesis here. Educational content could include practice tips, info on how you put together a recital or new developments in the music industry. Keep your delivery light and entertaining to add value while offering engaging content.
Provide value to your audience to hold their interest and build long-term interest in your blog and your business.
3. BUILDS RELATIONSHIPS WITH YOUR AUDIENCE
The ultimate goal of a blog is to get more clients and increase your revenues. Yes, you also want to attract attention for your business, build relationships and stand out, but the ultimate goal is conversion.
Look at your blog as a way to get people invested in your music school so you can fill your classes and boost your business. People like to do business with people they like and trust, so relationship-building is a crucial part of your marketing.
You need to get as many people as possible reading your blog, telling their friends, sharing your content, and helping you spread the word about your music school.
The most successful blogs focus on dialogue with their customers to keep them engaged. How can you get your community to comment on and share your blog content? Encourage them to become engaged with a contest, question, promotion or anything else you can think of to start the dialogue.
You might also benefit from doing a little research here. Check out some other blogs in your field, and see how they're getting engagement on their posts. You don't need to figure everything out from scratch. If something's already working for someone else, it'll likely work for you too, once you make it your own.
4. IS EASILY ACCESSIBLE
Nobody will read your blog if they can't find it! You need to make it easily accessible and promote it wherever you can to get as many eyes on your blog as possible. Definitely post everywhere on social media! You might even mention it verbally to your students to get them to check it out.
Here are a few more hints to drive traffic to your new music blog:
USE YOUR TOOLS
As a business owner, you're used to multi-tasking, so why isn't your music school booking software doing double duty? Make the most of the tools you have to get your blog to expert status in no time!
How can your music school booking software help get attention for your blog?
If you've automated your marketing, you're already reaching out to your students through your music school booking software. Why not use it as an opportunity to draw attention to your blog as well?
At WellnessLiving, our music school booking software offers features for days! Want to send out a link to your blog with a text or SMS campaign? No problem! How about including a content teaser in your newsletter? We can do that, and we can even track who opened it and clicked through!
When you're talking about marketing your blog to boost your business, use the tools you have to attract attention and build a following that will have you seeing real results.
STAY CONSISTENT
There's something to be said for consistency. The more consistent you keep your blogs, the more your audience will be reminded to look for them – and they'll remember where to look. So much of our lives is habitual and once you get your audience into a routine, you want to make sure you keep up your end of the bargain so they stay interested.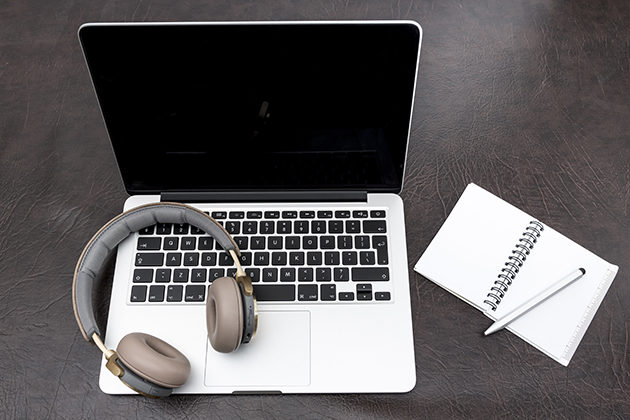 Set up a calendar so your readers know they can expect your content at the same time each week. Reliable and consistent content is appreciated by your readers and it helps to get them excited and used to checking in to see what your blog includes this week.
Consistency in business is a given, but in blogging, it's an approach that could just be the reason your readers stick with your blog.
5. LEVERAGES THE AUDIENCE
This can be a tough line to walk, but remember that the goal for your blog is boosting your business, making conversions, and upping your profits. You need to know that throwing in a little self-promotional content is just smart blogging.
What we mean by balance is that no one wants to read salesy content promoting your business outright. However, if you're not going to toot your own horn, who will? We know this might sound like contrary advice, so let's be more specific!
Do you have a retail space? You might consider including a blog called 'gift giving for your favorite music student', featuring some of the products you sell. Or, can you might post a blog about the benefits of music lessons for kids. Or how about a video blog of a recent recital? It's a great way to give your audience a look at what they could become with your expertise.
It's important to note that this approach needs to be subtle. People read your blog to be entertained, learn something, and because they care about what you have to say. Selling through storytelling is the way to turn readers into customers while keeping them interested and invested in your music school.
IT'S TIME TO START BLOGGING!
Ready to establish legitimacy, build relationships and get attention for your music school? It's time to get started on your music blog. Include superior content, add value, engage with your audience, make it accessible and promote your business to have the best blog on the block!
Use your music blog to stand out from the crowd, and this will help boost your business. Turn your blog audience into long-term clients with help from WellnessLiving's music school booking software.
Once your music blog is up and running, WellnessLiving's all-in-one music school software will help you build your reputation, reach your target market, and grow your community. Interested in learning more? Book a free, no-commitment demo with us today!