Jun 17 2022, 9:00 AM
Studio 108 is Always Open with WellnessLiving's Virtual Tools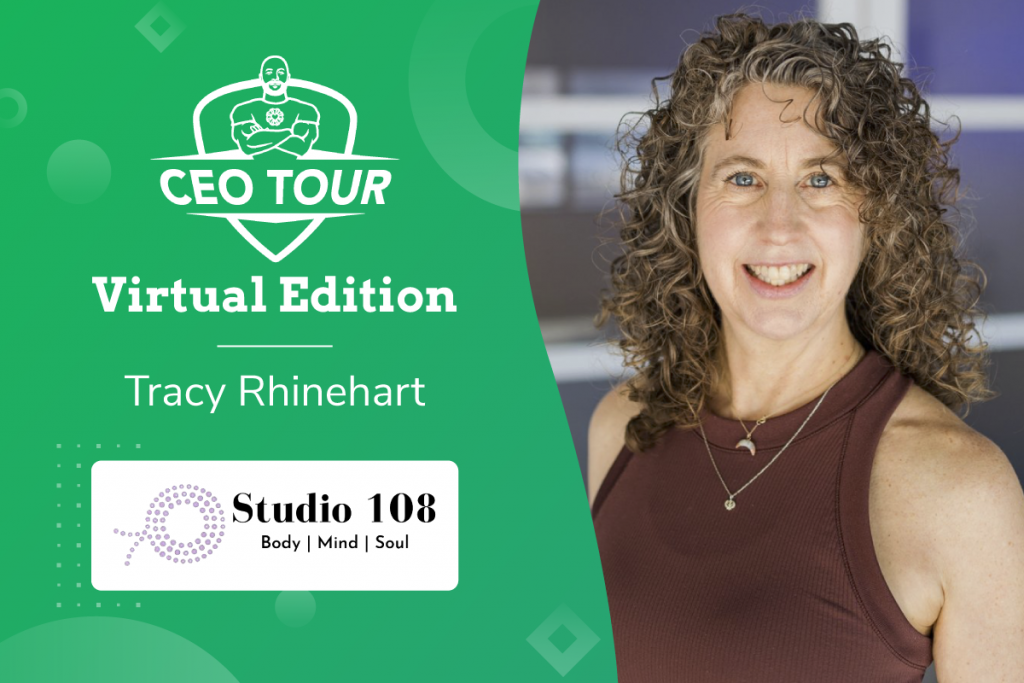 What's the favorite part of the job for Len Fridman, WellnessLiving's CEO and co-founder? It's his CEO Tour! Since the pandemic began, Len continues to connect with studio owners virtually to learn their stories and how our all-in-one software helps grow their businesses.
On the latest stop of the Virtual CEO Tour, Len met with the mother-daughter team, Tracy Rhinehart and Leah Rachelle, at Studio 108: Body | Mind | Soul in Independence, Ohio. The dynamic duo bravely took a leap of faith and opened their yoga and fitness studio in the spring of 2020, with the pandemic on their doorstep.
Discover how WellnessLiving's all-in-one software helped them establish a connection with their community and with each other, despite the obstacles the pandemic put in their path.
Studio 108 at a Glance
📍 CEO Virtual Tour Destination: Independence, Ohio
📍 Customer Business: Studio 108: Body, Mind, Soul
📍 Website: https://www.studio108.net/studio
📍 Special Guests: Tracy Rhinehart and Leah Rachelle, owners and instructors
📍 Number of Locations: 1
Meet Tracy Rhinehart, owner of Studio 108
Tracy had been teaching yoga for over 10 years before opening her own studio. As a single mom, yoga was her go-to survival tool helping her manage stress and wellbeing. In 2013, she decided to make yoga her full-time job, began teaching at a larger studio, and eventually developed her own yoga school through the Yoga Alliance. Yoga was her life for so many years, but she was always craving more.
In yoga, the number 108 is quite significant as it refers to a spiritual completion. Perhaps Tracy's spiritual completion occurred in the spring of 2020 when she decided to take a leap of faith and open Studio 108: Mind, Body, Soul right in the middle of the pandemic.
"I am really happy to have a brick-and-mortar studio now," says Tracy. "It's been quite the expansion project. And the team at WellnessLiving made opening the studio so easy."
Joining Tracy and Len on the CEO tour was Tracy's daughter, Leah Rachelle. Leah's passion is Barre and Pilates. When her mom was ready to open the studio, Leah was on board with the challenge as well. As a recent university graduate, the puzzle of "what to do next" was completed when she became an instructor and health coach at Studio 108.
Now a hybrid business, Studio 108 offers a wide range of in-person and virtual yoga and fitness classes, including Warm Yoga Gentle, Hot Yoga Flow, Yin Yoga, Kundalini Yoga, Barre Fusion, Cardio Sculpt, and Pilates Strong.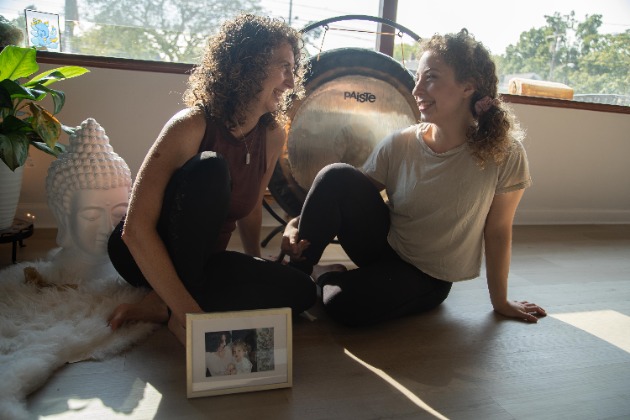 How did Studio 108 use WellnessLiving's virtual tools?
Before Studio 108 opened its doors, Tracy and Leah were on the lookout for an all-in-one business management software to help manage virtual classes. Fortunately, they found WellnessLiving.
Like so many studio owners, Tracy and Leah were able to keep a strong connection with their clients during the pandemic with WellnessLiving's virtual options.
"If we have learned anything the last two years, it's the importance of community," Leah said, "There are so many options for yoga and fitness available online, but there's still the missing piece of community. WellnessLiving's Zoom integration gave us the ability to stay connected and retain that feeling of community with our clients."
At the onset of the pandemic, WellnessLiving released a Zoom integration to set up and manage your virtual classes right in the software. In 2021, we upgraded to FitLIVE—a fully-integrated livestreaming service. With this tool your livestreams automatically record and upload to FitVID on Demand, letting clients view your videos on their time.
What else does Studio 108 love about WellnessLiving?
There are two more things that have helped Studio 108 thrive—our Customer Support and easy access to top-of-the-line business coaches.
24/7 Customer Support When You Need It
At WellnessLiving, we recognize how vital support is for our clients. It's one thing to have all the features WellnessLiving offers, but it's another thing to help you learn how to use them. We have invested heavily in our technical support to provide you with the assistance and guidance you need to help your business grow.
"Anytime I call the WellnessLiving Customer Service Team, there is always someone available to help," says Tracy. "They are patient and always have clever workarounds for my issues. I always feel supported."
Business and Software Coaching at Your Fingertips
Tracy is a great yoga teacher, but running a yoga studio and using business management software were both new to her. Fortunately, she has had WellnessLiving's all-in-one platform and their team of business coaches at her disposal. Our expert training specialists helped Tracy and her team become comfortable with the software. In addition, we help connect our customers with industry-leading business coaches.
"It's been a learning curve and I know I have a lot to learn," says Tracy. "Connecting with other professionals and the business coaches at WellnessLiving has been so amazing and has really helped me grow my business."
Is your business ready to thrive?
Studio 108 is thriving thanks to the hard work and dedication of the mother-daughter team of Tracy and Leah. Starting a business with WellnessLiving by your side couldn't be easier.
Are you starting out? From our integrated virtual tools to our first-class Customer Support Team, WellnessLiving has everything you need to manage and grow your business. Book a free, no-commitment demo today to learn more.