Nov 22 2019, 9:00 AM
WellnessLiving at FIBO USA 2019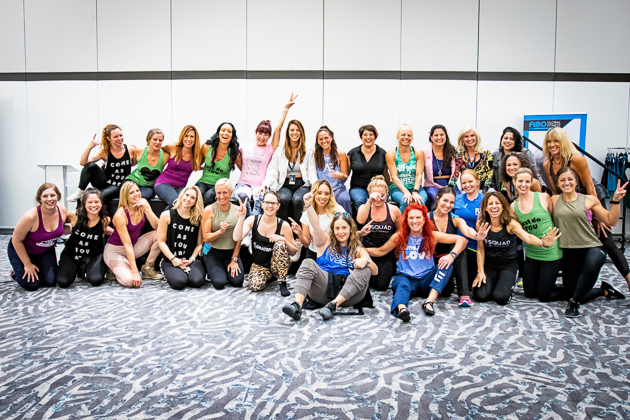 WellnessLiving was more than thrilled to be a part of FIBO USA in the fitness-focused hub of Miami! At this exciting event, we got to network with industry leaders and experts in the fitness space who are passionate about staying on top of the latest trends and innovations. It's events like these that remind us why we love to do what we do!
About FIBO USA
FIBO—short for fitness and bodybuilding—is a cutting-edge event that provides fitness professionals and enthusiasts access to the hottest developments in the industry, in addition to an opportunity to learn and experience the latest advancements in the field. Held in the Miami Convention Center on October 17-19, this was an event we weren't going to miss!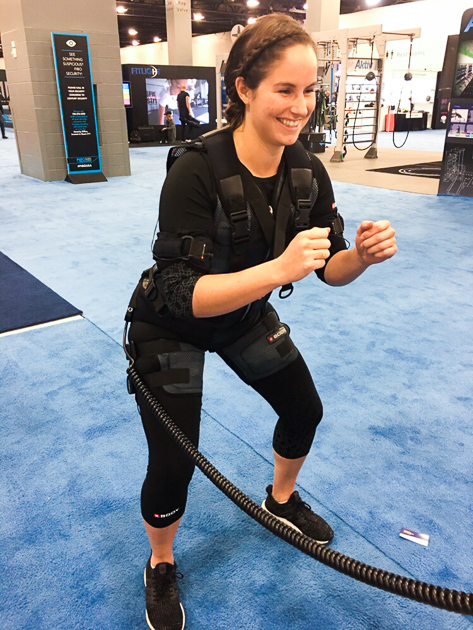 Founded by Volker Ebener and Kurt Thelen, FIBO was born in 1985 in Cologne, Germany. With events all over the world from Shanghai to South Africa, this is the second time this event was hosted in the United States. Known as playing a pivotal role in the industry, FIBO makes the latest workout trends, classes, technology, and information accessible to everyone from athletes and business owners to trainers and fitness fanatics.
This year, several members of our team were present and excited to interact with the thousands of attendees. We couldn't wait to share our expertise with WellnessLiving's dynamic software system to help business owners and entrepreneurs grow their business. As a company that strives to help others thrive, it's vital for us to stay on top of what's happening in the industry. What better place than FIBO to accomplish this goal?
What Happened at the Event?
The energy at FIBO USA was positively palpable! Over the course of three days, the itinerary was simply robust and chock full of interactive experiences. We truly wish we could have participated in every single session and class, as there was so much taking place in this buzzing space!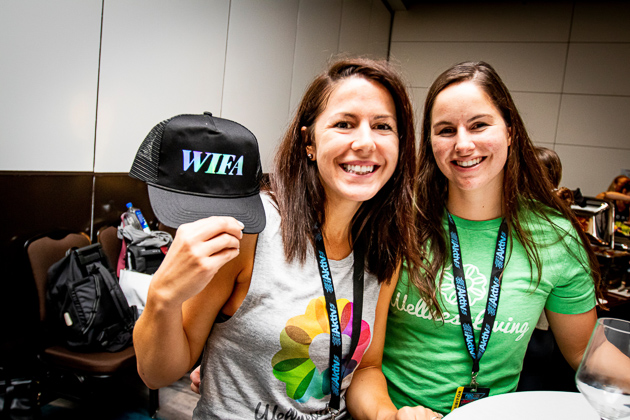 The event started off with a bang with Pound founder and creator, Kirsten Potenza. Pound is an incredibly unique full-body workout that combines drumsticks and fitness, helping you rock out in style! Members of our team participated as she led this exhilarating session, raising our energy to incredible heights.
Kirsten is a member of WIFA, Women in Fitness Association, who sponsored FIBO. WellnessLiving is proud to be partners with WIFA as they are pioneers in giving women the tools needed to succeed in the fitness industry. On Friday, our team attended Fiercely Female, an incredible event hosted by WIFA, where Kirsten spoke about her entrepreneurial journey in founding the sensational workout POUND and all the obstacles that came along the way.
Having the opportunity to connect with industry leaders such as Kirsten, is something that we are truly passionate about as we are always eager to give our customers all the knowledge and insight needed to run their own successful enterprise. The founder of WIFA, Lindsey Rainwater, also shared her story about being a CEO and mother, as well as accepting the challenges that come with motherhood in this day and age.
There were so many memorable moments at this event. Sweat with Kelsey Wells, for example, gave WellnessLiving the opportunity to interact with the creator and founder of the PWR workout programs. In this 45-minute morning session, Kelsey led the crowd in an intense workout that got us pumped and ready to conquer the day! We also witnessed some incredible feats of what the human body is capable of at the Ultimate Freestyle Calisthenics Competition, as well as the United States Ninja League. Our team was also exposed to the latest in cutting edge fitness technology with gadgets such as the EMS training device as well as dynamic recovery equipment!
WellnessLiving was excited to be a part of this bustling fitness environment as we were sharing our innovative software system with live, on-site demos. This gave attendees the chance to tour our platform and discover all the incredible ways it can help them scale their business. From multiple online booking options and staff management tools to a rewards program and advanced reporting, our software aims to help business owners scale their business. Our presence didn't stop at our booth. Club Solutions—one of the leading fitness magazines—was handing out their buyer's guide with our founders Len Fridman and Sasha Davids on the cover!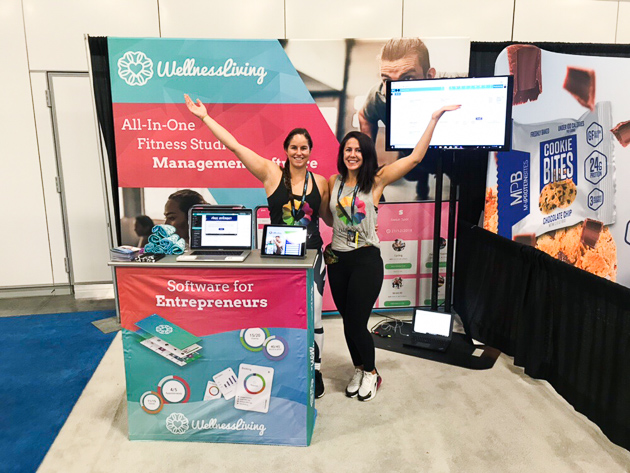 Taking part in incredible events like FIBO USA is what we live for as it helps us stay on top of the latest advancements in the fitness space, allowing us to deliver optimal solutions to our clients!
Choose WellnessLiving
Thousands of WellnessLiving clients love our software because of the multiple features we offer, at one affordable price. From client retention to automated marketing, we help business owners grow their organizations and reach incredible heights!
Here are just a few of the options that our clients love:
Staff management tools
Manage your staff with ease with our dynamic staff management tools! From assigning specific staff roles to automatically calculating pay rates, this will help streamline your business and keep things organized.
Assign everyone on your team their role so they can have access to their own unique platform. Roles can be divided into categories such as studio managers, desk operators, or instructors. You can even customize your own roles and set certain permissions according to the job that employees perform. Once all roles and permissions have been set, your staff can complete all their tasks with ease! All appointments and classes that are booked will automatically synchronize, so everyone can see updates as they happen, connecting your team even more. Your staff even has the ability to sync their calendar with their Gmail, iCal calendar, or Outlook so they can easily view their upcoming sessions on the platform of their choice.
This feature also allows you to set your pay rates by the hour, by salary, attendance, or commission. Once everything is specified in the system, WellnessLiving will automatically calculate your employees' pay and have this data on record in an automated payroll report, for you to refer back to whenever you need it.
But that's not all! You also have the ability to track your staff performance. By getting quick access into how many students have attended classes, how many were absent, and other factors, you can gain insight into which staff members may need more assistance and who are exceeding expectations!
Client and staff mobile apps
Not only does our dynamic software help keep your team organized through its digital platform, but we also have a staff mobile app that always keeps you connected, no matter where you are! Meet the Elevate Staff App!
The Elevate Staff App allows you to schedule classes, book appointments, make staff substitutions, and much more all from the comfort of your phone! You can also receive payments, sign important contracts or view reports. Whether you're at home or on the go, our Elevate Staff App keeps you in control.
We've also made it easy for your clients to connect with your business with our Achieve Client App. Consumers in today's world are extremely busy, and this mobile app gives them the ability and convenience to book classes, make payments, and manage their rewards points in one singular spot! These options are now at their fingertips, increasing their engagement with your business.
One of the features that our clients love most about this mobile app is that customers are not exposed to any competitor ads and that it makes writing reviews easy. But, it doesn't stop there! WellnessLiving will also take those glowing reviews and share them across the internet on sites like Google! Nothing will boost your band's popularity like this can!
Rewards program
Another tool that will keep your customers engaged is our built-in rewards program! Not only will this keep clients interested in your brand, but it will also help convert them to lifelong customers.
By giving your clients the ability to earn points for taking specific actions, you'll entice them to interact more with your brand. For instance, give your customers the chance to win points for booking classes online, writing reviews on social media, or referring friends and family to your facility! After clients have accumulated a certain number of points, award them with a discount on classes or even free merchandise. This will show your clients that you value their time and appreciate them.
One of the most interesting features included in our rewards program is our built-in leader board. This dynamic tool shows clients how many rewards points they've earned and where they rank according to other customers. This sense of friendly competition will entice your clients to engage more with your business to reach the top of the list! Not only does this help boost business, but it creates a fun way for clients to interact with your brand.
The Bottom Line Is…
WellnessLiving can help take your business to the next level! Our mission is to take businesses like yours and help them reach their full potential. Let us take care of the day to day tasks, so you can focus your energy on your clients and the future of your business.
We only skimmed the surface in terms of the many features our software offers. Interested to learn more? Book a free, no-commitment demo today and explore everything our platform has to offer!