WellnessLiving Announces Fourth Round of #StandwithStudios Grant Winners
Friday, January 13, 2023
•
09:00 AM EST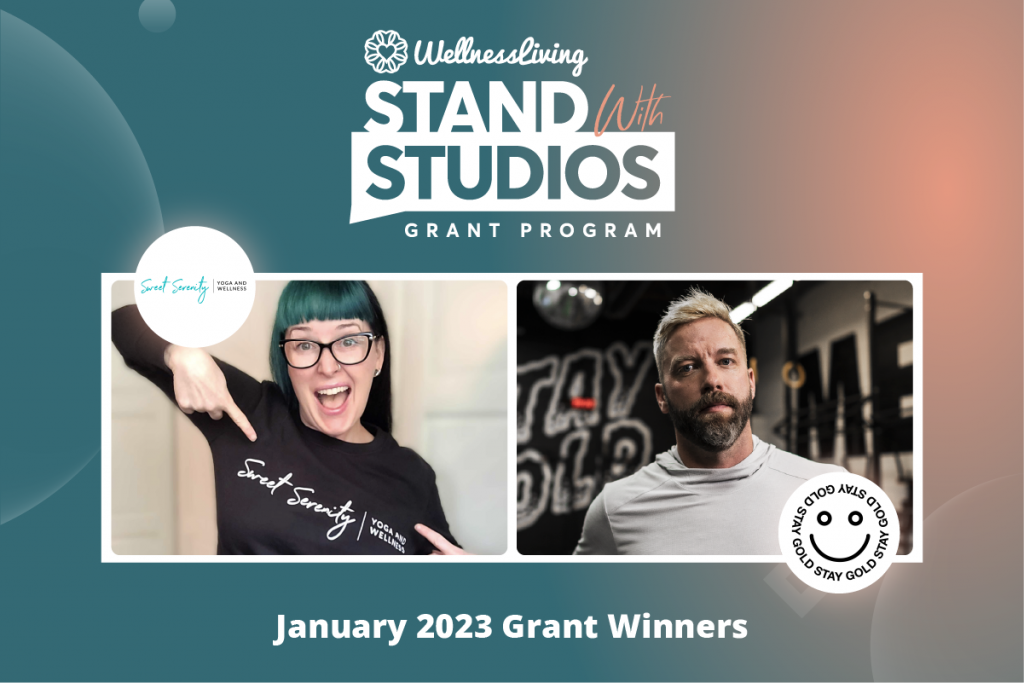 Congratulations to Joel Tellier of Stay Gold and Jenine Lehfeldt of Sweet Serenity Yoga and Wellness for receiving #StandwithStudios Grants.
TORONTO, CA – January 13th, 2023 – WellnessLiving, the leading all-in-one software solution for fitness and wellness businesses, is excited to announce the fourth round of #StandwithStudios Grant Program winners—Joel Tellier of Stay Gold and Jenine Lehfeldt of Sweet Serenity Yoga and Wellness.  
"The #StandwithStudo Grant Program is all about community, and we're honored to highlight the amazing stories of strength and resilience," says WellnessLiving CEO and Co-Founder, Len Fridman. "It's been incredible to hear what the support means to every studio owner, especially our latest winners Joel and Jenine, as we're grateful this will help them rise above personal and pandemic-related challenges." 
Joel Tellier of Stay Gold
Dissatisfied with the fitness community regarding inclusivity and representation of the LGBTQ+ and BIPOC communities, Joel wanted to create a safe space for everyone. Stay Gold is an indoor and outdoor gym that values character and community above all else.  
"We're more than just a gym. Our mission is to create a community that's solid and grows together as people first and athletes second," says Joel. "To win this grant shows us that our perseverance through the many shutdowns during the pandemic was absolutely worth it. This grant will help us to build our community up even stronger and showcase all the heart our community has put into Stay Gold over the years. We've built something incredible together, and we're thrilled to be recognized by the fitness community as the special place that we are."
Jenine Lehfeldt of Sweet Serenity Yoga and Wellness
Through her experiences with recovery, Jenine has created a safe space to reach people who suffer from trauma and addiction. While the pandemic forced Sweet Serenity Yoga and Wellness to rack up debt to stay afloat, they are still in business thanks to the support of their community.  
"Although times have been difficult, we've been incredibly fortunate for our community," says Jenine. "As a small business owner, I know firsthand the challenges and struggles with trying to stay in business during difficult times. Winning this grant means the world to us, and we cannot thank you enough for your kindness and generosity! It will allow us to continue offering high-quality classes to our community and making a positive impact on the lives of our staff and students."
With the support of our valued business coaches and brand partners, WellnessLiving's #StandwithStudios Grant Program will provide 16 studios with up to $10,000 in grants, software, marketing support, and business education. The next round of winners will be announced February 7th, 2023.  
Visit www.standwithstudios.com for more information.  
About WellnessLiving  
WellnessLiving is the fastest-growing, all-in-one business management software for the fitness and wellness industry. Trusted by over 5,000 business owners and more than 15 million users worldwide, WellnessLiving is the only software solution you need to manage and grow your business. They offer an affordable, reliable, and easy-to-use platform that equips fitness and wellness business owners with all the features and tools they need to attract, convert, and retain more clients. For more information, visit www.wellnessliving.com 
Contact Details 
Media Relations: Noelle Beauregard 
Phone: 1-888-668-7728 
Email: PR@wellnessliving.com 
Website: www.wellnessliving.com 
0