WellnessLiving Announces Second Round of #StandwithStudios Grant Winners
Friday, October 28, 2022
•
11:26 AM EDT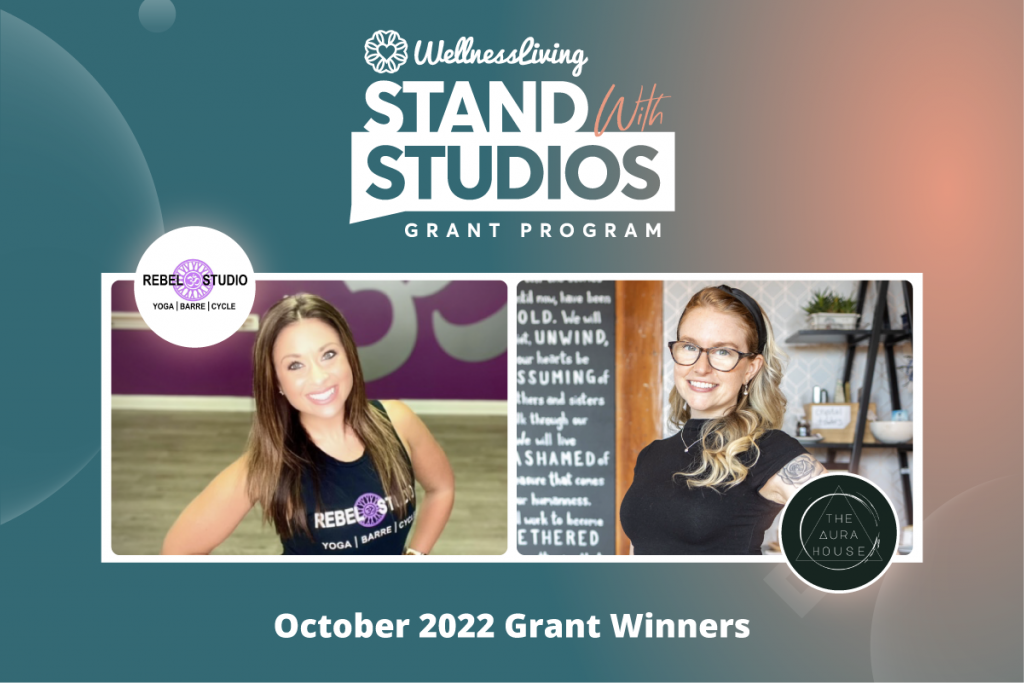 Congratulations to Lisa Alexandra of The Aura House and Kelly Frotten of Rebel Studio for receiving #StandwithStudios Grants.
TORONTO, CA – October 28th, 2022 – WellnessLiving, a leading all-in-one software solution for fitness and wellness businesses, is excited to announce the second round of #StandwithStudios Grant Program winners—Lisa Alexandra of The Aura House and Kelly Frotten of Rebel Studio.
"Throughout the #StandwithStudios Grant Program, we've heard many inspiring stories with each one reinforcing just how essential fitness and wellness businesses are to their communities," says WellnessLiving CEO and Co-Founder, Len Fridman. "Congrats to Lisa and Kelly. We're grateful to play a small part in your journeys with the tools and support to help you achieve your entrepreneurial dream."
Lisa Alexandra of The Aura House
Lisa scribbled what would later become The Aura House's 7 pillars on a cue card, with the community she wanted to attract in mind. As a multi-modality studio, The Aura House now offers yoga, Pilates, mindfulness, meditation, energy healing, crystals, and a deepened sense of community to the heart of downtown Brampton, Ontario, Canada.
"Being a safe space for our community is incredibly important to us—it's the one thing that keeps us going. Winning the #StandwithStudios Grant Program means the world to us and will be a BIG help in our recovery after a long and hard couple of years," says Lisa. "It feels like a big break, a huge recognition, and a welcomed opportunity to CELEBRATE what we've overcome, and where we're headed with The Aura House."
Kelly Frotten of Rebel Studio
Physically, mentally, and spiritually, Kelly says it's their goal to transform the entire community at Rebel Studio in Saint Johns, Florida. A studio offering barre, cycling, and yoga classes, they are dedicated every day to improving everyone's sense of self and the way they view the world around them.
"Our jobs are easy and fun because of all the people that come here," says Kelly. "I've been so incredibly grateful to my community, and that's why being named a winner of the #StandwithStudios Grant Program means so much to me. Running a business isn't easy and being a solo entrepreneur can feel even more challenging at times, so this really makes me feel supported and most importantly, I feel seen. I'm excited to be able to put this support back into my business!"
With the support of our valued business coaches and brand partners, 12 more studios will be selected and will receive up to $10,000 in grants, software, marketing support, and business education.
Thank you to everyone who submitted their #StandwithStudios application. If you haven't applied or completed your application, it's not too late. The next round of grant winners will be announced on November 24th, 2022, and the last day to submit your 2022 application is December 15th, 2022.
Visit www.standwithstudios.com for more information and apply today!
About WellnessLiving
WellnessLiving is a leading provider of cloud-based, end-to-end business management software and integrated payments solutions that are disrupting the fitness and wellness technology ecosystem through continual innovation and dedication to fulfilling the needs of customers. Dynamic features like their automated marketing suite, advanced reporting, easy booking tools, and rewards program allow customers to attract, convert, and retain more clients. WellnessLiving is one of the fastest-growing software companies in North America with over 15 million users worldwide and are the proud recipients of the 2021 Deloitte Technology Fast 50™ and Fast 500™ award programs. For more information, visit www.wellnessliving.com
Contact Details
Media Relations: Noelle Beauregard
Email: PR@wellnessliving.com
Website: www.wellnessliving.com
0