WellnessLiving Announces Third Round of #StandwithStudios Grant Winners
Friday, December 02, 2022
•
10:20 AM EST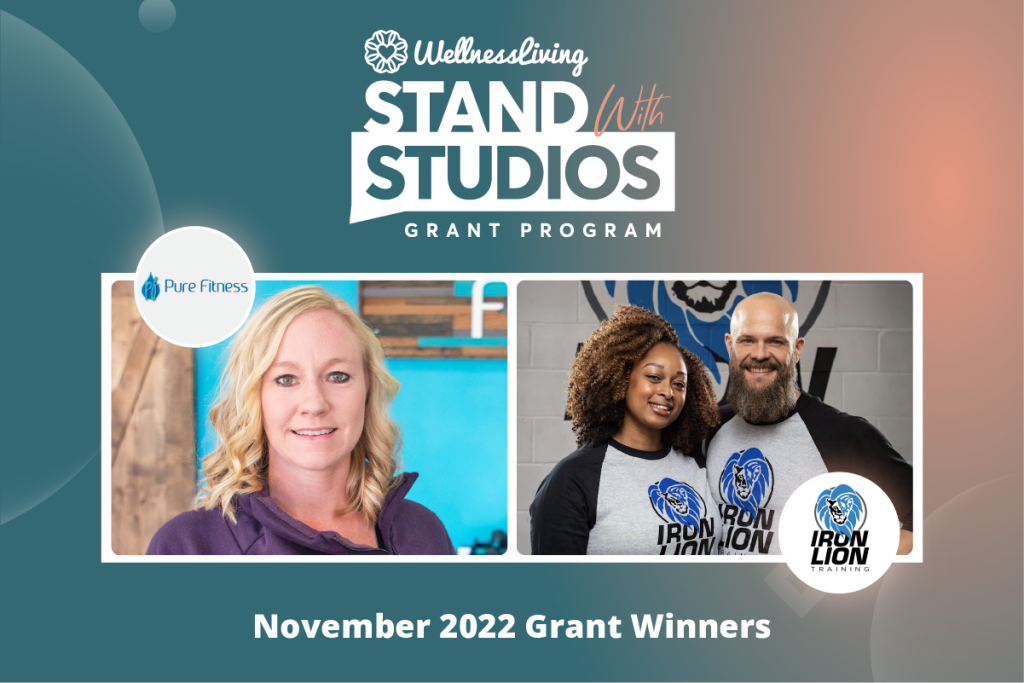 Congratulations to Erin Holtz of Pure Fitness LLC and Ronald & Steph Dykstra of Iron Lion Training Inc. for receiving #StandwithStudios Grants.
TORONTO, CA – December 2nd, 2022 – WellnessLiving, the leading all-in-one software solution for fitness and wellness businesses, is excited to announce the third round of #StandwithStudios Grant Program winners—Erin Holtz of Pure Fitness LLC and Ronald & Steph Dykstra of Iron Lion Training Inc.
"The #StandwithStudios Grant Program continues to highlight the incredible stories of fitness and wellness business owners across North America and the essential role they play in their communities," says WellnessLiving CEO and Co-Founder, Len Fridman. "I'm thrilled to award two more studio owners with #StandwithStudios Grants. Erin and co-owners Ronald & Steph have overcome many obstacles in order to continue to do what they love the most. It means so much that we can offer support and give them the confidence to rise above hardships to grow their businesses."
Erin Holtz of Pure Fitness LLC
Through a fire to her business then the pandemic, Erin always has her community to get through any challenge. Offering personal training, group fitness, and Pilates, Pure Fitness LLC is an open door for anybody and everybody.
"While business ownership has had so many bumps along the way, being part of a close-knit community means the world to me," says Erin. "That's why I'm honored to receive the #StandwithStudios grant. This gift is an incredible opportunity, and I can't wait to use the benefits to help Pure Fitness grow. I'm forever grateful!"
Ronald & Steph Dykstra of Iron Lion Training Inc.
The husband-and-wife team, Ronald and Steph, helps their community achieve balance and strength with a training style that is easy and simple. Iron Lion Training Inc. takes pride in offering a safe and inclusive space for everyone.
"We support, cheer on, and keep each other moving through any challenge we face," says Steph. "It's been such a tough go over the past three years that winning this grant feels like a reaffirmation that what we're doing is important! This is like an infusion of fresh energy and a spark to further ignite our passion to keep going."
With the support of our valued business coaches and brand partners, WellnessLiving's #StandwithStudios Grant Program will provide 16 studios with up to $10,000 in grants, software, marketing support, and business education. The next round of winners will be announced January 5th, 2023.
The last day to submit your 2022 application is December 15th, 2022. Visit www.standwithstudios.com for more information and apply today!
About WellnessLiving
WellnessLiving is the fastest-growing, all-in-one business management software for the fitness and wellness industry. Trusted by over 5,000 business owners and more than 15 million users worldwide, WellnessLiving is the only software solution you need to manage and grow your business. Their affordable, reliable, and easy-to-use platform equips fitness and wellness business owners with all the features and tools they need to attract, convert, and retain more clients. From online booking and purchases to studio management, WellnessLiving has it all. For more information, visit www.wellnessliving.com
Contact Details
Media Relations: Noelle Beauregard
Phone: 1-888-668-7728
Email: PR@wellnessliving.com
Website: www.wellnessliving.com