Dec 24 2018, 6:31 PM
WellnessLiving Unveils Franchise Cloud Features at Curves Convention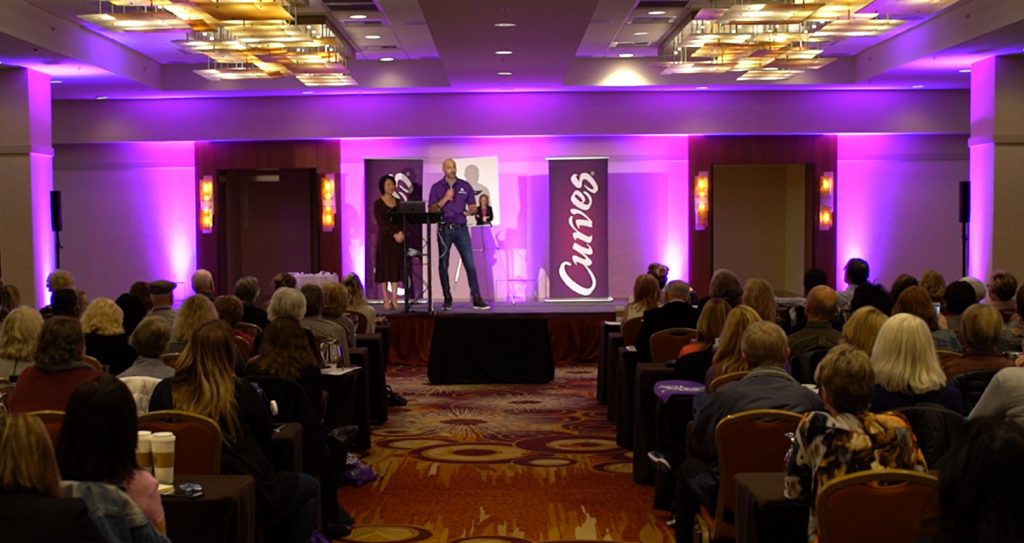 The Perfect Fit

Since the very beginning, the WellnessLiving team has been customer focused with a passion for leading-edge technology. We strive to offer business owners the best software on the market. We care, and we want to see all our businesses soar.

And that's why our new partnership with Curves NA – an enterprising fitness franchise that empowers women – is so exciting. For over a quarter of a century, Curves has sought to help women improve their quality of life. Curves cares about their members just as much as we care about our customers.

Leaders Gary and Diane Heaving founded Curves in 1992. They had the idea of bringing a short but effective full-body workout program to women. It was a huge success.

In 1995, Gary and Diane began to franchise "Curves for Women" and made its headquarters in Waco, Texas. By 1998, Curves saw its growth skyrocket from 350 to 650 franchises in 42 states. And that was just the beginning. In January of 2002, Entrepreneur magazine listed Curves as the third best franchise in the world on its Franchise 500 list. By mid-2002, they opened 300 locations in Canada, 35 in Spain, 3 in Mexico, and one in England.
Curves is now in over 60 countries worldwide and they show no signs of slowing down. To support their continued growth and success, Curves decided to partner with WellnessLiving. They will be using our software to streamline their workflow, offer new features, and better serve their existing and incoming members.

"We are experts in women's fitness and wellness, not technology," said Katy Bauer, Curves' Senior Manager, Global Applications & Communications. Bauer went through a laundry list of software providers, looking for the right fit. After extensive research, the Curves team chose WellnessLiving.

"There was a lot of enthusiasm at the Curves Convention about their future with us," said Len Fridman, co-founder, and CEO of WellnessLiving. "Knowing Curves went through such a rigorous software evaluation process, it's a real honor that WellnessLiving came out on top. That's a testament to our passionate team that all our hard work is worth it."

The Curves Convention Experience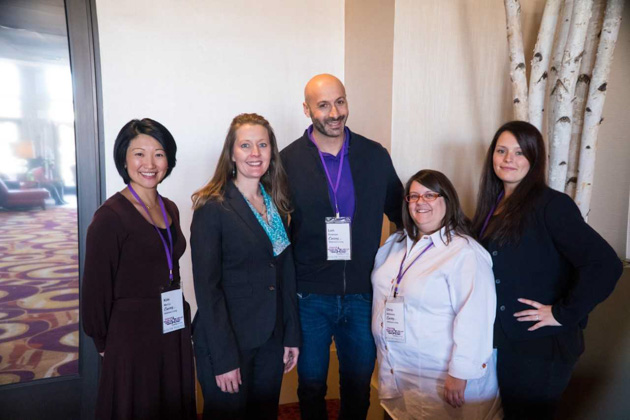 Curves held an exciting gathering for their franchisees in Chicago this fall. We sent four key members of our team to represent WellnessLiving: our CEO and co-founder, Len Fridman; Senior Business Development Manager, Kim Mai Ly; Customer Excellence Team Lead, Lyndsay Murray; and Customer Success Specialist, Chris Wilkinson. The four were there to witness Curves announce our partnership to the world. Needless to say, it was a surreal experience.

The WellnessLiving team was joined by Christine Ross, Strategic Partner Manager at Google, who flew all the way from California to share the incredible value of Reserve with Google. This cutting-edge functionality enables users to book consultations directly from Google Search and Google Maps, giving Curves direct marketing access to billions of Google users around the globe.

A major moment was the announcement that Krishea Holloway would become the President of Curves NA Inc.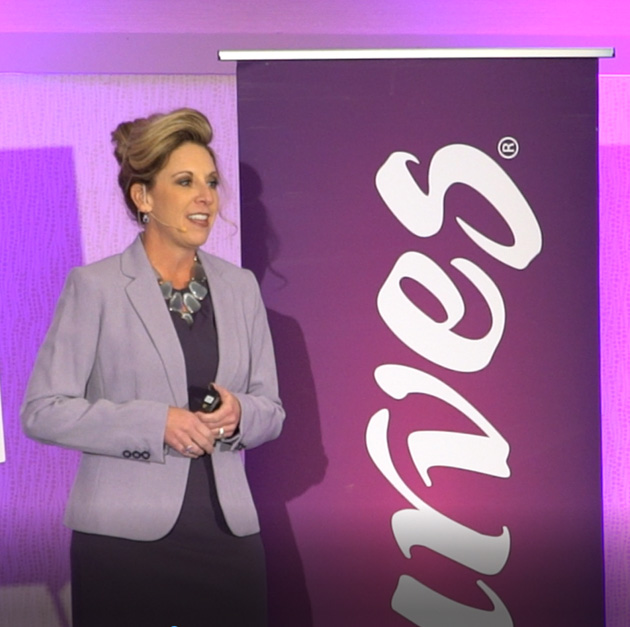 With more than 21 years of experience as a Curves Franchise Owner and as a Curves Strong Woman herself, the company is positioned for success with Krishea as President. Previously, she held the roles as Franchise Owner, Mentor, Area Director, Director of Operations & Business Support, Senior Director, and Vice President.
"I got teary-eyed when they promoted Krishea from Vice President to President," Kim admitted. "That standout moment was how the event kicked off. Her journey from the beginning to where she is now is such an inspiration. I was wowed."

"The support she got from her peers was amazing," Chris noted. "They were all genuinely thrilled for her."

Holloway is the first woman to ever take the position of President at Curves, and it speaks volumes about a company that practices what they preach. Recognizing a person who has served Curves for over twenty years by putting her in the highest level of leadership at the company, says a lot about the Curves organization.
"The whole event was about mission possible," said Len. "With the help of WellnessLiving, Curves is going to make 2019 a banner year for their organization."
The Takeaway
Our team saw a lot of enthusiasm from franchisees who were eager for change. They wanted technology that would make their lives easier. They wanted to spend less time working around an old system and more time serving their members.

"I think the biggest takeaway is how genuinely happy they are for this change," said Lyndsay. "They're extremely happy and excited to not be wasting their time anymore with old technology."

Cheers rang out when Kim went up stage and shared the features of WellnessLiving, and how the software will modernize the way Curves serves their members. When franchisees came up to our team after the demo, they were bubbling over with excitement for our software.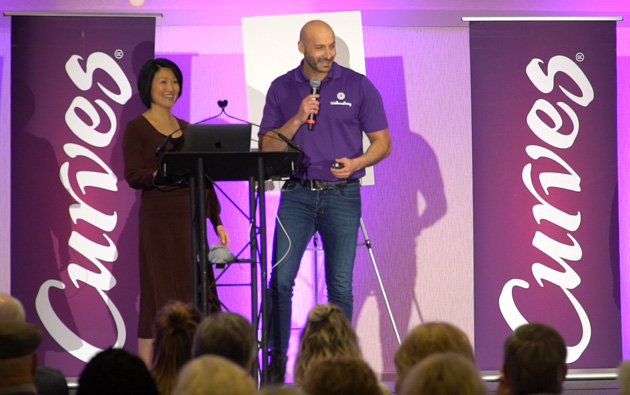 The biggest takeaway was how ready Curves is for change. They know who they are and what they want. We are excited to support them with cutting-edge software and technology so they can focus on championing women everywhere.
Choose WellnessLiving
Whether you own a franchise business or a boutique studio, you have a home with WellnessLiving. We value individuality when it comes to our customers, so our approach is to tailor our software to the needs of the enterprise. Every business is different, and that's why our company is always on our toes, tapping into the latest technology, while never sacrificing top-notch customer service.

Our partnership with Curves is satisfying on both ends. While we get to expand our services to help more fitness lovers worldwide, Curves gets the reliable software they need so they can focus on giving more to their members.

What new and exciting technology did we add to our software offerings? After extensive research on the unique needs of enterprises, WellnessLiving developed the Franchise Cloud, a system that allows the management of all franchise locations from one central hub.

With the Franchise Cloud, franchisors will be able to track performance by region, monitor location-specific reporting, and evaluate the performance of locations individually or in groups.

The incredible thing about having access to these kinds of reports is that multi-location business owners can make educated decisions about their company, with all the numbers and performance results at their fingertips. Franchisors can determine which regions are performing well and make educated decisions about where to open additional locations.

Franchisors can also use the Franchise Cloud to maintain standardized pricing and regulations across multiple regions. Ensuring that every business is adhering to prices and sales will maintain customer trust and loyalty. After all, Starbucks costs the same in Chicago and in Seattle, doesn't it? Setting parameters and locking down pricing is key, and you can do that easily with the Franchise Cloud.

Another important feature of the Franchise Cloud is the ability to push changes to select locations or regions. Pushing changes means that, for example, if your company's corporate headquarters wants to offer a region-wide sale or promotion, they can push that promotion to their chosen regions. Instead of going to each location individually and setting up that promotion.
The Franchise Cloud will also allow clients to use one membership to access multiple franchise locations around the globe without creating headaches or loss in profit for franchisees. When members access services at more than one location, revenue will be automatically allocated to the correct franchisee, streamlining a process that is currently difficult for many businesses.

Our software solution has been successful for businesses of all sizes. And even though we offer a lot of features, we're always growing and looking for new ways to better serve our customers. We understand the unique needs of enterprise customers and the goals they're trying to meet. By offering the Franchise Cloud, we are providing enterprises with the tools they need to manage and quickly scale their business.
But for us, this is only the beginning.  

Our team is excited to be kicking off this new partnership with Curves. We share similar values, and we are happy to be helping another great company meet their goals.   

As always, we are thankful for every business that allows us to be a part of their success story.  

References:
https://www.curves.com/nz/news-press/press-release/curves-selects-wellnessliving-as-fitness-business-management-software-provider
https://www.curves.com/nz/news-press/press-release/curves-na-oceania-inc-name-krishea-holloway-as-president