WellnessLiving Integrates with Zapier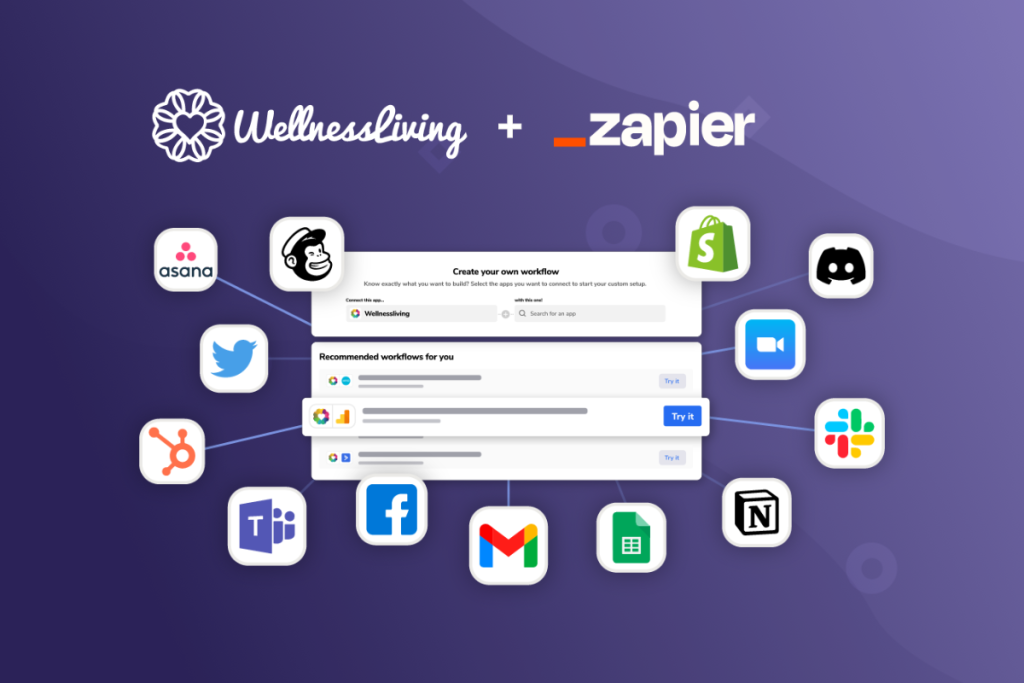 Their newest integration connects WellnessLiving to over 5,000 popular apps in just a few clicks, allowing fitness and wellness business owners to easily automate any workflow.
TORONTO, CA – June 12th, 2023 – WellnessLiving becomes the first class and membership-based software within the fitness industry to integrate with Zapier, the leading automation solution.
Zapier is a web-based tool with an intuitive editor that allows you to create automated workflows called Zaps between WellnessLiving and over 5,000 of the most popular apps, like Facebook, Google Ads, and Keap.
"94% of businesses perform time-consuming tasks every day," says WellnessLiving CEO and Co-Founder, Len Fridman. "Our latest integration partner, Zapier, removes those repetitive tasks from your daily workflow, saving you valuable time while you increase productivity and gain more insight into your sales funnel. Best of all, no coding knowledge is required!"
With each Zap, you can set up triggers and actions based on if/then logic, simplifying how you attract new leads, update existing client profiles, and add or remove clients from client groups.
Zapier's integration with WellnessLiving is the easiest way to automate lead and client management between multiple applications. Save time with Zapier. Start your FREE 30-day trial today. For more information about the Zapier integration, visit: https://www.wellnessliving.com/features/zapier/
About WellnessLiving
WellnessLiving is the fastest-growing, all-in-one business management software for the fitness and wellness industry. Trusted by over 5,000 business owners and more than 20 million users worldwide, WellnessLiving is the only software solution you need to manage and grow your business. They offer an affordable, reliable, and easy-to-use platform that equips fitness and wellness business owners with all the features and tools they need to attract, convert, and retain more clients. For more information, visit www.wellnessliving.com
Contact Details
Media Relations: Noelle Beauregard
Phone: 1-888-668-7728
Email: PR@wellnessliving.com
Website: www.wellnessliving.com
Share
https://www.wellnessliving.com/blog/wellnessliving-integrates-zapier/
Copy
Subscribe To Our Newsletter
wpDiscuz