Jun 12 2019, 3:12 PM
WellnessLiving Founders At Strong Summit Toronto with Bedros Keuilian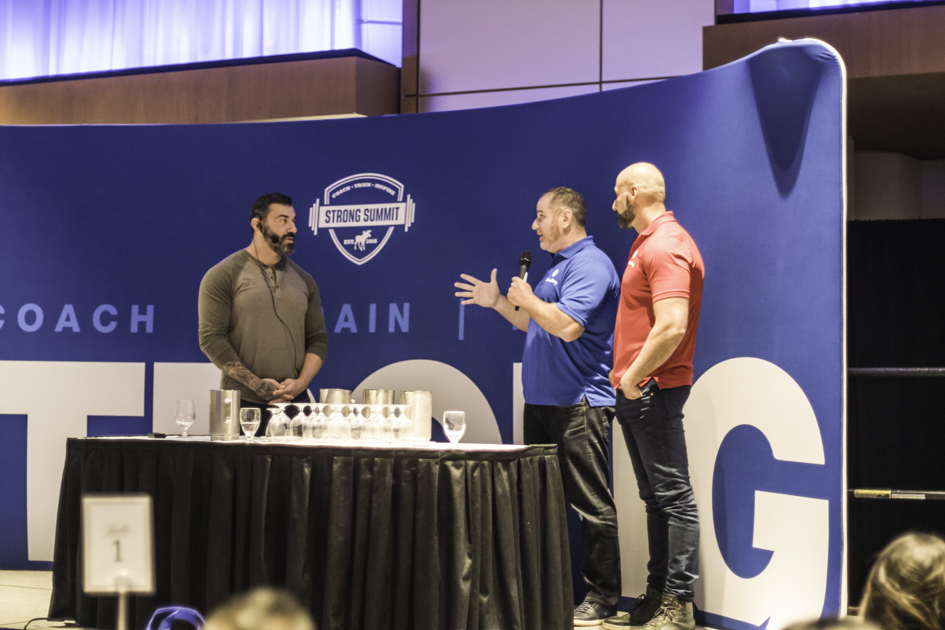 The Strong Boutique Fitness & Business Summit graced Toronto this past June 1st and 2nd. As the title sponsor, let's just say everyone here at WellnesLiving HQ is still buzzing with excitement.
With that said, let's delve into a full recap.
About Strong Boutique Fitness Summit Toronto 2019
What an amazing success story we have to share about the first annual Strong Boutique Fitness Summit!
The event was geared towards the boutique fitness industry, with a focus on businesses that provide a unique fitness experience and offer specific class formats.
This segment of the industry is so special because it builds a tight-knit community of like-minded individuals and fosters those relationships among the instructors and students. These types of summits make it possible for like-minded people in the industry to gather and learn from one another.
The Strong Fitness Boutique Summit provided the exclusive opportunity for attendees to hear from some influential industry speakers, offering a wealth of business insight to a captive audience.
For boutique fitness owners, this event delivered tangible tools and relatable advice. From insight on how to scale your business from the ground up, to how to use technology in the modern world for increased revenue, there was no shortage of expert advice.
Though the summit put the boutique fitness industry in the spotlight, it also offered valuable insight for fitness professionals, business owners, enthusiasts, and athletes. If you're into fitness, this summit had you in mind! From scientific research to real-life experiences, these professionals delivered current information and valuable info on industry trends.
WellnessLiving was thrilled to be able to be a part of such a motivational and energetic event!
How was WellnessLiving Involved?
In the weeks leading up to the Fitness Boutique Summit, WellnessLiving helped by attracting attention and promoting the event on social media.
Being honored with the role of title sponsor, WellnessLiving also worked directly with the organizers to cater the dynamic programming of the event for maximum learning, motivation and fun!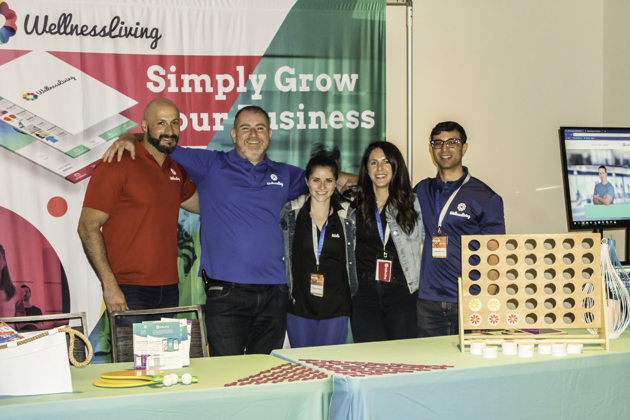 Our founder and CEO, Len Fridman spoke at the event and welcomed the guests. He covered topics like why it's a good time to be in the boutique fitness industry and he offered his unique viewpoints on successful client retention.
At the Strong Boutique Fitness Summit
WellnessLiving set up a booth to greet the attendees. Present at the summit were:
Len Fridman, CEO of WellnessLiving
Sasha Davids, COO of WellnessLiving
Erica Kumar, WellnessLiving's Events Coordinator
Avital Shinder, one of WellnessLiving's Sr. Onboarding Specialists and yoga instructor
David Corasaniti, one of WellnessLiving's Onboarding Specialists
We took the time to demonstrate how our software works and we were also able to offer exclusive software deals for the event. We also had fun playing games like bean bag toss and Connect Four with enthusiast participants.
WellnessLiving's booth was visited by so many attendees and we were moved and inspired by their stories. It was a great opportunity for us to connect to the boutique fitness community!
The Strong Fitness Boutique Summit also included a visitor marketplace on Saturday, where attendees could walk around and check out all the exhibitors.
As day 1 drew to a close, the summit featured a networking session where attendees could get to know each other and mingle. It was a productive way to bring the community even closer together.
On day two, delegates were able to attend breakout sessions. The event featured live coaching, industry lectures, workshops lead by Strong Academy, and more! The event was packed with dynamic speakers and inspirational leaders.
Over the course of the event, the Strong Boutique Fitness Summit speakers were divided into two categories: business and performance. Attendees were able to hear from business experts on topics such as how to become an industry celebrity, Instagram for business, financial freedom, branding, client services and beyond!
On the performance side, experts covered topics such as fundamentals for trainers, naturopathic medicine, glute training, mastering the mind, body and soul – along with several other areas of focus.
The crowd was also excited to hear from the keynote speaker, Bedros Keuilian, founder of Fit Body Bootcamp and author of "Man Up".
Bedros' talk was informative and direct. Erica Kumar, WellnessLiving's Events Coordinator, noted, "Bedros had a lot of edge and grit. He delved right into the core of how to start and run a business. There was no flowery language or sugar-coating. It was quite the inspiration and kick in the butt business owners needed to hear."
At Wellness Living, the opportunity to gain feedback from business owners in the industry was profound. We were able to get a good feel for what the industry is looking for, what they're excited about, and what would improve their current management software.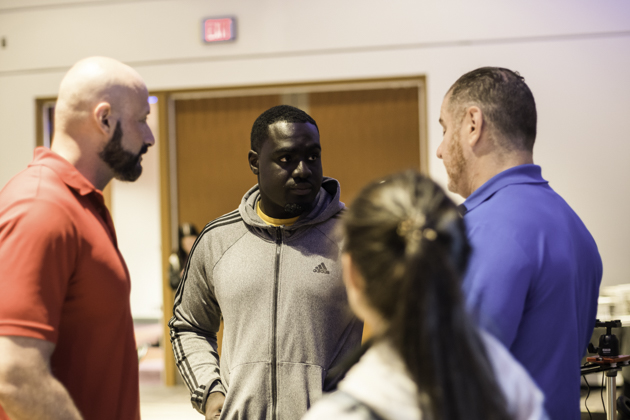 What was the buzz all about? Our automated features were a hit! Business owners were very interested in how our software offers automatic follow up emails to new and favorite clients as a productive way to keep in touch with your community.
One of the powerful themes of the event was the notion of "knowing your avatar" (also known as "your ideal clients"). The idea is: once you identify your avatar, you're on your way to growing your business. Getting to know them and learning about their needs means you can target those needs and develop long-lasting relationships.
The event was also populated with many notable industry professionals as speakers.
As Erica Kumar pointed out, "The speakers were amazing; they all had a different vibe, but they are all very relatable. I think being able to network with other people in the industry is a very good opportunity, and my favorite part was hearing all the different stories. Everyone has a different reason for starting their own business, and everyone's origin story is so different. It's very inspirational to hear them all."
Choose WellnessLiving
The attendees left the summit fired up and ready to reach their goals with new-found knowledge – and the WellnessLiving team was no exception! Our team left feeling fulfilled and inspired to continue striving for excellence for our customers.
After the weekend at Strong Boutique Fitness Summit, our mission to offer an all-in-one software solution, built by business owners for business owners was renewed!
When our CEO and COO started off as boot camp owners and were dissatisfied with their management software, they decided to create a software to better meet the needs of their business and businesses like theirs.
The mandate to continue to provide what wellness businesses need to up their game is what's made us who we are today: software experts trusted by businesses worldwide.
At WellnessLiving, we offer a complete software solution.
We start with the basics like online booking, email marketing, schedule management and more, but it doesn't end there. Our advanced features are designed to meet – and exceed – the expectations of boutique fitness studio owners.
What are some of our advanced features? Let's take a quick look at some of the ways our software has an advantage over the rest:
We have automated marketing
Businesses looking to take their marketing to the next level can count on us. Our software offers all the tools you need to reach your target market. Features like email campaigns, mobile messaging, and win-back campaigns can really help business reach clients and build strong relationships.
We even automatically request client reviews and get them out there on the web so your brand gets even more attention.
Reserve with Google
WellnessLiving specializes in bringing clients to your business and Reserve with Google is a feature that gets businesses noticed. As one of only four partners in the wellness industry worldwide offering this tool, our Google-partnered feature allows clients to book from their search results page, using a direct booking button on a Google My Business listing.
A rewards program
Get your rewards program off to a running start with our help!
Our system makes running a loyalty rewards program easy. Your clients can book online, buy a product or refer a friend and they start earning their rewards right away. They can also track and redeem their points and learn about upcoming promotions.
From start to finish, our software will manage your loyalty program like a pro.
Staff and client apps
Staff and client apps are such a time-saver! Our software offers everything your clients need with our Achieve app. This downloadable, customized, competitor-ad-free program allows your clients to schedule, shop, update info and view a personal profile at their fingertips.
Our Elevate app lets you manage your business easily on the go. Offering features like booking appointments, accepting payment on the spot, reviewing reports and more – this app's got you covered in the management department!
Excited to see how WellnessLiving can elevate your boutique fitness studio? Book a free, no-commitment demo today!


Get Access To
Why Your Yoga Studio Needs a Loyalty Rewards Music
I'm already a WellnessLiving Customer
Getting your information.
Please Wait…