Jun 18 2021, 9:00 AM
What Does a Vaccine Mean for the Fitness Industry?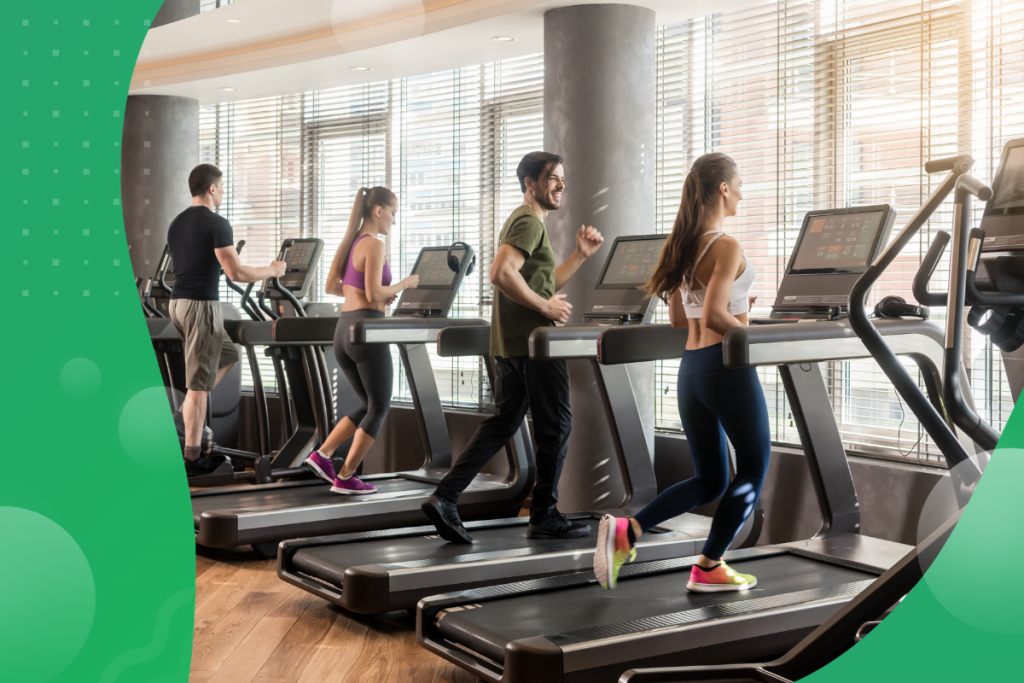 From the job market to travel, the COVID-19 pandemic has affected almost every facet of life. Social distancing regulations have made it difficult for businesses to go about their daily operations, resulting in loss of revenue and lay-offs. One industry that's been hit particularly hard is the fitness industry—between the months of March and August 2020, the U.S. gym and health club industry lost approximately $13.9 billion. Moreover, the fitness industry is projected to decline by 13.20%.
But as the country begins to reopen amidst mass vaccinations, more and more people are returning to their daily activities. Of course, this doesn't mean that the fitness industry will go back to in-person visits right away. But the hybrid business model, a combination of in-person and online services, offers a safe way for businesses to reopen and continue to earn recurring revenue. According to Research Dive, the virtual fitness market is expected to grow by 33.1% annually and reach $59.23 billion by 2027.
Remember, with the right approach, gyms and fitness studios will continue to thrive. At the forefront of any success, however, will be how your clients respond to the introduction of vaccines. Let's take a closer look at consumer behavior within a vaccinated fitness world.
Do people want to go back to the gym?
As of June 2021, over 50% of the United States population is fully vaccinated or has started the vaccination process. Vaccines do more than boost the economy and public safety—reopening the world will also promote physical and mental health. During the height of the COVID-19 pandemic, 30% of non-essential workers reported dealing with mental health conditions, while 11% claimed they resorted to poor consumption habits as a coping mechanism. These rates are even higher for essential workers that have been on the frontlines during the pandemic.
Returning to our normal, daily activities is essential to our wellbeing—and thanks to the high number of vaccine rollouts, it's becoming more plausible. The CDC suggests that people can resume their normal routines, including workout routines, provided that they adhere to safety and precautionary measures. This includes sanitizing hands, following guidelines before entering a business, and refraining from going out if any COVID-related symptoms occur.
Although the CDC is encouraging people to return to their regular activities, not everybody is ready to do so. According to a RunRepeat survey based on 11,193 gym members from 142 countries, American gym members said they were not likely to return to the gym, even after being vaccinated, with about 35% not wanting to return.
However, there's still a fair amount of people ready to get back to their pre-COVID fitness routines. According to a survey conducted by Up Well in February 2021, 17% of respondents reported that they were eager to return to the gym. Even more are willing to return if their gym follows strict health and safety guidelines.
Are there still health and safety concerns?
Despite many people being vaccinated, things like mask mandates, social distancing guidelines, and health and safety protocols remain important to your clients. 27% of people claimed that they will only return to the gym if there are strict safety guidelines in place, while 9 out of 10 people stated that they are more vigilant about properly wiping down equipment after use. In fact, 49% of people said they would call someone out for not cleaning equipment.
Showing your clients that you care about their wellbeing is essential to establish trust and persuade them that it is safe to return to your business. Methods that help promote health and safety include:
Spacing out the floor with tape.
Directing clients on where to go.
Restricting walk-ins.
Creating a waiting list for new members.
Streamlining your processes.
You can enforce social distancing within your gym by using tape to clearly outline where people should stand, and by telling clients which areas to avoid. You should also prioritize your loyal members by limiting walk-ins and waiting before accepting new members. Finally, using an online system for booking appointments, making payments, and checking in to class can optimize your efficiency and help avoid overcrowding. Incorporating online services in your business will help you pull this off.
A hybrid business model: The key to success
To successfully reopen a gym in a post-pandemic world, you need to enforce health and safety standards while still accepting enough customers to turn a profit. One of the best ways to achieve this balance is through a hybrid business model.
In 2020, 75% of people were livestreaming their workouts, while 70% used pre-recorded videos as part of their fitness routine. Through a combination of online and in-person services, you can cater to the demographic that is not yet willing to return to the gym. At the same time, you can better manage your social distancing requirements. Adapting to your clients' different safety preferences ensures that you continue to bring in revenue, even if some of your clients are hesitant to get the vaccine. Here's a closer look at what will make hybrid business model successful.
Livestreaming to your community
Simply put, livestreaming lets clients enjoy a 'live' class from home. Using a device such as a laptop or iPad, clients can sign in to a class that's happening in real-time and follow a routine taught by their favorite instructor. Livestreaming creates an atmosphere that makes clients feel as though they are at the gym, while providing the comfort and security of taking fitness classes in their own homes.
On-demand classes
On-demand classes are similar to livestreaming in the sense that they involve personal videos with an instructor that are designed to recreate the feeling of a gym. Unlike livestreaming, on-demand videos are pre-recorded. They offer a wide range of flexible content, including classes focused on stress reduction, muscle building, and weight loss. Clients can choose the precise subject that they are interested in and even switch between classes if the first one doesn't pique their interest.
Flexible memberships
Part of a hybrid business model includes giving clients the option to pursue the type of fitness program that appeals to them. For example, a client that works out in-person should be able to keep up with their workout regime if they suddenly need to stay at home. Clients can subscribe to your on-demand platform, attend livestreamed classes, or include digital classes as an add-on to their in-person membership.
Clients crave community: Make sure you're there for them
One of the biggest advantages of a hybrid business model is that it creates the sense of community that your clients are looking for. Not only does it let you accommodate everyone—whether they are vaccinated or not—but technology can also be used to bring clients together as a group and foster relationships. According to the American College of Sports Medicine's annual survey, group fitness was ranked as one of the top 3 trends of 2020. Here are some of the ways you can bring your community together:
Provide weekly video chats for your community.
Create online challenges to increase motivation.
Encourage clients to share their stories on your social network.
Let people share comments during livestreaming sessions.
Let subscribers earn prizes for viewing on-demand videos.
Creating a community environment involves bringing your clients together and making your business feel more personal. 70% of millennial consumers dislike impersonal, irrelevant emails, while 71% expect their experience with brands to feel intimate. Invite your clients to become a part of your community by increasing the ways they can interact with your brand. Now is the time to show them you care by making your business safe.
Working with public health officials
At the end of the day, there are still approximately 50% of Americans that are not vaccinated. Of that 50%, some people may still want to return to the gym even if they are not protected against the virus. How do you enforce health and safety standards without discriminating against unvaccinated individuals?
Many states and regions have their own suggestions when it comes to reopening a business. For example, the New York Department of Health recommends that people must wear masks in indoor settings where vaccination status is unknown, such as in gyms, beauty salons, and offices.
Working with public health officials and doctors in your area will help you set proper protocols. You can host panel discussions where public health officials and doctors can share scientific information, address concerns, and answer any questions you or your clients may have. You can also advocate for solutions that you feel will benefit your business.
Grow your business in a vaccinated world
As much as we all wish that COVID-19 never happened, the truth is that the pandemic has shaped the way the fitness industry will operate for years to come. If you want your business to grow and succeed, you need to adapt to the changing environment. Employ a business model that can meet the unique needs and preferences of your client base.
Through a hybrid business model, you can simultaneously accommodate clients that want to return to the gym and clients that want to continue working out at home. It allows you to create a safe space for both vaccinated and non-vaccinated clients.
Of course, managing both your online and in-person services can be difficult. When it comes to navigating your gym or fitness studio through the pandemic, it's important to have WellnessLiving's all-in-one platform by your side. You need the right tools to grow your hybrid business, manage capacity, and make bookings and payments easier. How can WellnessLiving help your business? Book a free, no-commitment demo today to learn more!